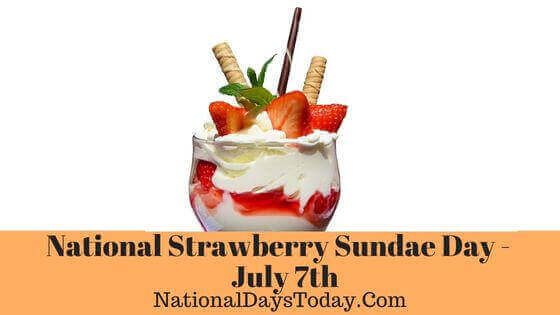 National Strawberry Sundae Day:
This national strawberry sundae day is celebrated on 7th July every year. On this day, every American celebrates this occasion by mixing the two most loved flavors. 
| | | | |
| --- | --- | --- | --- |
| Year | Date | Day | Where |
| 2023 | 7th July | Friday | United States |
| 2024 | 7th July | Sunday | United States |
| 2025 | 7th July | Monday | United States |
Twitter Hashtags:
#NationalStrawberrySundaeDay
#StrawberrySundaeDay
Related: Other National Days Celebrated on July 7th:
National Father-Daughter Take a Walk Day
Why National Strawberry Sundae Day?
Vanilla and strawberry ice cream

Strawberry sauce

Sometimes fresh strawberries with whipped cream
Every American enjoys this dish on this day with their friends and family. These little occasions make the bond strong and lovable. These celebrations make their family close enough so that their bond stays in love forever. 
This delicious treat is enjoyed by the whole family, which comes in the summer season, and this dish is perfect for a summer treat. Delicious vanilla ice cream with strawberry, strawberry sauce, and fresh strawberries with whipped cream. This treat is undoubtedly America's favorite sweet dish to have on this day.
This summer treat with the whole family is perfect for spending some quality time with family and friends. Americans enjoy this sweet, delicious, cold treat to escape the hot summer climate. Of course, these also serve as a perfect dessert after any meal on any day, but when you eat it, particularly on this day, it does different magic to the dish. 
The only thing which matters the most is the dish, not the people who invented it, it is the feelings and the emotions shared. People sharing the right emotions with the sweet treat are essential and nothing else.
How can we observe the National Strawberry Sundae Day?
When you observe any day on any occasion, it certainly means how you plan to celebrate that day. Generally, all these special days are marked with family and friends while having some Strawberry sundae and relieving from the hot weather. 
People throw parties and get together with their close ones to celebrate the day. You can invite people to your house and enjoy the strawberry sundae with their chosen toppings. Gathering people and having a sweet dessert is the only motive for this occasion.
Because of the pandemic, people nowadays cannot move outside and are not permitted to hold gatherings at their houses. So, the new generation started the trend of hashtags on social media. When you celebrate this day with your family, upload a picture with them and add this hashtag to your picture #Strawberrysundaeday.
With this trend on social media which gradually became popular, people started to post it and used the hashtag on their pictures. So in this way, they stayed connected and celebrated it with more people, or you can say with the whole world. 
This trend was a photo of you with a bowl of ice cream drizzled with strawberry sauce or anything with strawberry added with the favorite topping. You can also share your sundae recipe with people and learn their style of the recipe. 
This hashtag was the most famous and exciting idea of connecting people even if they are not together in one place and celebrating the same thing as everyone. Pandemic restricted the people from meeting in a place, but social media reduced this distance through this nifty trend for the people far away.
No matter how you celebrate this day and no matter where you are on this day if you have a scoop of vanilla ice cream with strawberry flavored syrup added with your favorite toppings, nothing else in this whole world matters. 
That is what this special day has and will always stay with the people of America. They take this day very seriously and celebrate it with much pride. Though the battle of the birthplace of this day and dish is still to be settled between the people of the U.S. and America, none of them has any issue celebrating this day with their most loved sweet treat.
Whatever you do and wherever, never forget to celebrate this day. Do not forget to upload your picture on social media with the hashtag #Starwberrysundaeday with your sweet dish and the people you are celebrating with. It is necessary to appreciate and care for people who care and love you. 
Interesting facts about National Strawberry Sundae Day:
Lets explore more about Strawberry Sundae, 
In 1881 the first scoop of this very ice cream was in two rivers in Wisconsin served by the druggist Edward Berners. Some say that a customer named George Hallauer ordered an ice cream soda on a Sunday.
 In those days, the ordinances prohibited its sale on the Sabbath. So Berners came up with an idea and served the ice cream without the soda and added chocolate syrup, giving birth to a sundae.
History of the National Strawberry Sundae Day?
The proven history of this dish or this day is a bit unknown as this goes back a long time. Some U.S. cities claim that this dish is their heritage, but Americans are not ready to agree on this thing. They are sure that this day and this dish are genuinely American and belong to them only. So, they celebrate it with full enthusiasm and enjoyment. 
In 1892 at Platt and colt pharmacy in Ithaca, the ice cream sundae occurred when the reverend John M. Scotts stopped to order a bowl of ice cream. Chester Platt started preparing the ice cream and didn't only stop at the scoops of the vanilla ice cream but also added some cherry syrup and topped it with a red cherry on top of it.
The dessert was so delicious and heavenly but didn't have any name, so since the day was Sunday, the name 'sundae' was named for the dish. There is also historical evidence supporting the story in Ithaca. 
In 1916, Harold Dean Thayer discovered his sundae with vanilla ice cream and chocolate syrup drizzled on top of it and marshmallow sauce and peanuts for the garnishing.