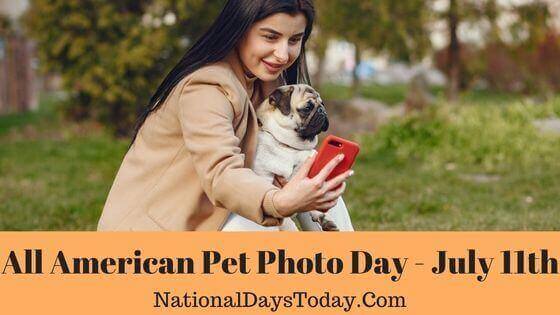 All American Pet Photo Day:
 A day celebrated on the 11th of July every year in America encourages pet owners to share favorite photos of their pets.
| | | | |
| --- | --- | --- | --- |
| Year | Date | Day | Where |
| 2023 | 11th July | Tuesday | United States |
| 2024 | 11th July | Thursday | United States |
| 2025 | 11th July | Friday | United States |
Twitter Hashtags:
#AllAmericanPetPhotoDay
Related: Other National Days Celebrated on July 11th:
National Cheer Up The Lonely Day
National Mount Rainier Cherry Day
Why is All American Pet Photo day celebrated?
All American Pet Photo day is memorable for all the dog owners in America. Be it your furry friend, blubbery birds or any animal you know. 
The pet owners grab their cameras and run around helter-skelter to click a perfect shot. Clicking your pet's photo is, all in all, a big task. Dressing them up with props or costumes, putting on sunglasses and guiding them in posing it's a "vogue cover shoot" struggle. 
A special day for dog owners to flaunt their pets and make them feel special. A day to post cute photos of your pet, feed them their favorite food and show your love for them every day possible. This day is observed in order to acknowledge the existence of your wonderful pet and how amazing it is to have such a loyal and loving pet in your life.
How to observe All American Pet Photo Day:
Dress up your fur babies with the best costumes and click beautiful photos of them. Trying out new angles, edgy style, twinning by wearing the same clothes or props.

A day out with your pet. A beach trip, trekking, picnic in a garden or any long vacation is the best way to celebrate this day—an exotic location to chill and rewind with your buddy.

Posting their adorable photos on social media by the hashtag #AllAmericanPetphotoday.

By getting an annual or monthly subscription of their favorite goodies like clothes, water bottles, food, toys etc.

Buying their favorite food like a softy, famous chicken and fish, curry etc.

Taking them to a playdate, pet spa and numerous events during this day and pampering them in every way possible.

Interacting pets with one and making new dog and owner friends.

Talking good about them and petting them makes them feel proud and worthy, essential for their overall well-being.

Encouraging your pet to try new things like a new toy, games, new foods and indulgences but making sure that it is safe.

If someone doesn't like going out much, baking a cake with them, singing for them, and cooking their favorite treats are beautiful ways to make them feel special.

Shopping for your pet and spoiling them with loads of gifts can make them delighted.
Interesting facts about All American Pet Photo Day:
Pets are dressed in bow ties, skirts, and shirts matching their "hoomans", and seeing the pets are happy. This day holds an important message of acknowledging their beautiful existence in our life. Pets are said to make stress levels low and improve your overall health. Social media shines by the adorable photos and videos of celebrations, decorations and whole parties for their pets. 
Pets are man's best friend; even though they don't live as long as humans, they give immense love, care, and immortal memories. When you love a pet with your whole heart, it always gives back more infinitely and unconditionally. People share videos of pets hugging them while the owner is crying or in a bad mood, helping them, welcoming them with a beautiful smile and loads of excitement.
 A pet fills your life with happiness and removes worries. A pet is like a child who needs care and loads of food; pet companies keep reasonable offers and subscriptions on this occasion to gain more customers. Many workplaces, schools and other institutions celebrate this day with loads of fun activities for dogs and their owners. However, one should love their pets every day and not only for a mere day. Love them so that they can love you back more.
History of All American Pet Photo Day:
Colleen Paige started national pet day to express love and affection for our loyal buddies who love us more day by day. Colleen Paige is an author who has over 20 years of expertise. She studied at the National Institute of Dog Training in Los Angeles and has earned numerous certificates in Veterinary, medical and animal fields. 
She has written several books regarding dog care and behavior and shows her immense love for animals. The day is "love-oriented" and dedicated to all the pet owners in America. There is no specific breed or animal to celebrate this, and this day is for all types of pets in America.
 A day to celebrate immense love and bondage between humans and pets. There are public gatherings in America with events like playdates and games for pets; everyone just flaunts their pets and plays around with them. The streets are filled with humans and animals celebrating this day in harmony.