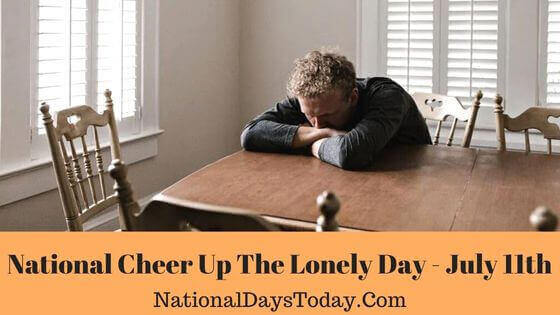 National Cheer Up The Lonely Day:
As a way to encourage people to make others smile, we celebrate National Cheer Up The Lonely Day, every year on the 11th of July.
| | | | |
| --- | --- | --- | --- |
| Year | Date | Day | Where |
| 2023 | 11th July | Tuesday | United States |
| 2024 | 11th July | Thursday | United States |
| 2025 | 11th July | Friday | United States |
Twitter Hashtags:
#NationalCheerUpTheLonelyDay
#CheerUpTheLonelyDay
Related: Other National Days Celebrated on July 11th:
National Mount Rainier Cherry Day
Why National Cheer Up The Lonely Day?
Community, friendship, family, etc., remind us of the fruits of staying together and the importance of belonging to a community. With the world becoming more fast-paced, there is not much time for anyone to interact or engage with each other. This is a day to remind us of the need for a community, staying together, etc., and to reach out to make new friends. It is a day to bring a smile to the faces of those who seem lonely to you.
The day doesn't require to have any grand celebrations. You can enjoy this day through simple means, like hanging out with people. You can indulge in work that will bring a smile to the faces of others. You can spread happiness around on this day with friends and family. The day is a celebration of togetherness and friendship and is a day to perform a good thing to the society.
How can we celebrate National Cheer Up The Lonely Day?
The day is about beating the loneliness and it can be done in many different ways. It is a day to celebrate ourselves and the bonding we have with others and you can do it in some ways as defined below.
As the day is about letting go of loneliness from our lives, you can do that by bringing people together. It could be a small meeting for a coffee or tea, or you can arrange for a holiday out with people. Sharing a meal with your loved ones is the best way to spend time and also to get loneliness out of your life.
Some people love to spend time alone and you can use this as an opportunity to give them a gift, something to remind them that they matter. This would inevitably bring a smile onto their faces. You can use this day to drop a gift off to someone you know, someone you think might need it.
Your city will have a lot of volunteering events happening around your city. You can participate in any of these events and contribute to society. A simple act on your side could bring a smile to many faces. You could visit the nearest retirement home or nursing home and enjoy a day out making difference in others' lives.
Share your experience of spending this day with your loved ones on this day with #NationalCheerUpTheLonelyDay.
Interesting facts about National Cheer Up The Lonely Day:
As we celebrate the day beating the loneliness out of our lives and that of others, let us get to know some interesting things about loneliness.
Loneliness is a contagious feeling. Even if a single person in a group starts feeling lonely, it can easily spread to others in the group.
According to research, nearly 60% of the married people in the country of America feel lonely.
Loneliness is not very uncommon. Studies indicate that more than 40% of people across the world suffer from loneliness at least at some point of time in their lives.
Happiness is very rare. Studies show that only about 33% of the people in America report that they are truly happy, as of the year 2009. And the rest of the population reported loneliness as the main reason for their unhappiness.
Loneliness can be a deathly cause and studies emphasize the same. Studies indicate that loneliness can increase the chance of early death by as much as 19%.
People who feel lonely also have a cold demeanor and they generally have a distorted perception of the relationships around them.
Loneliness need not refer to you being alone, by yourself. People feel lonely even in the crowd and it could be an all-consuming feeling affecting the daily quality of life.
History of National Cheer Up The Lonely Day:
The day intended to cheer up the lonely people we meet was created by Francis Pesek from Detroit, Michigan. According to his daughter, Mr. Pesek was a very kind and wonderful man, and this day is celebrated on his birthday to promote kindness to people who are lonely or in nursing homes or simply shut out.