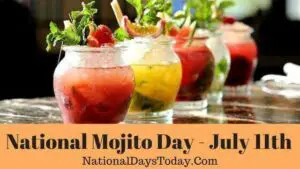 National Mojito Day:
National Mojito Day is celebrated every July 11 to relish the super refreshing cocktail for summers.
| | | | |
| --- | --- | --- | --- |
| Year | Date | Day | Where |
| 2023 | 11th July | Tuesday | United States |
| 2024 | 11th July | Thursday | United States |
| 2025 | 11th July | Friday | United States |
Twitter Hashtags:
#NationalMojitoDay
#MojitoDay
Related: Other National Days Celebrated on July 11th:
National Cheer Up The Lonely Day
National Mount Rainier Cherry Day
Why National Mojito Day?
Mojito, one of the perfect refreshing drinks that offer a pleasing blend of barbecues and beach twilights with white rum, sugar, or sugarcane juice and lime juice in sparkling water and mint. 
The mojito grades are among the nation's favorite cocktails and have been blended for the refreshing summers. It's a cocktail that is always refreshing and enjoyed for its unique taste. 
However, the recipe has been updated many times by adding up the herbs and fruits with white rum, sugarcane juice, and lime juice for the classic taste, but it is still the most adored by most people. 
So, there's only one thing to do to refresh your summers- fill up your glass with a mojito and enjoy the sun.
The drink had risen in popularity in the early 20th century and was partly appreciated by the author Ernest Hemmingway as he claimed Mojito to be his favorite drink. The Mojito has a fresh taste and perfect temperature blended perfectly with a hot summer day. Thus, the day is recognized.
How can we observe the National Mojito Day?
The most acceptable way to observe National Mojito Day is by blending your self-loved version of this most favored cocktail. Hence, to guide you through integrating a typical mojito, you would require to make a Mojito and collect these ingredients- Rum, Limes, Mint Leaves, Club Soda, Sugar, and Ice.
Now, focus on the Mojito recipe and make a simple syrup for a quick Mojito. Essentially, you will require sparkling sugar water, and it might present a great way to balance out the limes' pungency. You will need to:
Take one glass of water and one gulp of sugar in any pan

Heat them together to dissolve the sugar and prepare a syrup

Once the sugar is dissolved, remove the pan from the heat and add around 15 crushed mint leaves 

Leave them to steep and allow the syrup to cool down
Now your simple syrup is ready, and the next thing you need to do is squeeze in some lime juice as per your taste and when you are prepared to take the drink. 
Fresh limes always taste much better than lime juice, so that you can add clean limes as well. You might probably need to squeeze in either one or two limes based on the glasses of Mojito.
Making yourself-loved Mojito is one of the finest ways to observe this day, but there are plenty of other ideas as well that will enrich your day:

You can also make mojito ice lollies by freezing the ingredients of a mojito and mojito syrup to make ready-to-lick cocktail lollies.

You can also bake the mojito-inspired cakes and treats as per your liking. There are many fantastic mojito cake recipes available online to be considered. This might also include a mojito sprinkle cake or even a mojito cheesecake. 

You can also arrange a cocktail party with your friends this hot summer. National Mojito Day gives you the perfect excuse to get together with your friends and enjoy a big blast cocktail party.
And finally, dont forget to share your Mojito recipes using hashtags #MojitoDay and #NationalMojitoDay on social media.
Interesting facts about National Mojito Day:
Some interesting facts about Mojito that everyone should know on this day,
Mojito is a 500 years old blended cocktail, and it is also one of the ancient composite beverages still being favored today. 

Pirates earlier used to make this drink with sugarcane, lime, mint, and white rum to treat vitamin C deficiency disease for medicinal purposes.

Mojitos are very popular in Cuban restaurants, where many people have typically started making their tequila mojitos.

Honey, blends of your favorite fruit, and ginger ale also make mojitos better if added.

The special Mojito cubes are used in the other drinks typically made of water, sugar, and lime juice in equal proportions.

More than one of five other bars or pubs in the UK, Mojito, is being served, according to a survey report back in 2014.
History of National Mojito Day:
The creator of National Mojito Day is yet unknown. But, Mojito originated in Havana, Cuba, though its precise actual origin place is still the subject of debate. However, the story went much back in 1931; Sloppy Joe's Havana Bar served a free cocktail menu listing a pair of Mojitos which added one with gin and the other with rum.
This dual recipe continued to appear in the cocktail book of El Floridita published in 1939 and includes the old-school bible of Cuban drinks. However, blending the drinks with lime, sugar, and mint was not particularly a new trend, but a naval grog called El Draque was supposedly created as a medicinal mixture for the treatments by Francis Drake in the late 1500s. 
Mojito became much more popular in the Cuban capital of Havana around 1930. Since then, this cocktail has been a global trend, and many options for a mojito are available in Mexican and Cuban restaurants.