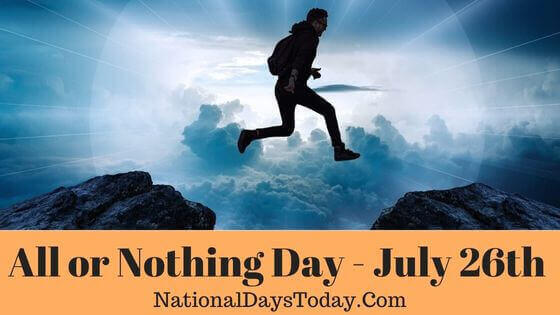 All or Nothing Day:
Celebrated every year on the 26th of July, National All or Nothing Day is to give people a chance to go with the flow and stop being cautious.
| | | | |
| --- | --- | --- | --- |
| Year | Date | Day | Where |
| 2023 | 26th July | Wednesday | United States |
| 2024 | 26th July | Friday | United States |
| 2025 | 26th July | Saturday | United States |
Twitter Hashtags:
#AllOrNothingDay
Related: Other National Days Celebrated on July 26th:
Why All or Nothing Day?
Everyone has dreams and aspirations that they want to take action on. And yet sometimes we are restricted by our inhibitions, failing to complete plans or take necessary actions where required. There is always at least one thing that you have always wanted to do but have refrained from doing for many different reasons. You can now use this day as a chance to throw caution to the wind and do what has always eluded you on this day.
This is the day where you can try new things and self-motivate yourself to achieve more and test your extremes. It is the day to take risks that you have always worried about before. The phrase "all or nothing" is a motivating phrase in itself and it is the day to remind us to break out of our shells. People often find themselves getting lazy or laid back in their jobs and need a little motivation to do their best in every task they undertake. The day is a chance to motivate ourselves to perform better and take up challenges like never before. It is about giving it your all, no matter how the outcome is.
How can we celebrate All or Nothing Day?
If you want to live a perfectly great life, then you have to give all your efforts to make it an enjoyable venture. And as the saying goes, you can only enjoy the best outcome if you put in all your effort and time into any venture, be it for a business venture or an exam you want to ace.
On this day, you can do something that challenges your fear like trying out bungee jumping. It is a dare that not many of us would do willingly and this day could be your first time trying this daring sport.
If your fear is fear itself, then you can visit a haunted house or take a haunted tour if your city has one. Even a ride into a haunted house in the nearest amusement park could be a daring activity to undertake on this day.
The day is about giving all your efforts and time into enjoying something. You can therefore experiment with some interesting and exciting activities on this day. It could be a simple drive around town or visiting a new place, anything that excites and interests you but you have been putting off. This is the best day to start.
Share your thoughts, views, experience, and much more about this day on your social media with the #AllorNothingDay to bring attention to this day.
Interesting facts about All or Nothing Day:
The day is about spending your full focus on any specific challenge or venture. And on this day, here are some interesting things you might want to know about this day and more.
Frank Sinatra recorded the song "All or Nothing" in the year 1939.
In the year 2001, the O-Town band released a song with the same title. That was not the only song to be made with this famous phrase. In the year 2006, the Westlife band released a song under the same name.
In the year 2019, Bryan Adams also released a song about "All or Nothing", signifying the importance of giving your best in every endeavor.
It is important to have trust in every step of your way despite the risks. The risks signify a certain level of uncertainty and without hope or trust, you cannot proceed towards success.
Studies indicate that people who take risks are often the happiest as they feel a sense of accomplishment every time their challenge results in a positive outcome.
According to Mark Zuckerberg, the only strategy that can fail is the one without risks. And yet, only a few have the appetite to take risks and have the confidence to take risks.
History of All or Nothing Day:
We do not have any information regarding the origins of this day so far. But the sentiment of putting your all into any specific activity has been recommended by all the winners since time immemorial, irrespective of the field you are looking at.