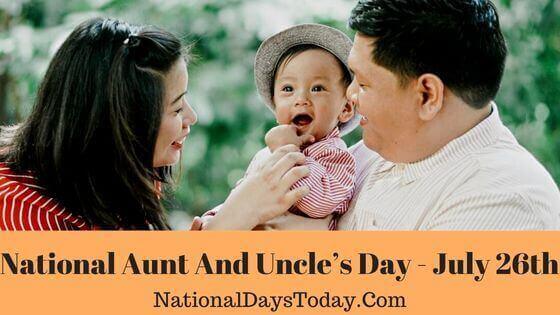 National Aunt And Uncle's Day:
Celebrating the special aunts and uncles, who are like parents to us, we celebrate National Aunt And Uncle's Day every year on the 26th of July.
| | | | |
| --- | --- | --- | --- |
| Year | Date | Day | Where |
| 2023 | 26th July | Wednesday | United States |
| 2024 | 26th July | Friday | United States |
| 2025 | 26th July | Saturday | United States |
Twitter Hashtags:
#NationalAuntAndUncle'sDay
#AuntAndUncle'sDay
Related: Other National Days Celebrated on July 26th:
Why National Aunt And Uncle's Day?
We are living in a fast-paced world and we often do not have time to appreciate the people in our lives. The day gives us a chance to remember and spend time with our loved ones. It reminds us to stay in touch with our family members, who have been an integral part of our growing up, and show them we care.
The day is also a chance to spend time with our families and take time out to be with them. You can also use this day to remember the old times with your aunts and uncles and rehash them with friends and family creating new memories. If you can have your aunts and uncles, you would be surprised by the amount of information they can share with you. They have a wealth of information about family and many other things. You will enjoy spending the time with them learning about family and other things and this would help make a new set of memories to share with them too.
How can we celebrate National Aunt And Uncle's Day?
The best way to celebrate this day would be to celebrate them with those people who added meaning to your life, the aunts and uncles. Spending time with them is one of the best ways to enjoy this day. But if you are looking for other options, then here we have a few pointers to help you.
Instead of just spending time with them, you can also refresh some of the old memories. The best way to do that is to look at an older album featuring your childhood and with them. They might have a story behind every picture and this would surely bring tons of smiles all around.
Research into your family history and try creating a family tree with people you care the most about. The best people to give you more insights into creating a family tree would be aunts and uncles and it will also let them take a trip down memory lane.
You can have a get-together with family and simply let them share anecdotes about how you were as a child and it would make for a great evening together.
Share how much your aunt or uncle or both mean to you and how they have shaped your personality on this day on your social media. You can share pictures with them and also add #NationalAuntAndUncle'sDay to the post to garner attention to the day and the celebration afoot.
Interesting facts about National Aunt And Uncle's Day
The day is celebrated in different ways and with different names across the countries. Each of these celebrations insists on the value of being part of a family and how the same helps in shaping our personality for the future. But that is not all the day is about. There are also interesting tidbits to learn about on this day, some of them mentioned under.
Uncle Wiggily's adventures is a family cartoon released in the year 1910 in Newark News, where Uncle Wiggily is a rabbit, with a wisecracking personality.
Everyone becomes an aunt or uncle at some point in their lives. It applies to royalty as well. Queen Elizabeth II, became an aunt in 1947 to the Duchess of Cornwall, Camilla.
Even fantasy and sci-fi series have aunt and uncle characters. The best example would be Aunt May who is the guardian of the legendary superhero Spiderman.
The largest family tree in the world features nearly 13 million people.
Nearly 45% of Asians live in extended families while about 11% of Americans are part of extended families.
An American, Susannah Jones who lived 116 years had more than 100 nieces and nephews when she passed away. She was probably the greatest aunt to live in recent times with so many relatives.
History of National Aunt And Uncle's Day:
There is no clear information on how and when this day originated. But you can be assured that we have been celebrating the siblings of their parents for their contribution for a long time now. And this day is another opportunity to celebrate and show our respect to them in our lives.