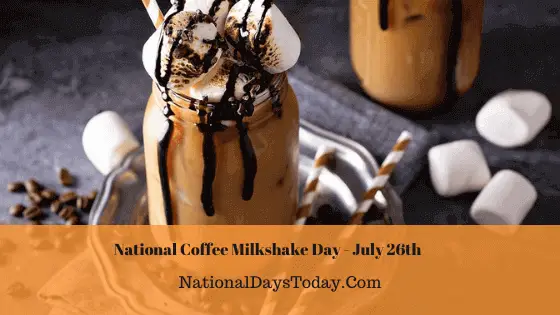 National Coffee Milkshake Day:
Celebrated on July 26th, every year. On this day let's combine the most popular brewered drink with the most popular blended drink.
| | | | |
| --- | --- | --- | --- |
| Year | Date | Day | Where |
| 2023 | 26th July | Wednesday | United States |
| 2024 | 26th July | Friday | United States |
| 2025 | 26th July | Saturday | United States |
Twitter Hashtags:
#NationalCoffeeMilkshakeDay
#CoffeeMilkshakeDay
Related: Other National Days Celebrated on July 26th:
Why Coffee Milkshake Day?
As we all know, the most popular blended milk products are milkshakes. Varieties of milkshakes are available. When it comes to coffee, it is most popular drink of all times. Our day starts with a bed coffee and ends with a cold coffee. Between the times, we would go for another two cups, probably.
This milkshake is the combination of coffee and vanilla milkshake. Therefore, on this day let's combine the most popular brewered drink with the most popular blended drink. Not only vanilla it can be blended with any flavor of milkshake. Enjoy this day with varieties of coffee milkshakes.
How we can Celebrate National Coffee Milkshake Day:
For almost all of us, coffee is the defined way of refreshment. How sweet it will be when ice cream is added with one of our favourite drinks. Try this out on this day and post it using this hashtag #coffeemilkshakeday on the social media.try to explore more about the day and post unknown findings if any or else just drop your article in the comment box and our team will update in the post.
If possible, try this recipe.
Step 1: Take a cup of cold coffee and 5 scoops of vanilla ice cream. Add two teaspoon of chocolate extract. Use a blender and blend it well. The chocolate extract is added for the chocolate flavor and to hide the bitter taste of coffee to some level. Blend it well until it becomes creamy and smooth.
Step 2: You can adjust the consistency with milk until you get the desired density.
Step 3: Pour it in a y shaped glass. Top it with a whipped cream.
Step 4: Microwave a chocolate bar and melt it.
Step 5: Pour the melted chocolate at the top in whatever shape you want and serve immediately.
Likewise, coffee banana milkshake can be prepared using ripped bananas.
Caramel coffee milkshakes are being prepared with caramel. Other main ingredients are ice cream and custard.post a caramel coffee milkshake recipe if you know any.
If you don't find time, not a big issue, just go to some fine restaurant and order a cold brewed coffee milkshake. Slurp it with utmost enjoyment.
Interesting Facts About Coffee Milkshake Day:
An ice cream and Brewery based drink called "coffee cabinet" is famous in Rhode island and south-eastern Massachusetts being referred as frappe. The main ingredients are coffee, milk, chocolate syrup, vanilla ice cream and whipped cream.
This day is chosen since it falls in midsummer. Coffee beverages and milk shake are few of the daily routine food of the Americans in hot summer.
Coffee is being treated as great drink for hundreds of years. It is believed to provide energy during the night shifts especially. Most of the old aged adults purely rely on coffee for the whole day. Basically, many of us can't imagine a day without a cup of coffee.
Applying the left out coffee milkshake all over the face as a mask and leaving it for a while rejuvenates skin.
History of Coffee Milkshake Day:
The origin and creator of this day is unknown.