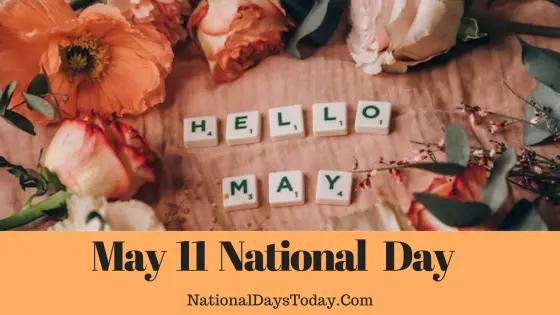 May 11 National Day:
| | | |
| --- | --- | --- |
| Date | Day | Where |
| 11th May | National Eat What You Want Day | United States |
| 11th May | Hostess CupCake Day | United States |
| 11th May | Make a Book Day | United States |
| 11th May | National Children's Mental Health Awareness Day | United States |
| 11th May | National Foam Rolling Day | United States |
| 11th May | National Technology Day | India |
| 11th May | National Twilight Zone Day | United States |
| 11th May | Somerset Day | United Kingdom |
| 11th May | World Ego Awareness Day | World Wide |
National Eat What You Want Day
The vast majority of people spend the entire year avoiding meals that they enjoy but may not be particularly healthy. To urge people to take a day off from the tedious health and diet fads of the day and just relax and enjoy life a little bit, Thomas and Ruth Roy came up with the idea for the holiday. Today saw the launch of the website Wellcat, a resource for information and products related to herbs. There are more holidays that Wellcat has invented. This holiday was created so that individuals may unwind and merely take pleasure in a nice dinner with their friends and loved ones.
Hostess CupCake Day
Every year, the day is marked in remembrance of the day that the first Hostess CupCake was introduced in 1919. Private equity companies Apollo Global Management and C. Dean Metropoulos & Company currently hold ownership of Hostess CupCake, an American brand of snack cake made and sold by Hostess Brands. A chocolate cupcake with vanilla crème inside and eight recognisable white squiggles on top is the most popular type. It has established itself as a legendary American brand and is said to be the first commercially made cupcake.
Make a Book Day
The purpose of the day is to encourage both adults and children to read as many books as they can in order to increase their knowledge, have more creative lives, and think differently. It is anticipated that the event would inspire readers to seek out new knowledge and discover the joy that resides within a book's pages, even though today isn't the only day of the year that people should read and write new books.
National Children's Mental Health Awareness Day
This day is meant to emphasise how crucial each child's mental health is. The best way to aid them on this day is to motivate them to start counselling. In contemporary societies, mental health is a big problem. More important is the mental health of children. It is impossible to overstate the value of children. Full-time care and therapy are required for children who have severe emotional issues and mental illnesses. We should support them by urging them to start therapy today.
The day recognises a surprisingly effective method for releasing muscle knots and reducing muscle soreness. People can significantly increase their flexibility by using a foam roller and the Consciousness Release technique. Even though some individuals may have just recently learned about foam rollers, they have been around for more than a century. Our muscles should become stronger and more fit thanks to today. Therefore, stand up and take a break from your hectic routine to foam roll.
National Technology Day
In honour of the engineers, scientists, and researchers who have improved science in India. The nation accomplished a number of key technological advancements on that day many years before, making the day significant. The day recognises how technology is transforming society and takes into account its future. The day annually honours technological innovations, from the wheel to cell phones, that have a significant impact on our daily lives. In Indian history, this day is noteworthy. It demonstrates their remarkable successes and portends an even more profitable future.
The popular television programme "The Twilight Zone," which is recognised as one of the best of all time, has inspired a wide range of spin-offs and adaptations, including graphic novels, movies, radio shows, board games, and more. The holiday was declared to honour thought-provoking television shows every year. Moreover, nothing was ever exactly as it seemed, making everything in this place rather weird and surreal. The focus of nearly every episode of "The Twilight Zone" is on the narrative and plot of that timeline; it is never brought up again in a later episode.
Somerset Day
In the Southwest of England, directly below the Bristol Channel, is the lovely county of Somerset. The county, which includes Glastonbury and even Bath, is home to a variety of rural and urban areas with a wealth of natural species and historic landscapes. The day aims to inspire people to learn more about Somerset County by encouraging them to do so. If they do this, they might develop a deeper affection for the county.
World Ego Awareness Day
A person's egoism can have some rather serious consequences, such as making them more likely to act violently, making them ignorant to the reality of their surroundings, and overall distorting how they interact with other people. The day gives us the chance to take some time to consider our egos as well as how interactions with others have affected how much of their egos are actually our own, resulting in disputes with others.