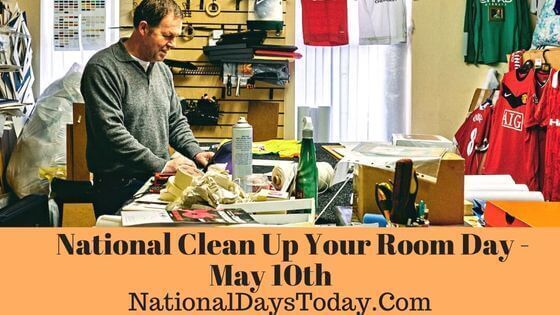 National Clean Up Your Room Day:
May 10th is a loved and awaited day by spring cleaners, and it sometimes happens to fall around Mother's Day, which is perfect! National Clean Your Day is a day when they come together and air their home out and can also be a day to show your parents your appreciation for them.
| | | | |
| --- | --- | --- | --- |
| Year | Date | Day | Where |
| 2023 | 10th May | Wednesday | United States |
| 2024 | 10th May | Friday | United States |
| 2025 | 10th May | Saturday | United States |
Twitter Hashtags:
#NationalCleanUpYourRoomDay
#CleanUpRoomDay
Related: Other National Days Celebrated on May 10th:
Why National Clean Up Your Room Day?
Are you still postponing your spring cleaning this year? This is the day to get encouraged to do so! Regardless of whether you choose to tackle a cluttered closet, a building mound of laundry, an entire room, or perhaps even the rest of your home, it'll be definitely worth the time and effort.
The spring-cleaning ritual extends back to when people are dependent on fires to heat and light their houses through the winter. Over months of being pent up with really no clean air, everything else in the household would just be covered in dust and ash. Spring cleaning usually takes place on the first hot day of the season.
The family members would transfer all the furniture and bedding outdoors. Next, they would clean the entire house, washing down the walls, pounding the dust out of the rugs, and polishing everything in sight.
Every family member can be a part of this cleaning process, which can get the work done faster and entertaining. Children can learn new things and understand that one of the basic skills everyone is supposed to have is maintaining their own home.
Taking some time to clean your home generates an atmosphere that is therapeutic, relaxing, and calm. Ensuring that your room is free of extra clutter provides your home with a peaceful ambiance, where you can get the mind space both to relax or unwind.
Furthermore, the cleansing process also has a soothing, alleviating impact on the restless and worried mind, giving rise to a feeling of competence and pride.
How Can we celebrate National Clean Up Your Room Day:
When you clean your entire house, you may come across items that you had forgotten about or that you had lost. This way, you can organize everything and keep only the things that you need. This process alone creates more space and makes you feel more significant.
After you have decluttered your house, take the things that you don't need anymore, and if the items are in a decent condition, you can donate them to various charities. Those things might help someone in need.
During the clean, you might even find things that you can repurpose and use in an entirely different way than they were meant to be used. This can be a fun activity to try with kids as well!
Take pictures of how you cleaned your place or repurposed any item and share them on social media with the hashtag #NationalCleanUpYourRoomDay. You can even put up before and after pictures of your room and how you have organized it. 
Interesting facts About National Clean Up Your Room Day: 
Cleaning is part of a lot of cultures. Here are some facts about cleaning that each culture imbibes in them –
Songkran is a two-day public holiday in Thailand that focuses on the festival of Thai New Year in April. It honors historical traditions by encouraging people to walk to the streets to shower one other with water. Many prefer to cleanse the insides of their houses, particularly by cleaning all of their things and by wiping down everything around their living areas.
The festival of lights or Diwali is observed in India across the nation. It is also considered as the celebration which brings way to new beginnings. So essentially, for making their beginning filled with optimism & for bringing a pleasant aura into their homes, a thorough cleaning is undertaken in every residence.
Quema del Diablo, which is celebrated in Guatemala, has origins in the Roman Catholic tradition. However, it's marked by most households in this Central American country before other religious festivals in the first week of December. The celebration requires homeowners to burn garbage in the street after cleaning their homes.
Khāne-takānī is indeed an Iranian custom of spring cleaning as an aspect of the Norouz festivities. It usually comprises cleaning rugs, repainting your home, and tidying the lawn and attic.
History of National Clean Up Your Room Day:
The history of this day is unknown, and we don't know how it originated yet.