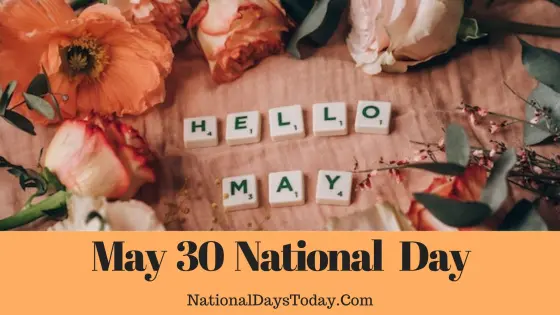 May 30 National Day:
| | | |
| --- | --- | --- |
| Date | Day | Where |
| 30th May | National Mint Julep Day | United States |
| 30th May | Fakesgiving | United States |
| 30th May | International Hug Your Cat Day | World Wide |
| 30th May | Loomis Day | United States |
| 30th May | National Creativity Day | United States |
| 30th May | National Hole In My Bucket Day | United States |
| 30th May | National Jennifer Day | World Wide |
| 30th May | National Sofia Day | World Wide |
| 30th May | National Water a Flower Day | United States |
| 30th May | World Multiple Sclerosis Day | World Wide |
A popular cocktail to sip during the sweltering summer months is the Mint Julep, which is one of them. Since bourbon is the main component in the mint julep, it is a beverage with a bourbon base. This cocktail's popularity has grown significantly, leading to the creation of this day. It is a day for those who are impatiently awaiting the ideal justification to raise their glasses and indulge in the reviving mint julep cocktail.
Fakesgiving
It's a holiday observed either as a humorous parody of Thanksgiving or to commemorate the idea that spending time with family and friends may happen at any time. In general, everyone has a good time and makes memories with one another when a dinner is made, family and friends arrive, and everyone sits at a table to express gratitude. The celebration's fundamental components are remarkably similar to those of Thanksgiving.
International Hug Your Cat Day
Cats can be categorised as house cats, farm cats, or feral cats, which wander freely and avoid interacting with people. You can give your cat lots of kisses and other forms of affection that they merit. It goes without saying that you ought to already be doing this, but this day is especially intended for it. One species of the broader cat family, the Felidae, known as the "domestic cat," is frequently distinguished from the wild cats.
The globe has been dominated by wireless communication methods. Finding a location without cell phones, fast internet, and other modern conveniences is therefore quite difficult. In a nutshell, the wireless medium has altered the world in which we now live, and it is important to recognise those who sacrificed much to make this invention possible. The day honours Mahlon Loomis, who created wireless communication as its first practical application.
Life is more intriguing and enticing when it is creative. The daily rhythm of life starts putting out the creative flame as we get older. It is always a good idea to reignite that spark because it is an essential part of being human and involves moving significantly in the direction of happiness. This holiday strives to inspire individuals to use their creativity to improve the world or, at the very least, make it more fascinating. It serves as a reminder that all people are creative.
National Hole In My Bucket Day
This holiday is devoted to the amusing children's song "There's a Hole in My Bucket." Henry and Liza are the main characters in this children's song, which is a conversation between them as Henry asks for help in mending his bucket hole. Henry, however, is stuck in a scenario where he can't fix his bucket without a bucket, as stated in the song. With their kids or while reusing their own holey bucket, adults might enjoy singing this amusing song.
National Jennifer Day
The name Jennifer, which means "the pretty one" and first occurred in the 18th century, is unquestionably a common one for girls in the United States. The origins of the name Jennifer are anything but typical, despite the fact that it seems ubiquitous now. Guinevere, the lovely queen who accompanied King Arthur in British legend, is related to Jennifer distantly. The Welsh name Gwenhwyfar, which translates to "The White Enchantress," is one of the earliest variants of the name.
National Sofia Day
In western society, Sofia is a very popular first name. Its widespread use during the Middle Ages and Renaissance may be partly credited to European nobles and Christian churches. The name Sofia is closely linked to Christianity, and European nobility who desired supernatural wisdom for their daughters grew quite fond of using it. Thankfully, the name Sofia was not only given to noblewomen throughout history; it was also a common name in many other countries.
On this day, it is recognised how important it is to take appropriate care of the plants in our gardens. If there were no beautiful flowers to be found, just imagine how lifeless the earth would be! Flowers are something we frequently take for granted, I believe. The reason for this is that we see them every time we look out the window or go for a walk. However, without nature, we wouldn't be able to take our walks as much or in such a peaceful environment.
World Multiple Sclerosis Day
Multiple sclerosis is a chronic autoimmune disorder. Immune cells of the body assault the myelin sheath, a layer of nerve fibres that encircles the brain and spinal cord, and this causes a permanent scar. As multiple sclerosis has an adverse effect on the self-esteem and mental health of those who are affected, this day attempts to foster unity by supporting the patients and fostering relationships between them.