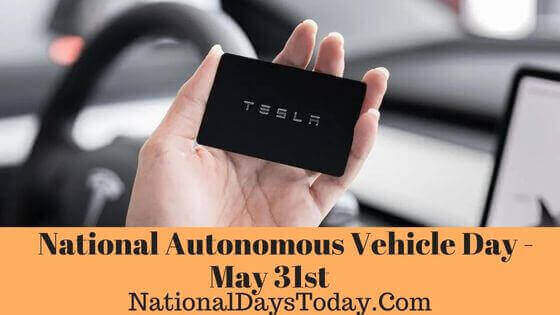 National Autonomous Vehicle Day:
As an observation in the development of technology in transport, May 31st of each year is celebrated as National Autonomous Vehicle Day. On this day, we all must learn to actively appreciate the development in science and technology.
| | | | |
| --- | --- | --- | --- |
| Year | Date | Day | Where |
| 2023 | 31st May | Wednesday | United States |
| 2024 | 31st May | Friday | United States |
| 2025 | 31st May | Saturday | United States |
Twitter Hashtags:
#NationalAutonomousVehicleDay
#AutonomousVehicleDay
Related: Other National Days Celebrated on May 31st:
National Save Your Hearing Day
Necrotizing Fasciitis Awareness Day
National Speak in Sentences Day
Why National Autonomous Vehicle Day?
We all love to travel, but we are lazy to drive around, especially when it's on the road. However, thanks to today's latest technologies, we have self-driving cars and other autonomous vehicles.
One of the technologies that we heavily depend on is vehicles and all the other types of transportation. When it comes to technology, we are always in search of finding solutions and trying to find ways to make our lives better.
In the trials of improving transportation, self-driving and unmanned aerial vehicles came into existence. Not only are they a step on the improvement of science, but they are also a huge help for us. They make our lives so much easier by driving us to the places that we want.
However, there are many problems and apprehensions that are still around autonomous vehicles, and the industries are striving to prove the safety and usefulness of these vehicles. On this day, we overcome our apprehensions and recognize the fast-paced changes that occur in our everyday lives and appreciate the positive improvement of science.
How Can We Observe National Autonomous Vehicle Day:
There is no right or wrong way to celebrate national days; all that is important is having fun and sharing something knowledgeable about the day. There are many ways in which we can observe National Autonomous Vehicle Day, and some of which are:
You are obviously here because you have a lot of interest in cars and autonomous vehicles. So on this day, to get more knowledge about self-driving cars and unmanned aerial vehicles. Read more about them, and get deep into it. Feel free to do research on your own and feed your mind with all the interesting facts.
If you have ever ridden or traveled in a self-driving vehicle, share your experience and what you felt at the moment. At first, it must have been a little terrifying to see a car just turning and driving itself, like shown in horror movies. Use the #NationalAutonomousVehicleDay and share your stories on your social media platforms for all to read.
You can also use this as an opportunity to share your valuable thoughts and opinion on this development. Some of you may love it, while others might hate it; either way, feel free to share your opinion on social media platforms for all to read.
Interesting Facts About National Autonomous Vehicle Day:
There are some facts which you wanna know, so just read them below-
Autonomous vehicles recreate the roads in 3D for a better understanding of the roads and ensure travelers' safety.
The first prototype of driverless cars was operated by Google in 2015, under Alphabet Inc.
Researchers have several estimations that by 2035 there will be about 90% of self-driving cars on the road, and by 2050 almost all road vehicles will be driverless.
A study reveals that in case of emergency, self-driving cars might sacrifice travelers in order to save the people on the road.
Google has more than 12 self-driving cars, and they have recorded 11 accidents in total. However, the inspections later revealed that none of the accidents were caused by the cars.
If all the cars become self-driving, then studies predict that there will be a 90% decrease in accidents, 80% fewer emissions, 40% decrease in congestion and traffic.
History of National Autonomous Vehicle Day:
The National Autonomous Vehicle Day was founded by Emerging Prairie (an "entrepreneurial ecosystem platform") and Marlo Anderson (an American talk show host). They established this day to celebrate the advances in science and the possible growth in the future for autonomous vehicles. Registers seem to say that this day has been observed since the year 2017 and since then, it has been annually celebrated on May 31st.
The main agenda of the National Autonomous Vehicle Day is to appreciate the growth of science and the development of technology that provides us with a safe and sound environment in the future. We can only learn and try to keep up with the world in our fast-paced world, and this national day allows us to do just that.