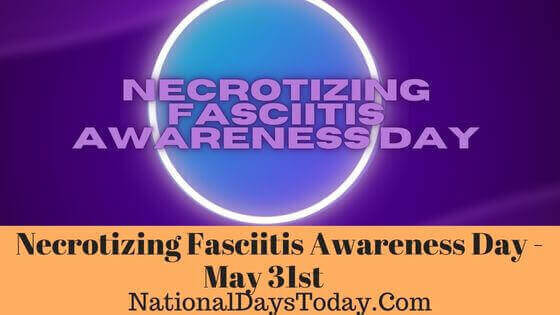 Necrotizing Fasciitis Awareness Day:
Every year on May 31st, the Necrotizing Fasciitis Awareness Day is observed. We bring awareness about rare diseases that affect some of us on this day. On this day, we work towards helping out the community of people who face the problems of Necrotizing Fasciitis and help bring a positive change to them and their lives.
| | | | |
| --- | --- | --- | --- |
| Year | Date | Day | Where |
| 2023 | 31st May | Wednesday | United States |
| 2024 | 31st May | Friday | United States |
| 2025 | 31st May | Saturday | United States |
Twitter Hashtags:
# NecrotizingFasciitisAwarenessDay
Related: Other National Days Celebrated on May 31st:
National Save Your Hearing Day
National Autonomous Vehicle Day
National Speak in Sentences Day
Why Necrotizing Fasciitis Awareness Day?
Many of our privileged enough to be in good health, and as fellow humans, we must show our support and love for those who are going through a tough time because of this. Necrotizing Fasciitis is a rare skin disease that affects the soft tissues on our skin, and it spreads quickly if not treated properly.
The common cause for this is infection from a bacteria called Streptococcus. This bacteria can enter our body through any open wounds, and once entered, our body will show symptoms like the flu. Even though this is a rare disease, it can happen to anyone of us, and the most crucial part is receiving proper treatment at the right moment.
In order to get the treatment done, the patient will first have to recognize that they may be having some issues with their body. On this day, we help bring more information and knowledge on this topic so that everyone is aware of this bacteria and seeks the proper treatment on time.
On the Necrotizing Fasciitis Awareness Day, people also collect funds to support the patients and their families. Not many will be able to cover the expenses of their treatments, and by bringing awareness about the seriousness of this disease, more people will understand and donate to the cause and help the patent's life.
How Can We Observe Necrotizing Fasciitis Awareness Day:
There are various ways to celebrate this day-
On this day, you can choose to learn about the seriousness of this condition and educate yourself to be more sensitive and understanding towards the people who go through it. You can find plenty of resources online, and you can also visit necfasc.org for factual and accurate information.
You can donate to the cause. As already mentioned, not everyone is lucky enough to afford the treatment, and these donations will help support the patient's medical expenses and relieve a little stress for them.
You use your existing knowledge and help bring more awareness to this subject. You can use the #NecrotizingFasciitisAwarenessDay while sharing your posts on social media platforms. However, remember that this is a sensitive matter and has to be approached gently without being offensive toward the people who suffer. It is also important that you only share factual information regarding the matter as it is something scientific and needs to be accurate.
Interesting Facts About Necrotizing Fasciitis Awareness Day:
The Necrotizing Fasciitis disease is also known as the "flesh-eating" disease. It is not a newly found disease as it has been prevalent since the 5th century B.C., according to the reports by Hippocrates.
People with a weaker immune system can easily get Necrotizing Fasciitis diseases.
The treatment for it involves modern high tech techniques such as the hyperbaric oxygen chamber, which helps prevent the tissues from getting damaged.
More than 2000 cases were reported among the civil war soldiers at that time.
According to the Centers for Disease Control and Prevention, about 9000 to 11,500 people on average get infected by the streptococcus bacteria each year, and within these numbers, only 6-7% of them are invasive. By invasive, it means that they attack healthy tissue and cause the disease to spread across the body.
History of Necrotizing Fasciitis Awareness Day:
This disease was unknown and was generally labeled as "phagedenic ulcer, phagedena gangrenosa, gangrenous ulcer, malignant ulcer, putrid ulcer, or hospital gangrene." until the 19th century.
In 2006, a man called Tim Hayden had a scratch on his knee and later had flu-like symptoms and rashes kind on his back. He was immediately hospitalized, and it was discovered that he had Necrotizing Fasciitis disease. He slowly overcame this and created an online support group that was a safe space for all those who survived the condition. IN 2017, he established May 31st as the Necrotizing Fasciitis Awareness Day in order for people to learn about the conditions and be safe.