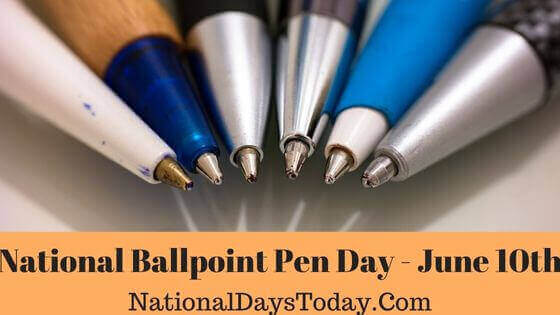 National Ballpoint Pen Day:
The National Ballpoint Pen Day is observed each year on the 10th of June. It highlights the patent filing anniversary of one of the most significant writing tools, the ballpoint pen, and acknowledges its importance in everyone's life.
| | | | |
| --- | --- | --- | --- |
| Year | Date | Day | Where |
| 2023 | 10th June | Saturday | United States |
| 2024 | 10th June | Monday | United States |
| 2025 | 10th June | Tuesday | United States |
Twitter Hashtags:
#NationalBallpointPenDay
#ballpointPenDay
Related: Other National Days Celebrated on June 10th:
Why National Ballpoint Pen Day?
The introduction of ballpoint pens made a revolutionary change in writing utensils. Before the introduction of ballpoint pens, people used pencil or fountain pens to write or draw something on paper. Fountain pens and quill were a good option as a writing utensil but they were not reliable as they were more open to spill and making the paper and surrounding place dirty. Ballpoint pens were especially introduced as a cleaner and more trustworthy alternative to those fountain pens and quills.
The concept of making a perfect ballpoint pen was tried by many people, many ups and downs and challenges came in the way. Inventors were continuously trying to find solutions for these problems and make ballpoint pens practical for a smooth operation.
Finally, the two brothers named Laszlo and Gyorgy Biro came up with the foolproof concept of a ballpoint pen that was working fine and had a quick-drying ink feature just like the printers. They got the US patent of ballpoint pens on the 10th of June 1943, and they changed the way of writing and using a pen for everyone. Later, the rights of ballpoint pens were bought by the British government and the productions were started all over the world.
Firstly, it was introduced as an alternative to the fountain pens and quills, as they were not so reliable and sometimes they could make situations clumsy and messy. Now, everyone could just write and circulate the paper anywhere without waiting for it to dry. Once it was considered to be a luxury product as it was made available only to rich and very important people because of its operation and very little production. But with time, it was made available to everyone with a cheap and classic design that can be produced on a very little budget.
National Ballpoint Pen Day is celebrated to acknowledge the importance of this small ballpoint that made a whole revolution in the timeline of pen and writing. Presently, the ballpoint pen comes in a wide range of designs, styles, and with several functions, and there are pens with unique styles that are available for people with every range of income. These pens have become a crucial part of society with usage in every small detail and writing, and they can be found in everyone's pocket regardless of their financial status.
The Ballpoint pens have evolved day by day since 1943 and they have been creating great impacts since the day it was introduced. Now, they are made of metal tubes to give them a premium look, and they are also made with gold and silver. This day marks the great revolution of writing utensils and how it changed the whole world's way of writing.
How can we observe National Ballpoint Pen Day?
Try and buy a bunch of ballpoints
You can celebrate this great day by buying a bunch of good ballpoint pens and using them or gifting them.
Write with only ballpoint pens
Do all your writing work for the day with ballpoint pens only.
Show love on the internet
Post photos and videos of your favorite ballpoint pen and about their features on your social media with #NationalBallpointPenDay and #BallpointPenDay.
Interesting facts about National Ballpoint Pen Day:
These are some interesting facts about these ballpoint pens which will surprise you :
Customize-designed ballpoint pens are a thing, and almost 56% of people in the world have at least one customize-designed ballpoint pen with them.
Every time a person buys a brand new ballpoint pen, he/she generally tries it out by scribbling their name.
On average in the USA, 5 ballpoint pens are used by people each year.
Tests have shown that on average, a good ballpoint pen lasts till around 50,000 words.
Almost 124 ballpoint pens get sold every second.
History of National Ballpoint Pen Day:
The origin of this inventive day is still under research. The National Ballpoint Pen Day is celebrated on the 10th June of every year, as on this day the  Laszlo and Gyorgy Biro brothers got the patent of the revolutionary Ballpoint pen, which brought a big change in the writing world.