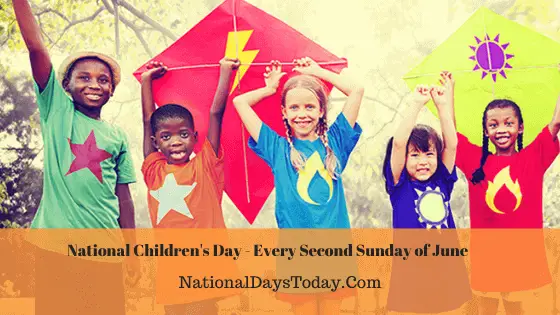 National Children's Day:
Celebrated on Second Sunday of June, every year. The Day is celebrated prominently for Children's Happiness and to show gratitude to all the mothers. It is also observed to spread awareness to mitigate the threats to children.
| | | | |
| --- | --- | --- | --- |
| Year | Date | Day | Where |
| 2023 | 11th June | Sunday | United States |
| 2024 | 9th June | Sunday | United States |
| 2025 | 8th June | Sunday | United States |
Twitter Hashtags:
#NationalChildren'sDay
#Children'sDay
Related: Other National Days Celebrated on June 9th:
National Strawberry Rhubarb Pie Day
Why Children's Day?
The National Children's Day is celebrated prominently for Children's Happiness and to show gratitude to all the mothers. It is also observed to spread awareness to mitigate the threats to children. generally, Children go through stress even for a small thing. For a pencil, eraser everything. then, just imagine, how much they would worry if the parents go for divorce decision and abduction against their will. Normally, parents opt for divorce due to marital problems. Anything could be the reason. from irreconcilable differences to physical assault. Taking a decision for our own welfare is good but at the same time, parents must ensure that the children are not affected at any cost. Parents may have irreparable troubles but for the Children, they remain their father and mother. Therefore, before divorcing, Plan your Children future, talk to them and decide accordingly. This day is also to promote such discussion too.
Childhood is an enjoyable part of our life. Children thoughts are very pure. They are bit emotional. They are like mobiles without tempered glass. Therefore, our attitude towards them should be like a tempered glass to avoid any cracks in their mind and hearts.
Another major threat the children faces is "Child Abuse". Not only to them, it is a serious concern for the world. so many incidents have happened which has even failed to alarm us. In India, in 2018, A girl named Asifa, 8 years old, was brutally raped for almost a week by a group of men in a temple and murdered. She was a Kashmiri girl and use to care for her horses. A policeman and his father are reported to be convicted in this brutal incident. It created a major shock worldwide. We should create a better future environment for them rather than destroying their lives. Perhaps, Children's Day seriously demands this too. Certainly, In Pakistan, a number of children died in a bomb attack in a public school in 2016.
Our country is commonly affected by terrorist attacks, attacks driven by psychological problems. Though we had taken numerous measures, could not avoid such recurrence and that's a serious threat. Still, that needs to be focused. Children safety plays a pivotal role in Country's development.
Another Major threat is Child labor or child Slavery. A study has revealed that so many children are even now working as farm labor in the United States despite the formation of National Child Labor committee that tends to abolish child slavery. Children are being exposed to severe harmful pesticides and Agriculture is claimed to be one of the dangerous occupations in the United States. They are further forced to work as a mandatory overtime for about 10 hours per day as farm workers. Several Acts has been enacted to oppose and abolish Child Slavery. The result is also positive in comparable to that of recent decades.
Another Major threat is Adoption. Adopted children sometimes are maltreated and several relevant incidents also noted even in recent years in the United States. One in 25 families adopted a child in the United States. About 140000 children were adopted by the American Families each year . The United States is the most affected country by Child Abuse and Neglect in which roughly, four to seven children were affected by child abuse and neglect every day, a statistic data claims, despite the enforcement of several laws. Therefore, the day is to ensure the Children's Happiness in all sorts. We are in an urge to provide them a better platform to survive. The day seriously demands this too.
How we can Celebrate or Observe National Children's Day:
Explore more about Charles Leonard, the founder of National Children's Day. Though it was confirmed that he founded this day by the year 1856, the reason behind for the origin of this day is yet to be confirmed. It was reported to be for baptizing the children. Nevertheless, our research could not confirm the same. post your revelations, if any, using this Hashtag #CharlesLeonard. Use this hashtag  #NationalChildren'sDay to post on social media. Use your poetry skill , narrate a poem in honor of the day. Take a selfie with your children and post it on Facebook, twitter etc. Let your social accounts Profile picture shall be decorated with your children picture. Without the Children, the house would be like a lamp without Light. Every parent lives for their children, and only for their Children. But, at sometimes, we, Parents do not know how to react with them. We, sometimes behave harsh that in turn would affect them psychologically. Therefore, it is the responsibility of the parents to not lose the control while handling them. Our some reactions may provoke them badly. Children are like a Glass. We must handle with care. Plan for a vacation tour with your children.
Another Major threat to Children is Child Abuse. A study has estimated that Almost 30 percent of the Women and I in 13 men were abused during their childhood globally that includes Physical Maltreatment, Sexual Assault, etc… Use this hashtag #SayNoToChildAbuse to extend your support against this barbaric activity.
Go to some Foster Care with your Children and spend some quality time with the foster children that make our children understand the values of parents and they may ought to obey. Oh My God!. that's sounds great!. isn't it?. Just have a try.
Children nowadays are becoming very adamant. They like to play even for 24 hours in a day in mobile phones and the emission of radiation would be very harmful to them comparatively than us. It has become a major headache nowadays. personally, I suffer a lot.  Express your ideas to avoid any harmful issues. use this hashtag #ChildrenMobileAddiction
Interesting Facts About Children's Day:
Children's Day is also celebrated in various countries on different occasion.
In Canada, The Children's day is celebrated on 

November 20

, as an annual event right from the year 1993 to honor the enforcement of the law against children Adoption and Rights. The day is also celebrated to promote the rights of the children.
 In Mexico, Children's day is celebrated right after the First World War. It is celebrated on April 30, as an annual event. Initially, the day was proposed for the Children affected by the War events. Later, it is also celebrated to show gratitude towards Children and Mothers. It Was recommended on May 1. Since it coincides with the Labor Day or May Day, the event was predated to April 30.
In China, Children's Day is celebrated on June 1 annually. Previously it was a half day holiday only for the primary schools. Later, the government had expanded the holiday as one whole day to all the schools. Like India, Several Competitions, Campaigns, and educational programs will be held on this day. In addition, Government servants are also provided with a half day break on this Day with gifts for their Children from the Government.
In Brazil, Children's day is celebrated on 

October 12

, the same day on which the "Our Lady of Aparecidia" statue was feasted. The day is also popular as Columbus Day. Surprisingly, the same day, Columbus founded America as a new Continent.
In Australia, a whole week holiday is recognized as Children's Day. The day is coordinated to emphasize the Happiness of the Children and to praise the Motherhood.
 In Argentina, Children's Day is being celebrated on every third Sunday of August as an annual event.
In India, Children's day is celebrated on 

November 14th

 of every year. The day is chosen to coincide with the birth date of the first Prime minister of India after Independence, Mr. Jawaharlal Nehru. He was affectionately called as "Chachaji Nehru" means "Uncle Nehru". After his death, his birth date is recognized as Children's Day since he basically fond of children. Grand Celebrations will be held on this day in all the public and private schools, where, Children are engaged in several competitions.
In New Zealand, Children's day is celebrated on First Sunday of March. New Zealand suffers from high rates of child abuse. Therefore, this day is an important day for the people of New Zealand. Any kind of Child Abuse is unacceptable. It should be eradicated completely so that the world would become peace to live. Such Barbarians who involved in child abuse should be hanged till death. The government of New Zealand attempted to eradicate child slavery and abuse by implementing several laws and the results are progressive.
In Bangladesh, Children's day is celebrated on 

March 17th

 of every year that coincides with the birth date of the first President of Bangladesh, Mr. Sheikh Mujibur Rahman. In Chile, Children's day is celebrated on second Sunday of August only as an event where children buy Toys. It does not promote any other rights, unlike International Children's Day.
In most of the African countries, Children's day is celebrated on 

25th of December

, The same day on which Jesus Christ was born. However, it varies in some countries like Zimbabwe, South Africa. When most of the countries celebrate for the Children's Happiness, African countries emphasizes this day to promote compulsory education for all the African Children since the illiteracy rate is certainly high in most of the African Countries.
History of Children's Day:
National Children's Day was founded by Charles Leonard of Chelsea in the year 1856. This day was founded especially to Baptize children. Previously, he named it as Rose Day. However, in the year 1995, the then president Bill Clinton officially declared this day as National Children's Day and in addition, he post-dated this day into October 8. Later, in 2001, President George W. Bush proclaimed first Sunday of June as National Child's day. Nonetheless, National Children day is observed on either October 8th or second Sunday of June as an annual event.