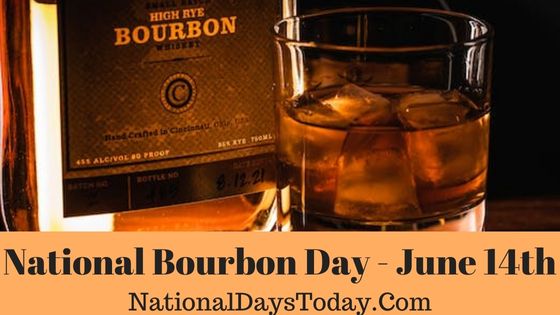 National Bourbon Day:
National Bourbon Day is celebrated on every June 14th to enjoy the corn based American Native Spirit, Bourbon Whiskey.
| | | | |
| --- | --- | --- | --- |
| Year | Date | Day | Where |
| 2023 | 14th June | Wednesday | United States |
| 2024 | 14th June | Friday | United States |
| 2025 | 14th June | Saturday | United States |
Twitter Hashtags:
#NationalBourbonDay
 #BourbonDay
Related: Other National Days Celebrated on June 14th:
National Pop Goes the Weasel Day
National Strawberry Shortcake Day
Why National Bourbon Day?
Bourbon, made of corn is the most popular drink produced in America. Despite other beverages, it has a strong connection with us as Bourbon Whiskey is first brewed in the United States. Even now, the one which are produced in Bourbon is considered as the original Bourbon Whiskey and it has rich traditional values.
As Americans favorite and native alcoholic spirit needs a day to be celebrated, it was declared that every June 14 is to be dedicated to Bourbon Whiskey.
This day is celebrated to be observed, to know more facts about bourbon and to explore more about the history of bourbon.
When this day is also an additional day for a glass of a drink, read on this articles to know some facts about our Nation's best spirit.
How can we observe National Bourbon Day?
Go For a cocktail drink:
A simple way to celebrate this day is go for a drink. Share your favorite mixing.
Know more about House of Bourbon:
House of Bourbon is the royal family of France. Know more about the bourbon dynasty as it would a most suited way to observe this day. The name implies the importance of this royal family in the American History. The America's native spirit has a French name. Quite Interesting. Read, know more and share.
Host a party:
Organize a party and enjoy bourbon with your friends and families. Make a brunch and see what tastes better with bourbon. Don't forget to share your findings using the mentioned hashtags.
Read Books about Bourbon:
You can find a handful of books about the History of Bourbon. Read about it and refer a book to others using the hashtags #NationalBourbonDay and #BourbonDay
Read the production process:
Read more about the production process and do an article and release it in your Facebook page or accounts. Help others in knowing about the America's Native distilled Whiskey. Use the hashtags #NationalBourbonDay and #BourbonDay so that it would be easy for others to notice your article.
Know about prohibition Act:
Because of Prohibition Act, for around 95 years, bourbon industry suffered from serious consequences in terms of revenue. Explore more about it and Read about the impacts of prohibition on other liquors.
Do a You Tube Video:
If you own a you tube page, Do a review on Bourbon Whiskeys, its ingredients, Price and bottle Quantity and Value. Share about the taste and flavor and the impact on your You tube videos. If possible, do a travel vlog in Bourbon and cover some distilleries to share the real time production methods.
Know about Kentucky Bourbon Festival:
Kentucky Bourbon Festival is a famous event happened every year in Kentucky with usual visitors of about 20000 to 50000. Due to Covid Pandemic, it was not celebrated in the last 2 to 3 years. In case of any future events, book a ticket and participate. Don't forget to share it on social media.
Share some interesting facts:
Share some interesting facts about Bourbon. A normal information might be an interesting fact to someone. So even if it's a well-known information, never mind and share it in the comment section. Your piece of information if founded authenticated, then will be added in the interesting facts with an appreciation note.
List out the other uses of Bourbon:
We have already known that it's used for cooking and medicinal purpose. But we don't know on what level it is used. Share any recipes if you know and any stories of treatments with notes.
Know about the federal Standards:
For U.S consumption, according to federal law,
It must be produced in the United States, Puerto Rico and Columbia.
Newly bottled.
Should not be distilled more with more than 80% of volume of Alcohol
It must have 51% of corn at the least.
No minimum ageing period required
Labelled as straight must be within 4 years of aging.
Interesting facts about National Bourbon Day:
Let's see some of the interesting facts about bourbon to make this day informational.
Bourbon Whiskey is of 51% of corn.
The birthplace of bourbon is Bourbon County in Kentucky.
Distilling method is assumed to be brought to the United States by Scottish settlers.
In 1964, the United States Congress recognized Bourbon "distinctive product of the United States".
The term bourbon is claimed to be associated with Bourbon County in Kentucky. Most of the brands are still produced in Kentucky. 95% of the Production is contributed by Kentucky only.
To recognize the history of bourbon Whiskey, National Bourbon Heritage Month was observed on September in 2007.
In 1964 resolution, the United Congress declared bourbon as "America's Native Spirit".
Like National Bourbon Day, The Kentucky Bourbon Festival is a weeklong activity that is celebrated on an annual basis.
In particular, Bardstown is considered as the "Bourbon capital of the world".
To be legally sold as bourbon in the states, the whiskey's mash ingredients require a minimum of 51% corn. Otherwise, the remaining could be made of any cereal. It is further distilled to 65% to 80% of alcohol.
From 1920 to 1933, during the prohibition period, the bourbon industry reported a severe downfall and totally wiped out. All the distilleries were shut down during this period especially in Bourbon, around 26 distilleries were shut down and resumed operation only during the late 2014.
The County "Bourbon" was named after the French House of Bourbon, a French royal family for thanking the involvement and assistance of Louis XVI during the American Revolutionary War. Hence the term bourbon is actually a French name.
As of 2014, the wholesale market revenue for bourbon sold within the United States was about $2.7 billion.
In 2018, it derived billion dollar revenue as reported by the Distilled Spirits Council of the United States.
It is estimated that bourbon contributes two-third of the revenue in overall export of distilled spirits. In 2013 exports surpassed $1 billion for the first time. The year 2013 is hailed as "golden age of Kentucky bourbon".
The largest importers of U.S Bourbon Whiskey are Canada, the United Kingdom, Germany, Australia, and France. The other notable importers are Brazil, the Dominican Republic, Bahamas, Israel, and United Arab Emirates.
Bourbon also used for medicinal purposes and in cooking.
Bourbon that has been aged fewer than three years cannot legally be named as whiskey in the European Union.
History of National Bourbon Day:
The origin and founder of this day is obscure. However, the history of Bourbon would be quite interesting.  Actually, bourbon is not a name, it is just a whiskey which has got its name because of its birthplace and unique flavor.
Bourbon has been distilled since the 18th century and Country Bourbon which was called as old bourbon previously is known for the production of Whiskeys from olden days. The whiskey barrels from this area are marked as "Old Bourbon" and shipped to other countries. Gradually, the whiskeys of "Old bourbon" barrels continued to attract people due to the distinctive flavor. The term "Old Bourbon" has become famous and whiskey retained the name as "Bourbon". The people were in misconception that the term "old" is associated with ageing thus attributing a significant popularity of Bourbon Whiskey.