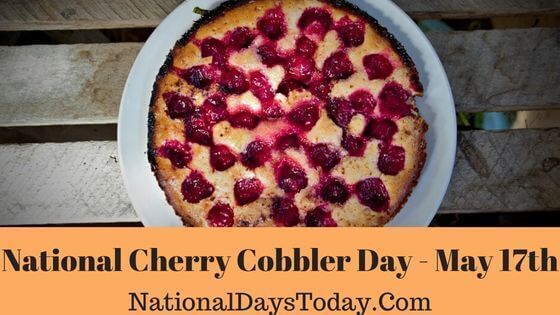 National Cherry Cobbler Day 
Celebrated annually on May 17th, the National Cherry Cobbler Day cherishes the delicious tart dessert – The Cherry Cobbler! Baked with rich cherry filling and a cracker base, it is one of the US's most loved desserts enjoyed with a dash of ice cream!
| | | | |
| --- | --- | --- | --- |
| Year | Date | Day | Where |
| 2023 | 17th May | Friday | United States |
| 2024 | 17th May | Sunday | United States |
| 2025 | 17th May | Monday | United States |
Twitter Hashtags:
#NationalCherryCobblerDay
#CherryCobblerDay
Related: Other National Days Celebrated on May 17th:
Why Cherry Cobbler Day? 
The roots of any national holiday can be found in its history, so let us learn about how cherry cobblers came to be by studying their history. The delicious cherry cobbler first made its debut in the early 19th century.
The British were known for their delicious pies and puddings. When the Americans settled in the British colonies and missed their traditional suet puddings, they started baking cherry cobblers with a few simple ingredients, as they lacked suitable ingredients for their puddings and pies.
Although Cherry Cobbler began as a recipe with few ingredients, it has evolved through the years making it one of the most coveted desserts in America. The reasons for how this dessert got its name are uncertain. There are a few theories for the meaning behind the name. Some say it got its name from the word 'cobeler', which is the term used for wooden bowls. Yet few others believed that name was given because it resembles a cobblestone.
Although it's two centuries old, people still enjoy this dessert with its many variations! It is inspired by both American and European cuisine. It can either be baked or steamed according to your convenience.
Cobblers can be prepared from plums, apricots, and apples as well! But the most loved of all is the Cherry Cobbler!  The preparation may also include small qualities of spices like nutmeg, cinnamon, pumpkin pie spice, etc to add flavor.
Cherry cobbler isn't very crisp as oatmeal is not used in the preparation. Cobblers can have both, a top and bottom crust sometimes. This dessert is not only delicious but has a lot of health benefits, so why wait to celebrate this day? Let us get to the celebration already!
How Can We Celebrate National Cherry Cobbler Day? 
Love baking? here's another reason to bake today! Unlike a few tedious dishes that have a lot of procedures, this dish is very easy and it won't drain much of your energy. Check out a few easy Cherry Cobbler recipes online or give your mom or grandma's recipe a shot today!
If you're not a cooking person, you can always order from your nearest bakers! Explore your locality for varieties and huge discounts too!
Organize a Cherry Cobbler Party! Bake your unique and special versions of cherry cobbler and ask your friends and family to do the same, so that you can all have a taste of different versions of it and enjoy the day!
Share Cherry Cobblers with the less fortunate.
Share your love by donating some home-cooked or store-bought cherry Cobbler to the less fortunate who can enjoy the day by having some Cherry Cobblers too!
Gift your sweet-tooth buddies some Cherry Cobblers!
Show your love to your sweet loving friends and family members by sending a Cherry Cobbler their way!
Feel like a Brit on Social Media!
Share your love for Cherry Cobbler with recipes you created or the ones you loved this year! Use pictures, videos, and blogs to share them with friends and family on social media! Use the hashtag #NationalCherryCobblerDay and #CherryCobblerDay when posting on social media.
Interesting Facts Of National Cherry Cobbler Day: 
These are a few interesting facts surrounding Cherry Cobbler that will make you love the dish even more.
Cherry Cobbler can be eaten for the main course too – definitely filling!
In the southern regions, Cherry Cobbler is enjoyed with Vanilla ice cream as a tradition!
A Cherry Cobbler is prepared with unsweetened crackers for the base!
Cherries are packed with nutrients like fiber, minerals, and vitamins.
Cherries are rich in anti-inflammatory compounds and antioxidants, which help with chronic diseases and aging.
Cherries can relieve exercise-induced damage or muscle pain.
The USA is the second country in the world where cherries are grown more.
History of National Cherry Cobbler Day: 
The origin of National Cherry Cobbler Day still remains a mystery, but what can stop us from celebrating this mouth-watering dessert? Let's say bon appetit and enjoy some cherry Cobbler!