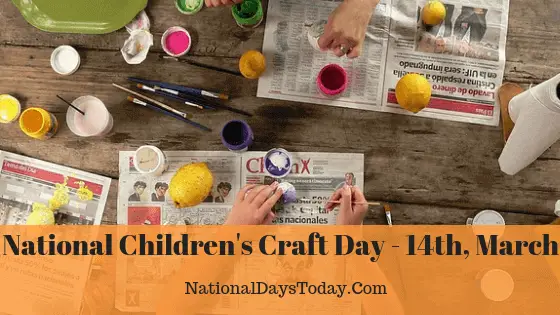 National Children's Craft Day:
Celebrated on March 14th, every year. The day is to engage our children in Craft making.
| | | | |
| --- | --- | --- | --- |
| Year | Date | Day | Where |
| 2023 | 14th March | Tuesday | United States |
| 2024 | 14th March | Thursday | United States |
| 2025 | 14th March | Friday | United States |
Twitter Hashtags:
#NationalChildren'sCraftDay
#Children'sCraftDay
Related: Other National Days Celebrated on March 14th:
National Learn About Butterflies Day
Why National Children's Craft Day?
The National Children's craft Day is observed to provoke our children so that they can be diverted from watching TV/using handsets. Our children nowadays are prominently wasting their awesome childhood on watching TV and Mobile Phones. It not only deteriorates the health, but also affects their thinking ability. Invoking their mind through making crafts would definitely enhance their creativity. Just scavenge all your household items, give it your children, and see how they are building and recycling it.
Do not give them anything that requires adult supervision. Do something like organizing events for your apartment children and acclaim their creative ideas.
Happy National Children's Craft Day.
How we can Celebrate National Children's Craft Day:
Enjoy the day with them. There are loads of videos with respect to kid's crafts surfacing on the Internet, choose any and show to your children, if they found wonderful, ask them to imitate the same. However, never impose anything on them; let them try on with their own imagination. Take a resolution from today and enjoy some quality time with them every day by creating awesome ideas. Please post your children's craft using this hashtag #NationalCraftsDay and let the world applauds their magnificent creations.
Interesting Facts About National Children's Craft Day:
Schools are instructing the children with projects to build self-esteem and the accomplishments are awarded to encourage them further.
Children are passionate on DIY Jewellery making and basic embroidery works nowadays.
By following simple ways we can rear children's creativity like Giving your time to them; asking questions about their creations to encourage them, not trying to demotivate at any cost, embracing their ideas, giving them some motivating feedback,etc.
On 2018,when the Duke and Duchess of Sussex (Prince Harry and Meghan Markle) were on tour to Australia, a very young fan named Gavin presented a necklace made by
pasta to the duchess, he just painted pasta with gold color and used a string of black beads to make an adorable chain. The Duchess became overwhelmed by his present and worn it right after he presented, on that day he became the most wanted guy on the social media, perhaps, orders were pouring and Gavin decided to open a company and sells pasta Necklace. Here we should appreciate Meghan Markle for her great move in honoring and motivating that young child's creation without a second delay. Hats off to you Meghan Markle, you are one of the greatest women.
BEWARE:
Though we want them to spend their time on making crafts, we need to ensure that certain things to be avoided.
Do not provide them any harmful items like knife, needles,
Glue Gun, etc. (if you do so, sit with them and supervise it).
Provide them only waste items like shampoo/water bottles, papers, etc. (if you give bottles, sit with them and supervise it.).Do not give anything expensive.
Ask them to arrange their wardrobes and rooms creatively.
Do not give them any academic related stuffs. They will feel exhausted.
History of National Children's Craft Day:
The origin and creator of this day is obscure.