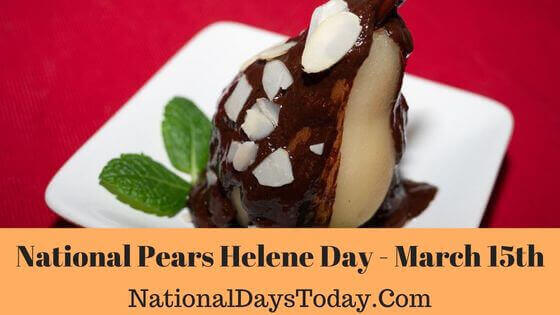 National Pears Helene Day
15th March is observed as the national peach Helene day as it celebrates a part of the culture and history, the delicious pears Helene.
| | | | |
| --- | --- | --- | --- |
| Year | Date | Day | Where |
| 2023 | 15th March | Wednesday | United States |
| 2024 | 15th March | Friday | United States |
| 2025 | 15th March | Saturday | United States |
Twitter Hashtags:
#NationalNappingDay
#NappingDay
Related: Other National Days Celebrated on March 15th:
National Everything You Think Is Wrong Day
 Why National Pears Helene Day:
Pears Helene is a French dessert that is made of warm, succulent pears that are poached to perfection. These pears are then dressed in vanilla ice cream and chocolate sauce.
This dish came into fruition (see what we did here?) around 1864 when French Chef Auguste Escoffier made this dessert in honor of the operetta La belle Hélène by Jacques Offenbach. No wonder this dish creates harmony in our mouths!
15 march is celebrated as National Pears Helene day in honor of this symphony of a dish and to keep the tradition alive.
As time passed and commercialization hit everything, pears helene evolved as well. Simpler versions with canned pears instead of poached ones appeared in order to increase the shelf life and to make it easier to pack and transport. Since crystallized violets are hard to come by, they have been replaced by sliced almonds in order to appeal to the masses.
This holiday can be celebrated just as an excuse to eat some dessert listen to french music, and drink some wine. You can also invite your friend for a little celebration!
How Can We Observe National Pears Day:
1.We can celebrate this day by making ourselves a delicious serving of pears helene, or you make any normal day the National Peach Helene day by following the given recipe.
This dessert is made by poaching ripe pears in sugar syrup, which makes the pears extremely soft; the subtle flavors of vanilla and the rich body of the chocolate complement each other to make the dessert very satisfying. The crystallized violets make it even more appealing.
This flavor combination creates an experience that appeals to the eyes as well as the tongue.
Ingredients
6 cups of water
1 lemon, zested and juiced
4 Medium-sized pears, make sure they are ripe, cored, and peeled. Leave the stems on
1 vanilla bean
3 cups of sugar
1 cup of hot fudge topping or some chocolate should do the trick as well
1 cup vanilla ice cream
Step 1
Take a medium-sized saucepan and make the syrup by adding the water, sugar, cinnamon, and vanilla. Once the mixture starts boiling, stir the mixture occasionally and let it sit for 3 minutes till the sugar dissolves.
Step2
Lower the heat till the liquid reduces to a simmer and add the peeled pears to the saucepan and cook them till they are tender. After this, turn the heat of the pan down and let the pears sit in the liquid till it cools down.
Step3
Arrange the pears and drizzle chocolate sauce over each fruit. Serve with a scoop of vanilla ice cream.
Enjoy this dessert with a glass of white wine and some fine company. You can click pictures of your creation and upload them on social media using the #pearheleneday
You can have a self-care day inspired by pears. A pear face pack, exfoliating scrub, and some French music. It doesn't get any better than this.
We can also enjoy pears in their natural form by eating them raw and replenishing the micronutrient stores of your body.
Interesting Facts on National Pears Helene Day:
Pears are highly nutritious fruits; they contain fiber, vitamins, and beneficial plant compounds. These nutrients are very beneficial to fight inflammation, promote gut and heart health, prevent certain diseases, and even help in weight loss. Peels of pears contain many of the fruit's nutrients, so while eating pear, be sure to eat the peel.
There are over 3,000 pear varieties grown around the world, and The Bartlett is the most popular one in the United States.
Pears are hypoallergenic in nature, which means that getting an allergy from pears is extremely rare.
. The world's most expensive pair is a Buddha shaped pear, and it sells for over $9.00 each. The Buddha pear looks exactly like a Buddha statue, even down to the facial details.
Pear leaves were smoked in Europe before tobacco was introduced. And they had quite the following, kind of surprising that something as healthy as pears could be used for such activities.
Pears have an ancient history as evidence shows that pears were cultivated and consumed since ancient times.
In China, there is a saying that if you share your pear with your lover or friends, it will lead to separation and quarrels, although we are fairly positive that someone just made that up, so they don't have to share their pears.
Pears ripen best when they are let to stay on their trees mature naturally.
Pears have a low acidic level, and hence they are very easy on the stomach.
Wood from pear trees is used in making furniture, and they are also used to smoke meats.
History of National Pears Helene Day:
The History of this Day is still unknown.