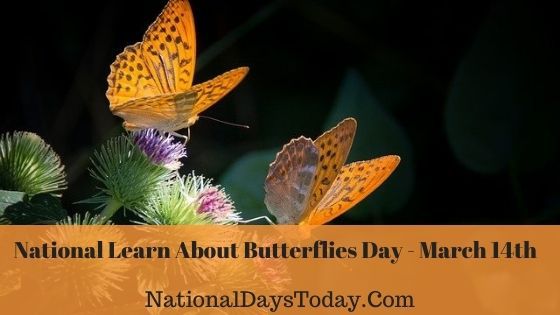 National Learn About Butterflies Day
On March 14th, National Learn About Butterflies Day has ascertained annually that motivates us to appear for a blur of color as Butterflies begin to migrate across the country. Every year the celebration brings with it an awareness of the different categories of Butterflies.
| | | | |
| --- | --- | --- | --- |
| Year | Date | Day | Where |
| 2023 | 14th March | Tuesday | United States |
| 2024 | 14th March | Thursday | United States |
| 2025 | 14th March | Friday | United States |
Twitter Hashtags:
#NationalLearnAboutButterfliesDay
#LearnAboutButterfliesDay
Related: Other National Days Celebrated on March 14th:
Why National Learn About Butterflies Day?
Butterflies are not only eye-pleasing but are also important to the human food chain. No one is really sure about the name's origin, but nobody bothered to question it too! They are the primary food source for predators like birds, lizards, spiders, and other animals, and hence their ecological importance becomes sacrosanct. We cannot ignore learning more about how important these beautiful creatures are. They also eat a variety of plants along with their nectar. Some of the species also act as a form of pest control.
Not only this, but they can also warn you about the destruction of other animals' habitats. Changes in their behavior can be used to study the future effect of habitat loss on other animals. They are a handy tool to study climate change. Scientists have used butterflies as instruments to understand the widespread climate change as these aesthetic creatures are too sensitive to climate change. Due to climate change, the declining population of butterflies can result in the loss of an essential food source to many animals such as caterpillars, small mammals, and other insects. There stands an utter need to understand how important this diverse group of insects are to us and the ecosystem.
This day stands alone to remind us how butterflies, one of the most beautiful creatures worldwide, are vital to us, and hence we cannot choose to ignore to not learn about them.
How Can We Observe National Learn About Butterflies Day?
Start your Butterfly garden.
Butterfly gardening is a way of creating, improving, and maintaining surroundings for Butterflies. Merely grow the plants the caterpillars prefer to eat and plants that adult butterflies feed on. Build a list of all of the various types of Butterflies you would like to attract, then learn the flowers and plants they each take advantage of and lay eggs on. All of the plants will be native to your space and so straightforward to grow with the proper conditions and care. Adult Butterflies can visit for an extended amount if they realize plants to lay their eggs on.
Try your hands out at Crafts.
Get some cards, pipe cleaners and clothes and a few pom-poms, and here's however you produce your own butterfly: decorate some cards with markers and so spray it with water to form its wings. Once it dries, wrap a cleaning implement around the middle of the cardboard. Glue pom-poms onto the holdfast and clip the holdfast to the cards. Bend the cleaning implement to form the antennae.
Spread some information on social media
Post pictures of different and colorful Butterflies near you or post some fun and unknown facts about butterflies using the #nationallearnaboutbutterfliesday or #butterfliesday.
Interesting Facts About National Learn About Butterflies Day:
Here are some fascinating facts to think about next time once you see a Butterfly!
Butterflies were the last major cluster of insects to look at on the earth. The earliest celebrated Butterfly remains date to the center of the epoch, between 40–50 million years past.
Butterflies have a really characteristic flying vogue. They typically don't fly in straight lines. Their vogue is well represented by the children's version of their name: 'flutter-by.'
The adult butterfly doesn't have jaws in its mouth. It is a form of the mouth that's created to suck liquids. This mouth is named a proboscis. Once the Butterfly isn't victimizing its proboscis, it's spiraling up within the head. It will unwind the proboscis once it desires to feed.
Female Butterflies produce a special sticky fluid that works like glue. They use it to connect their eggs to plants. The glue helps keep the eggs stuck in situ.
It might sound strange to us humans; however, Butterflies admit their feet to relish food. Their feet have taste buds on them that facilitate finding food for their caterpillars. They stand on a leaf and provide it a savor.
Butterfly wings are translucent. The wings of a Butterfly are covered in many small scales – thousands of them. And those colors you see once a Butterfly hops around.
There are about 165,000 species of Butterflies. Currently, that's tons of Butterflies! And they're all quite completely different.
Butterflies will sleep in the adult stage from anyplace between per week and a year, reckoning on the species. There's a median life of a Butterfly- it sometimes concerns one month.
History Of National Learn About Butterflies Day:
The past and origin of the National Lean About Butterflies Day stand unknown. There isn't any record found concerning the creator of this Day. However, several Butterflies, including the painted lady, Monarch, and several other domains, would migrate for extended distances. The oldest Butterflies recorded are found to be from the Palaeocene MoClay or Fur Formation of Denmark's kingdom, which dates back just about fifty-five million years previous.