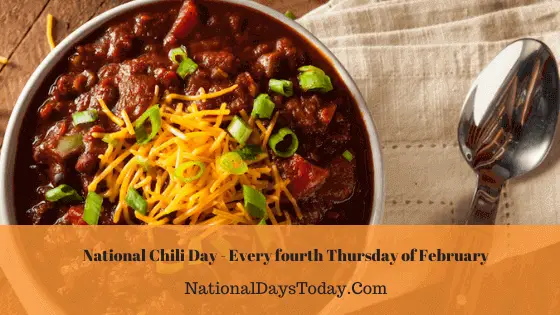 National Chili Day:
Celebrated on fourth Thursday of February, every year. The day is celebrated to acclaim one of the most famous mouth-watering dish, Chili
| | | | |
| --- | --- | --- | --- |
| Year | Date | Day | Where |
| 2023 | 23th February | Thursday | United States |
| 2024 | 29th February | Thursday | United States |
| 2025 | 27th February | Thursday | United States |
Twitter Hashtags:
#NationalChiliDay
#ChiliDay
Related: Other National Days Celebrated on February:
Why National Chili Day?
originated from one of our wonderful state, Texas and hence chili was proclaimed as the state's dish. Therefore, Lets enjoy the day. If possible, prepare a chili recipe at home or else go to chili parlors or chili joints near your area, if Texas is near to you, then go and enjoy the day.
How we can Celebrate National Chili Day:
use this hashtag #NationalChiliDay to post and appreciate the richness of chili. In addition, post any of your recipe either on social media or in the comment section.
Try this one if your time permits,
Chicken Chili Stew:
Ingredients:
1-cup chicken (boneless)
Half-cup corn
Half cup bean (any, optional, boiled)
Two finely chopped onions
Any edible oil-for seasoning
Garlic (two cloves, crushed)
One medium sized jalapeno (chopped)
1-teaspoon coriander powder
1 teaspoon of cumin seed
2-teaspoon pepper (ground) Cream (sour) for Garnishing
Preparation method:
Step 1: cut the chicken to small pieces of any shape and keep aside.
Step 2: take a saucepan, pour oil (olive oil is highly preferred), Add onion and Garlic. Sauté it until it becomes golden brown. Add salt (do not add the salt fully, taste it and add only if required), cumin and stir it well. Leave the mixture for 2 minutes under medium flame.
Step 3: Add tomato and fry until it blends well. (You can peel the tomato skin if you desire, Also, You can add tomato juice. This will reduce the preparation time).Add salt if required.
Step 4: Add chicken pieces and bean (rinse it well before adding, Also, if you want to reduce the preparation time, you can boil it separately and add), coriander powder, jalapeno, pepper. Sauté it until the chicken color changes. Pour a half cup of water and stew it well. Add salt if required.
Step 5: Finally. Add corns and stir well. Leave it for 15 minutes. (Stir it at least every two minutes in between) Add salt if required.
Step 6: Garnish with cheese or cream, serve immediately. The taste will change once it becomes cool. For later consumption, refrigerate it and heat it before serving.
Thanks. Happy Chili Day.
Interesting Facts About National Chili Day:
The term "Chili" is derived from Spanish language. It denotes "Chili pepper and Carne (meat)".
As per the traditional way of making, the basic ingredients used to prepare chili are Chili pepper, meat, onion, tomato, garlic, and cumin seed. Nevertheless, different variants are prepared with ingredients like vegetable, beans etc.
In olden days, the ingredients were stricken hardly, made as brick shaped structure and finally dried. While preparing the dish, the brick is boiled and later used.
The chili was first prepared at San Antonio in the year 1893; it spread to other parts of the country due to its invincible taste. In the year 1977, the Legislature of Texas officially declared "chili" as the official dish of Texas.
History of National Chili Day:
Neither the origin nor the creator of National Chili Day is revealed within the research.