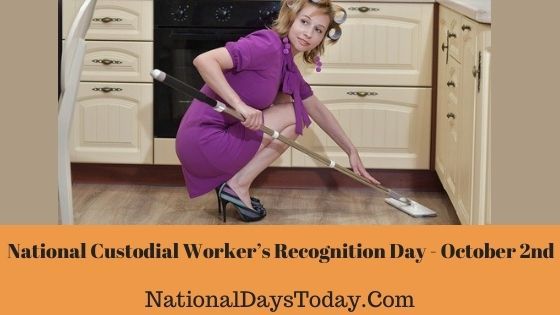 National Custodial Worker's Recognition Day:
National Custodial Worker's Recognition Day is observed on the 2nd of October every year. It is also known as the Custodian Appreciation Day and is celebrated to value and thank the Custodians who look after offices, schools, museums, and other public places for us.
| | | | |
| --- | --- | --- | --- |
| Year | Date | Day | Where |
| 2023 | 2nd October | Monday | United States |
| 2024 | 2nd October | Wednesday | United States |
| 2025 | 2nd October | Thursday | United States |
Twitter Hashtags:
#NationalCustodialWorker'sRecognitionDay
#CustodialWorker'sRecognitionDay
Related: Other National Days Celebrated on October 2nd:
Why National Custodial Worker's Recognition Day?
Custodial Workers are often overworked and underrated. They are not appreciated enough for the work they do. They are very hardworking for keeping our surroundings and workplaces tidy and neat. They work all day constantly and even work after hours. Their work often goes unnoticed. They are very unappreciated as people seem to forget about their work. National Custodial Worker's Recognition Day is a great reminder for these unsung heroes. It is a day that recognizes the custodial worker's efforts and urges us to respect and support them!
It is a widely popular belief that "cleanliness is next to godliness." We frequently tend to forget that the area around us is neat and clean because of someone. The Custodial workers work day and night to keep our workplaces like schools, offices, malls, museums, movie halls, and even the roads and subway. Custodial workers are the cause of cleanliness around us everywhere. Their work not only provides aesthetic and hygienic, but they also help to cut down costs for the places they work for. Proper maintenance of items helps in the longevity of their work, thus lowering the expense of new items.
Since the custodian workers are doing their work appropriately and honestly, we can focus on ours. Due to a well ordered and hygienic environment, we are able to be healthy and work efficiently. In places like schools, the students are always running around and creating a mess. The custodian workers are always on their feet to maintain a clean and healthy environment and keep the students from falling ill. Especially in difficult times like a virus outbreak, the custodian workers do their best to disinfect areas and maintain hygiene. It is so difficult to even imagine even a day without custodian workers in our lives.
The National Custodial Worker's Recognition Day is an opportunity for us to pay attention to the custodial workers and pay our respects to them. We may keep on forgetting their hard work. A lot of people are also disrespectful of custodial workers. It is essential to realize that every job is equally respectful. This is why on this day, we get to acknowledge the importance of their work and thank them for their service. It is important to make the custodial workers feel special and be grateful for their services. This day encourages the custodial workers. It is a day on which they see their hard work is being noticed and appreciated. This motivates them to do better.
How can we observe Custodial Worker's Recognition Day
You can celebrate the National Custodial Worker's Recognition Day in different ways easily.  
You should take the National Custodial Worker's Recognition Day as an opportunity to keep your surroundings clean. You can initiate a cleanliness drive in and around your school or workplace. You will get to promote the spirit of cleanliness and provide a small break to the custodial workers of your area.
It would help if you shared the importance of this occasion with the people around you, including your friends, family, and co-workers. You should personally thank the custodial workers in your area and let them know that you are grateful for their work. You should make them aware of the value that custodial workers hold in society through their work and how important it is to be thankful to them!
You can use the internet and social media to raise awareness about this day and use the hashtags #NationalCustodialWorkersRecognitionDay , #CareaboutCustodials #Cleanlinessaroundyou to start a conversation about the topic. You can post about how you celebrated the day or how you showed respect to the custodial workers.
Interesting Facts on Custodial Worker's Recognition Day:
The National Custodial Worker's Recognition Day falls on the 2nd of October, which is also the birthday of Mahatma Gandhi, a great believer in cleanliness.
Custodian workers face a very high risk of on-job injuries and illnesses. They can get physical injuries from falling or tripping and illnesses from germs and bacterias.
Cleaning is a great activity to replace your workout once in a while cause it burns calories.
Cleaning a kitchen sink is very important as it can contain more bacteria than a toilet pot!
It is important to regularly clean your phones and remotes as they contain many bacteria transferred from your hands and face. 
History of Custodial Worker's Recognition Day:
The exact history of the National Custodial Worker's Recognition Day is not known. The custodial culture started with the industrial revolution with increasing factories. But the start of celebration and founder of this day is unknown.