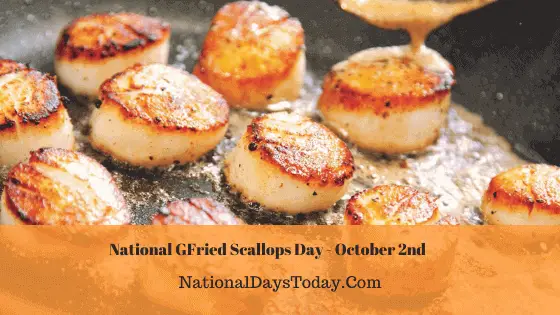 National Fried Scallops Day:
Celebrated on October 2nd every year.
| | | | |
| --- | --- | --- | --- |
| Year | Date | Day | Where |
| 2023 | 2nd October | Monday | United States |
| 2024 | 2nd October | Wednesday | United States |
| 2025 | 2nd October | Thursday | United States |
Twitter Hashtags:
#NationalFriedScallopsDay
#FriedScallopsDay
Related: Other National Days Celebrated on October 2nd:
National Custodial Worker's Recognition Day
Why Fried Scallops Day?
How many of you have not tried fried scallops yet? If so, today is the day to try so. Scallops contributes a considerable economy to the Seafood Industry. The wild fisheries are situated in United States and Canada followed by Japan and china. Scallops recipes are either prepared with or without coral in the United States and Canada. However, in other countries, it is prepared with shell.
enjoy this day with fried scallops.
How we can Celebrate National Fried Scallops Day:
Enjoy some fried scallops recipes on this Day and never forget to post your recipes preparation methods using this hashtag #ScallopDayRecipes on the social media.
Here is a Pan Fried Scallops recipe for you. I have not tried it yet. Just give a try and tell me how does it works.
Ingredients: Sea scallops (rinsed), Breadcrumbs, Salt, Black pepper, white pepper, oil or butter for sautéing.
Step 1: Mix Sea scallops with pepper and salt
Step 2: roll it with breadcrumbs.
Step 3: heat oil or butter it in the pan.
Step 4: sauté it gently until it turns golden brown.
Step 5: decorate it by squeezing mayonnaise on the top.
Not new right! It is a normal process. Try out.
Interesting Facts About Fried Scallops Day:
Scallop belongs to the Bivalvia class of Pectinidae family.
Scallop is a general name to any marine bivalve  that is prominently applied  mollusks or saltwater clams.
Scallops are found in all of the oceans, however, it is not adaptable to freshwater.
Small groups of scallop species live and establish firmly to rocky underlying substance. Besides, they secrete a filament called byssal thread, by which they attach themselves to objects like sea grass. However, the majority species are recumbent natured.
Normally, scallops are sold for high prices and they are farmed by means of aquaculture. The brightly colored and well-shaped scallops are commonly used in ornamentation, arts, and interior and exterior designs.
The Anatomy and physiology of all the scallops species will be similar except with minor orientation changes. In addition, it has well-established Valves, muscular system, eyes, Digestive System, Nervous System, Reproductive organs, mobility and behaviors.
Scallops do sometimes produce pearls, however, unlike oysters (that have translucent layers or "nacre" that provides a light shining and color variants quality to pearl) , nacre will not cover the nucleus. Because of no nacre formation, scallops pearls will be of dull and small. Nevertheless, it is also used in ornamentation since it does have their own aesthetic appeal.; The origin of scallops is dated back to Triassic period that was around 200 million years ago. The fossils of scallops of ancient period discovered that there might be more than 7000 survivors of scallops species which are grouped under two categories.
Scallops are harvested using dredging mechanism and the harvest is ecologically safe to the remaining seawater creatures.
Scallops are either dry packed or wet packed. No additives are added for dry packed scallops whereas it is treated with an inorganic compound called Sodium Triphosphate if it is wet packed.
History of Fried Scallops Day:
we were not able to locate the origin and creator of National Fried Scallop Day.