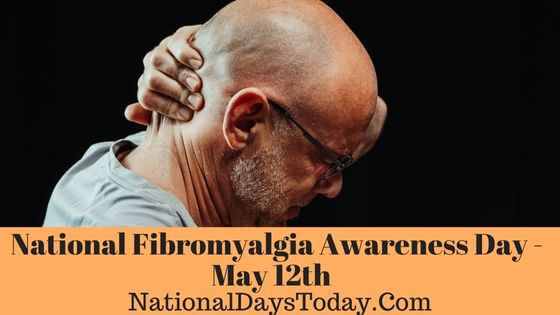 National Fibromyalgia Awareness Day:
On May 12, National Fibromyalgia Awareness Day is marked to draw awareness to the condition of fibromyalgia, which has afflicted many people throughout history, with the aim to educate those who may not be aware of the disease.
| | | | |
| --- | --- | --- | --- |
| Year | Date | Day | Where |
| 2023 | 12th May | Friday | United States |
| 2024 | 12th May | Sunday | United States |
| 2025 | 12th May | Monday | United States |
Twitter Hashtags:
#NationalFibromyalgiaAwarenessDay
#FibromyalgiaAwarenessDay
Related: Other National Days Celebrated on May 12th:
Why National Fibromyalgia Awareness Day?
Fibromyalgia is a chronic, complicated disease that affects millions of men and women throughout the world. A musculoskeletal illness produces widespread severe pain with symptoms like increased skin sensitivity, muscular rigidity, difficulty sleeping, memory and attention problems, excessive weariness, and headaches.
It is a challenging condition to identify because there isn't a single test that can detect and treat it, and the symptoms get frequently misdiagnosed as attributed to other illnesses. Many people feel that the condition is psychological and not genuine due to a lack of research and the difficulties in defining the variables that cause it. Furthermore, there is no permanent relief for the suffering.
As a result, the keys to combating Fibromyalgia are awareness and financing. The goal of this day is to raise awareness about the condition and to encourage further research into finding a cure. The day's observances greatly minimize the level of threat and the likelihood of being afflicted. When we try to learn more about a disorder like fibromyalgia, we realize just how far we've come in terms of innovation and advancement. Observing National Fibromyalgia Awareness Day allows us to reflect on our accomplishments.
How Can We Observe National Fibromyalgia Awareness Day:
Every year, supporters of the day gather to participate in fundraising events, charity races, and tea parties – anything to initiate a discussion. You may help in raising awareness regarding Fibromyalgia disorder by doing a variety of things.
You can wear purple to start a conversation about fibromyalgia, whether it's a t-shirt, a cap, or even a wristband. If you have an outdoor light, you can switch it to a purple bulb.
You can use social media to share Fibromyalgia physical and mental health problems, letting others know that your purpose is to increase awareness. Articles, graphics, and links to your favorite FM groups or blogs are all welcome.
You can join national groups such as the National Fibromyalgia Association, the National Fibromyalgia, and Chronic Pain Association, and Fibromyalgia Action UK, to name a few.
A virtual walk can be used to kick off a local fundraising event. You can also raise donations for FM research by starting a Facebook group, making posters, or holding a garage sale. Let others know where the money you raise will be donated.
With their permission, you can make posters with information about FM and place them in local store windows, libraries, or bookstores.
You can also share facts about this day on social media using hashtags #NationalFibromyalgiaAwarenessDay #FibromyalgiaAwarenessDay.
Interesting Facts on National Fibromyalgia Awareness Day:
A purple ribbon is used to represent National Fibromyalgia Awareness Day. There are thousands of individuals who like taking part in this day's procession.
Mohammad Yunus, a scientist, coined the name "fibrositis" in 1981. This is from where we got the name of the disorder called fibromyalgia.
Fibromyalgia is a condition that causes pain and fatigue. The American College of Rheumatology's Multicenter Criteria Committee defined fibromyalgia in 1990. It was the first time the condition was labeled as a musculoskeletal issue.
Florence Nightingale was renowned as the "Lady with the Lamp" because she frequently went on night patrols to check on Fibromyalgia patients in the hospital wards.
Fibromyalgia is a condition that can affect anyone, regardless of their place of origin, pre-existing conditions, gender, age, or any other factor.
According to certain estimates and research, women are seven times more likely than men to develop this condition.
It occurs in all populations across the world, with a frequency of between 2% and 4% in general populations.
Fibromyalgia patients may be more sensitive to pain than non-fibromyalgia patients. This is referred to as aberrant pain perception processing. Fibromyalgia affects around 4 million US people or roughly 2% of the adult population.
This day inspires optimism for a better future. There will undoubtedly be difficult days, but one must persevere since good days will always follow. On grueling days, hope provides the energy boost that everyone requires.
History of National Fibromyalgia Awareness Day:
The first National Fibromyalgia Awareness Day was held in 1992 to honor the birthday of Florence Nightingale, a British social reformer and the foundation of modern nursing. Nightingale is remembered for her work as a trainer and supervisor for nurses in Constantinople during the Crimean War.
Scholars who researched her carefully after her death speculated that she may have had fibromyalgia. Lynne Matallana, the founder of the National Fibromyalgia Association, launched the day in 1998. Matallana has had the illness for about 30 years; therefore, her motivation for starting the group was to raise awareness about it and to help people cope with it.