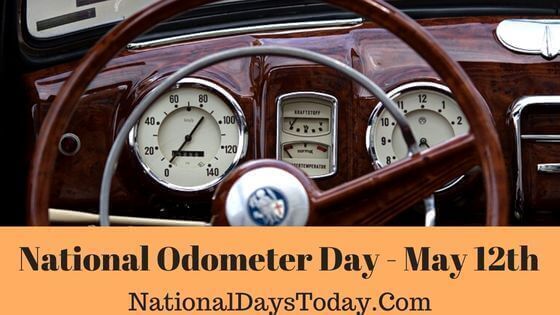 National Odometer Day:
Every year on May 12th, National Odometer Day is commemorated to raise awareness of the odometer. The aim is to educate people concerning the odometers and how to better care for their vehicles to last longer.
| | | | |
| --- | --- | --- | --- |
| Year | Date | Day | Where |
| 2023 | 12th May | Friday | United States |
| 2024 | 12th May | Sunday | United States |
| 2025 | 12th May | Monday | United States |
Twitter Hashtags:
#NationalOdometerDay
#OdometerDay
Related: Other National Days Celebrated on May 12th:
National Fibromyalgia Awareness Day
Why National Odometer Day?
An odometer is a device that measures the distance a vehicle has traveled. The odometer may be mechanical, electronic, or a hybrid of the two. This gadget is one of the most crucial components in any vehicle. The word "odometer" comes from two Greek words: "Hodos," which means "portal" or "road," and "Metron," which means "measure" in English.
The purpose of National Odometer Day is to urge people to check their automobiles' odometers and take better care of them. One should take care of their vehicles to ensure that they stay in better shape for a longer period, and odometers provide information on when their ride needs service. Days like National Odometer Day encourage us to learn more about our automobiles and to improve their management.
Odometers were created to track our progress from our starting position to the reaching destination. In some ways, the modern odometer serves as a record of our journeys around the country. Tampering with the odometer to improve resale value is more widespread than you might believe. Learning about the odometer and, as a result, how to calculate the mileage makes you more likely to recognize fraud and, as a result, protects you from it.
How can we Observe National Odometer Day:
Odometer Day is commemorated in a variety of ways around the world. The most usual is to go on a long ride with friends or family. The other is to post images of one's vehicles on social media and use the hashtag #NationalOdometerDay to mark the occasion. 
Take a long trip to a destination of your choice to appreciate your car and its components. Take your automobile for a journey and see where you wind up. You can even create memories by photographing your drive and sharing them on social media.
Become familiar with the odometer
Learn about your personal car's odometer in particular. Every vehicle owner should be familiar with their vehicle's ins and outs. Begin by learning about your odometer and how it was created. Odometers come in handy whether you're traveling around the block to the grocery shop or on a long journey. Maintaining your car and ensuring its performance requires paying attention to the distances you've gone.
Use your odometer efficiently.
Make it a habit to keep track of your mileage and reset your odometer after each journey. If you keep track of your vehicle, you'll be able to operate it in a more fuel-efficient way, maintain it, and ensure it is in good working order for the long term.
Interesting facts About National Odometer Day:
A few of the interesting facts about Odometer's day are:
It was realized that the odometer was invented almost 2000 years before automobiles. It is commonly assumed that odometers were originally used by the Ancient Greeks and Romans, as reported by Vetruvius in 27 BCE. According to legend, Archimedes created the odometer during the First Punic War. Although no one knows for certain who created the gadget, there has always been a strong demand for one.
The word 'odometer' comes from the Greek words 'hodos,' which means 'way,' and 'metron,' which means 'measure.'
It was in the 1600s, and an odometer was first created to measure the distance traveled by wagons and other horse-drawn vehicles.
A variety knows odometers of names in different nations, including mileometer, milometers, and tripmeter.
Each year, 450,000 automobiles are sold with fake odometer readings, according to the National Highway Traffic Safety Administration (NHTSA). One of the reasons it's critical to buy a car from a reputable dealer and understand how to spot a faulty odometer is because of this.
Modern automobiles have one, but luxury automobiles have two. A pair of tripmeters can be seen in many high-end automobiles.
An odometer (also known as a roadometer) calculates the distance traveled by multiplying the number of wheel revolutions by the tire's circumference, which is the diameter of the tire times. 
The odometer of Leonardo Da Vinci collects tiny stones into a special container, which can subsequently be tallied to determine the distance traveled by the wheel.
Almost every country has a specified law to enforce the use of odometers. Car mechanics are required by law in many countries (including the United States) to retain records of your odometer readings each time you have your vehicle serviced.
History of National Odometer Day:
In the 1600s, an odometer was invented to measure the distances traveled by wagons and other horse-drawn vehicles. Arthur P. and Charles H. Warner of Beloit, Wisconsin, invented the first vehicle odometer that got registered in 1903 and was known as the Auto-Meter.
Arthur Warner was one of the first pilots in the United States of America, whose interest in engineering led him to assemble and finally fly a Curtiss Pusher plane. Although technology has advanced dramatically over the years, the odometer retains its importance in today's world since it maintains track of how far one has traveled. Thus, to mark the importance of Odometers, May 12th is being observed as National Odometer Day.