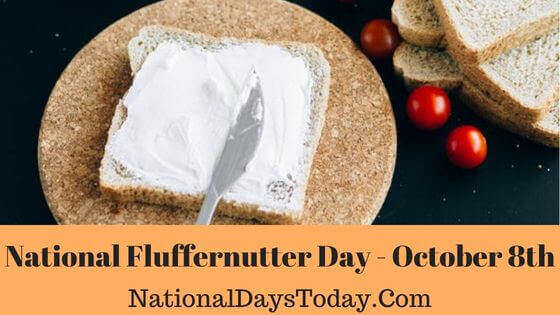 National Fluffernutter Day:
National Fluffernutter Day will bring you back to childhood. It will remind you of the sandwich with peanut butter and a marshmallow fluff squished between the slices of bread. In the United States, people celebrate this day on the 8th of October every year.
| | | | |
| --- | --- | --- | --- |
| Year | Date | Day | Where |
| 2023 | 8th October | Sunday | United States |
| 2024 | 8th October | Tuesday | United States |
| 2025 | 8th October | Wednesday | United States |
Twitter Hashtags:
#NationalFluffernutterDay
#FluffernutterDay
Related: Other National Days Celebrated on October 8th:
Why National Fluffernutter Day?
Fluffernutter is a very famous food for the children of the United States. When the marshmallow fluff goes inside your mouth wrapped with peanut butter and bread, everyone has the overwhelming feeling of deliciousness. That is the reason people celebrate this day to recall their childhood and go deep into the memories. Here are some common reasons for celebrating #NationalFluffernutterDay at its best.
The main reason behind celebrating this day is to go back to childhood and cherish the golden memories with your childhood friends. This day will make you remember when you used to open your lunchbox at school during lunchtime. Those are the precious moments of your childhood. That is why you and every other person need to observe this day and go back to the school days to cherish the remarkable memories of your life.
If you haven't ever tried a fluffernutter during your childhood, then you pretty damn unlucky, man. But, it's better late than never. You can try out a perfect fluffernutter now. Once you give the first bite to it, you will come to understand what you have missed in your childhood. You do not need to go to any restaurant for that.
You can enjoy it at your home. Just buy a jar of marshmallow fluffs, peanut butter, and sliced bread. Stick some butter to one side of two bread slices. Then, put the marshmallow fluffs onto one of those two slices and cover it with another one. Just make sure not to keep the peanut butter area outside. Now that you have made your fluffernutter, it's time to enjoy the deliciousness of this food.
This day will always bring back nostalgia by reminding you of the childhood days. These are some things that will not change ever. That is why people love to enjoy this wonderful day on the 8th of October every year.
How Can We Observe National Fluffernutter Day:
There are different ways to observe National Fluffernutter Day. Here are some of the standard and popular ways to celebrate this special day.
You can invite your childhood friends to a fluffernutter dinner at your home. That will help you make a reunion also. Buy some bread, marshmallow fluffs, and peanut butter. Prepare good fluff sandwiches for your friends. Once they come to your place, serve them with a glass of wine or blended vodka. Now all of you sit together and memorize those golden days of school. Use this Hashtag #NationalFluffernutterDay and #FluffernutterDay to Share your Celebrations.
Fluffs are also available easily in food centers and restaurants. So if you do not want to make your home dirty by arranging a date, you can invite them to a restaurant. It will be a good idea to spend a wonderful evening with those same old school buddies with the fluffs in hand.
People in today's world are very busy with their work. Due to work pressure, sometimes they don't even get a chance to spend quality time with their family members. Hence, you can easily celebrate National fluffernutter day at the office with your beloved colleagues. They also must have some memories of their childhoods.
It will be a grand celebration by sharing the old days during lunchtime with fluffs in hand. You can make fluffs for all your office colleagues on your own or order them at the office address.
Wherever you are going or whatever you are doing to celebrate Fluffernutter Day, you should take photos and videos of your celebration as memories to keep. You can post them on social media platforms to share beautiful moments with your friends if you want. That will boost your friends to celebrate this day too. Not only that, but you will also get to know about childhood memories from your social media friends regarding those old school days.
History of National Fluffernutter Day:
Every special day in the United States contains its own background story and history. The researchers are still looking for a particular reason for this celebration. The same year of commencement is still in the dark to the researchers. But they are working on it continuously. However, the use of marshmallows as a tasty food has been available since 1920. But people say that they have been celebrating this wonderful day since 2006.
So, this is a brief description of National Fluffernutter Day. If you are willing to celebrate this wonderful day with your old school buddies, you can easily follow any of the aforementioned ways. The main motive of this day is not having just a fluff during dinner or lunch. It's all about cherishing the golden memories with your old buddies.