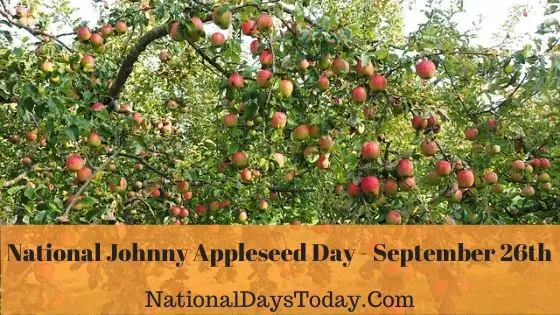 National Johnny Appleseed Day:
National Johnny Appleseed Day is celebrated on September 26th, as this day marks the birth anniversary of the legendary orchardist and nurseryman Johnny Appleseed. On this day, he is remembered for his extraordinary service to mankind and nature.
| | | | |
| --- | --- | --- | --- |
| Year | Date | Day | Where |
| 2023 | 26th September | Tuesday | United States |
| 2024 | 26th September | Thursday | United States |
| 2025 | 26th September | Friday | United States |
Twitter Hashtags:
#NationalJohnnyAppleseedDay
#JohnnyAppleseedDay
Related: Other National Days Celebrated on September 26th:
National Compliance Officer Day
National Situational Awareness Day
Why National Johnny Appleseed Day?
How many of us dedicate even 1 hour a week to plant trees? Maybe only a handful of us, right? But this man, Johnny Appleseed, dedicated all his life to serving nature and sowing apple seeds as he traveled across America. And his life story is worth listening to, sharing, and taking inspiration from.
Johnny Appleseed, born Johnny Chapman on September 26th, 1774. His mother passed away when he was just an infant. By 1797, he was spreading apple seeds, nurturing orchards, and spreading wisdom wherever he traveled. He worked on this mission in Pennsylvania, western Virginia, Ohio, and Indiana. He then traveled to Illinois, propagating his work, and then north towards Michigan and Wisconsin.
He would often travel shoeless, walk around, or on horseback and canoe. He was much of a raw human who never got married.  Being a great believer in spirituality, he would also spread his wisdom as he traveled. Appleseed's love for animals of all kinds turned him into a vegetarian; hurting even a small insect felt like a deadly sin to him.
He had his way of life and stood firm on his philosophies and teaching, and that was the reason why everybody loved him, from children to adults. When people were informed of his arrival, they would take place for him on their dining table. His love for his trees was something out of the world; they were his family! And on this day, we remember his service, kindness, and love for nature so that the coming generations can look up for inspiration and continue with the mission he began.
Especially in the current times with global warming and climate crises, causing a threat to nature, days like these play a major role and must be celebrated with the intention of selfless service to nature.
How can we observe National Johnny Appleseed Day?
Plant an apple tree near your locality or a park or orchard.
Spend a day taking care of trees in a nearby orchard.
You can also celebrate this day by eating fresh farm apples, trying new apple recipes, baking an apple pie, or drinking apple cider.
It is a good day to read about Johnny Appleseed.
Children can enjoy watching the segment on Johnny Appleseed, from Disney's film 'Melody time.'
You can also organize a little road trip with your family or friends and visit Johnny Appleseed's birthplace in Massachusetts or even his gravesite located in Johnny Appleseed Park in Fort Wayne in Indiana.
The annual Johnny Appleseed Festival is also celebrated in the Johnny Appleseed Park in Indiana. It is a great way to spend this day.
Mark your calendars for some great festivals during this day, in Pennsylvania, in Crystal Lake, Illinois, and Apple Creek, Ohio.
Post your pictures describing how you spend your day with the hashtag #johnnyappleseedday and #nationaljohnnyappleseedday.
Interesting facts on National Johnny Appleseed Day:
Listed below are some interesting facts on National Johnny Appleseed Day:
Johnny Appleseed would make a profit out of his orchards. He would sow apple seeds on barren land, and after years he would return when people would have settled in the area, and then he would sell the land, making a profit.
The apples that he planted weren't actually eaten in the raw stage, as the trees yielded small and tart apples suitable for making apple cider and applejack, which is a brandy.
Along with his seeds and trees, Chapman also planted his wisdom and teachings that he got from a spiritual leader, Emanuel Swedenborg.
Johnny Appleseed didn't only plant apple trees; he also planted medicinal plants that were known only to the red Indians. He had great relations with them, and they were very open to sharing their local plants with him.
Chapman's last planted tree remains alive till this day and continues to fruit tart green apples in Nova, Ohio. It is 176-years-old and is used for making cider and applesauce.
He didn't walk around with a tin pan over his head, although he did prefer wearing a tin hat to protect him from the scorching sun as he traveled. He would sometimes also collect and store food in the tin hat.
Chapman's legend majorly grew after his death, although he was widely known by people in the areas where he traveled, he got widespread recognition after his death. The 1871 Harper's magazine took the legend to a national stage, and the following years saw many festivals being hosted in his name.
John Chapman's great-great-great-great-grandnephew continues his legendary mission. He is named after Chapman, and reportedly one of his trees is descended from his ancestor.
History of National Johnny Appleseed Day:
the history of the origin of this day remains unknown.