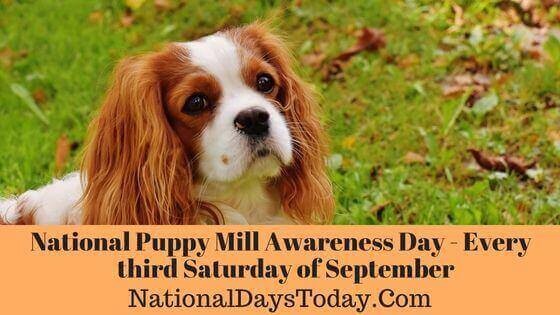 National Puppy Mill Awareness Day:
National Puppy Mill Awareness Day is observed every year during the third Saturday of September aiming to improve life for dogs as well as stopping the puppy mills that plague our country, this day is a way to raise awareness concerning puppy mills.
| | | | |
| --- | --- | --- | --- |
| Year | Date | Day | Where |
| 2023 | 16th September | Saturday | United States |
| 2024 | 21st September | Saturday | United States |
| 2025 | 20th September | Saturday | United States |
Twitter Hashtags:
#NatioanlPuppyMillAwarenessDay
#PuppyMillAwarenessDay
Related: Other National Days Celebrated on September:
National Family and Health Fitness Day USA
National Hunting And Fishing Day
Why National Puppy Mill Awareness Day?
It helps spread awareness about puppy mills.
The day raises awareness about the soiled puppy mill business and the number of dogs who lose their lives because many of us still buy puppies.
Teach people to adopt dogs
Because buying a dog can be risky at any time, it's more beneficial to adopt and offer life to an animal friend who is loving and caring. This is among the most important messages that every day promotes.
Helps collect money
Because of the day and the awareness it creates the day. Many people contribute funds to help end the puppy mill industry and ensure that homeless dogs are taken well.
How Can We Observe National Puppy Mill Awareness Day?
Participate in Peaceful Demonstrations
If you'd prefer a more active approach or a more active approach, you can take part in peaceful protests. Every year, animal rights activists come together to celebrate National Puppy Mill Awareness Day. The purpose is to demonstrate in front of pet stores that have proven their puppies come out of Puppy Mills. Together, they inform passers-by about puppy mills and promote adoption.
Share Posts on Social Media
One method to raise awareness of puppy mills is to share articles on Facebook and other social platforms. You can create your content or post educational ones from organizations that advocate against puppy mills.
Do some research and find interesting and valuable posts on puppy mills. They can be images or articles, and plenty of them are online. We suggest you select those that truly grab viewers' attention, such as documents or infographics, to draw your audience's curiosity.
Of course, don't forget to use this hashtag #PuppyMillAwarenessDay for your post on social media.
You can visit Facebook and look up the Puppy Mill awareness groups close to where you live. They'll be thrilled to welcome you aboard.
Interesting facts about National Puppy Mill Awareness Day:
We intended to encourage everyone to celebrate this day to its full potential; therefore, we decided to do further research regarding puppy mills. We're now going to provide that information to all who are interested in National Puppy Mill Awareness Day.
At most of the puppy mills, female dogs are bred to supply a litter continuously, without any thought given to their health.
When females who are breeding have been physically exhausted and are unable to give birth and are killed.
Many puppies in puppy mills spend all their lives in cages and have little or no exercise.
Puppy mill puppies can be malnourished, with swelling or bleeding paws and suffer from various physical ailments.
In several states, there are legal puppy mills. It's the responsibility of consumers to prevent them from happening by purchasing from trustworthy breeders or adopting rescue pets.
A lot of puppies who are in puppy mills don't have enough protection from the elements.
It's not uncommon for puppies rescued from puppy mills to wear collars so tightly that they become stuck to their necks.
Most puppy mills are found within the Midwest U.S. Missouri is often on top of the list for having the most mills for puppies.
Every year, more than two million puppies from puppy mills sell in the United States.
Of the puppy mills 10,000 operating within the United States, less than 2 000 are licensed by the USDA.
A licensed puppy mill can produce over 1 million puppies per year.
A few puppy mills eliminate dogs that are not wanted by drowning or shooting them.
History of National Puppy Mill Awareness Day:
Dog lovers cannot even imagine a puppy and its parents living in a tiny, dark, and filthy cage. They cannot move and play; they need to fulfil the job of delivering a baby. This is the situation in puppy mills. In large mills, thousands and thousands of dog cages are placed over one another. They are not healthy or happy. Have you ever thought about what caused these brutal breeder dogs became popular?
The popularity of the puppy mills exploded following World War II when thousands of families suffering from crop failure and a few others were able to begin existence with the family of their choice, a house or a yard, and a pet. True, dogs of purebred were considered a status symbol as well as an essential item to the necessity for those living on the outskirts. The economic law states that where there is demand, there is demand. If the farmers who experienced losses in the production of crops realized the need, they decided to create the new business of puppy mills. The USDA even promoted puppy mills with advertisements that it was a profitable business. When the government was willing to help and encourage, it didn't come as a shock that more farmers began to enter the puppy industry. In the mid-1960s, it was impossible to have a home without a pet.
The USDA estimates there are between 2,000 and 3,000 commercial breeding facilities that are federally licensed located in the U.S. There is the Humane Society of the United States (HSUS) is, in contrast, estimates that 176,088 dogs are used for breeding in USDA-licensed facilities. Additionally, about 2.15 million pups are purchased annually, and many of the puppies are sold on the Internet.