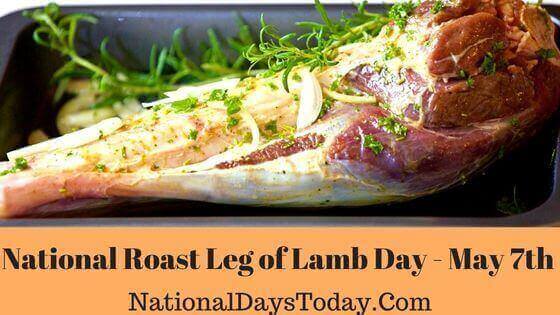 National Roast Leg of Lamb Day:
Set on the 7th of May and celebrated every year, the National Roast Leg of Lamb Day is special for the American people. It proposes a menu that features the leg of lamb, a slice of cut meat that makes for an exceedingly delicious meal once roasted.
| | | | |
| --- | --- | --- | --- |
| Year | Date | Day | Where |
| 2023 | 7th May | Sunday | United States |
| 2024 | 7th May | Tuesday | United States |
| 2025 | 7th May | Wednesday | United States |
Twitter Hashtags:
#NationalRoastLegOfLambDay
#RoastLegOfLambDay
Related: Other National Days Celebrated on May 7th:
National Barrier Awareness Day
Why National Roast Leg of Lamb Day?
This special national holiday is an important day in the American calendar, encouraging people to integrate the roasted lamb meat as part of their day's menu. The fact that this roasted meat is delicious makes the day and occasion worthy of celebration.
The leg of lamb is a cut of meat that is not only mild but also very tender. When it is roasted, it makes for a very distinguished and tasty serving that you will indeed enjoy and celebrate. Basic preparation of this amazing delicacy involves covering the leg of lamb with butter and rosemary sprigs stuffed inside incisions made on the leg of lamb. The rosemary leaves are also sprinkled on the top of it. After this preparation, the leg of lamb is ready for roasting, which takes up to two hours and at 360 degrees in temperature.
Lamb meat is a popular delicacy, famous for its lean nature and red colouration. The lamb is appreciated for its nutritional content and delivers its constituent protein of 25 grams for every 3 ounces of serving. Lamb is also associated with significant content in potassium and vitamin B-12 that is known to protect consumers against pellagra.
People also love lamb because of its other constituent minerals, including but not limited to iron, magnesium, and omega-3 fatty acids. When the lamb is roasted or grilled, it goes very well with vegetables. Some of the best vegetables associated with this delicacy include asparagus, cauliflower and even tomatoes.
To enjoy a well prepared roasted leg of lamb, make sure to mix up a nice spring salad, add a touch of acid or coleslaw and prepare rice to complement the serving.
How we can observe National Roast Leg of Lamb Day:
There are multiple ways through which we can observe or celebrate this amazing day include the following:
Hold a Roast leg of the lamb preparation gathering
The best way you can observe the National Roast leg of lamb Day is by organizing a Roast leg of lamb making meeting at your home with your loved ones. You can, after that, jointly share the delicacy as a family. The day would be even more memorable when you spend it with your loved ones and enjoying a Roast leg of lamb together!
Bring Roast leg of lamb to your study or workplace
If you are a student, then you can help with preparation of Roast leg of lamb at home and take it to school to enjoy with your friends.  And if you are an adult, then you can get the Roast leg of lamb to your workplace to enjoy with your colleagues and friends at work. This would help in keeping up with the tradition and in also ensuring that this remarkable day stays etched forever.
Host/participate a competition for making a Roast leg of lamb
This day can even be celebrated by being part of a competition in making Roast leg of lamb and sharing the same to decide on the winner among yourselves. The person that turns out victorious will be rewarded.
You can also post about this day on your social media platforms under the #NationalRoastLegOfLambDay and spread awareness about the occasion. Any social media will help spread the word on the importance of the day.
Interesting facts about National Roast Leg of Lamb Day:
Here are some interesting facts about different type of meats and lamb in general:
Meats that go with names like Lamb, mutton, and hogget (in United Kingdom, New Zealand and Australia) belong to sheep that have been tamed.
Averagely, a 3 ounce serving of lamb holds approximately 175 calories. This aligns with the FDA's definition of lean.
Lamb meat is generally tender compared to older sheep and appears more often on tables in some Western countries.
Lamb must get preserved in the refrigerator right after it has been bought.
History of National Roast Leg of Lamb Day:
There is no specific information or details on the history of this day. However, there is still much investigation going around, targeted at determining how this special holiday found its place on the calendar.