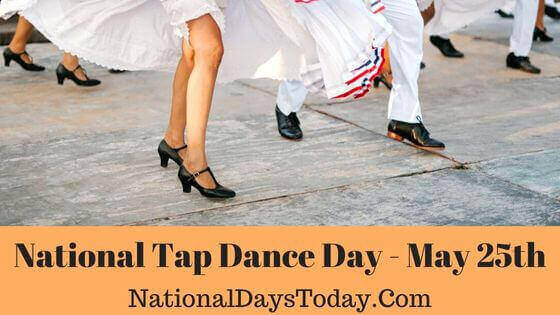 National Tap Dance Day:
Celebrating one of the original art forms of America, National Tap Dance Day is celebrated every year on the 25th of May.
| | | | |
| --- | --- | --- | --- |
| Year | Date | Day | Where |
| 2023 | 25th May | Thursday | United States |
| 2024 | 25th May | Saturday | United States |
| 2025 | 25th May | Sunday | United States |
Twitter Hashtags:
#NationalTapDanceDay
#TapDanceDay
Related: Other National Days Celebrated on May 25th:
National Missing Children's Day
Why National Tap Dance Day?
There are many different styles of tap dances in the country and all of them require you to work with skills and synchronized footwork. The footwork has to match the tune and it will help you find the rhythm within you while also enhancing your sense of music. Tap dance is not just a form of dance but it is a way to keep yourself fit too. If you are a health-conscious person, and you want to keep yourself fit without undertaking a strenuous activity, then tap dance is just what you need. There are different levels of difficulty which can improve and increase your workout experience. It is a form of dance known to tone your body.
Most importantly, the tap dance is not person-specific. It can be learned and practiced by anyone. You only need to learn and spend a little time practicing and you will be ready to tap dance. This is why we need to celebrate this original art form and the day is just what you need to enjoy this dance form.
How can we celebrate National Tap Dance Day?
There is no specific way to celebrate Tap Dance Day but you can make it memorable by following some of the tips given here.
When we speak of tap dance, we have to mention the name of Bill 'Bojangles' Robinson, a popular tap dancer who contributed significantly to this dance form. He was known for using his feet only rarely moving his upper body while performing this dance. The day of celebration of this day happens to be the same as this dancer's birthday. On this day, you can learn about the history of this famous dancer.
If you have the time, then you can watch a show on tap dancing on this day. Quite a lot of events are held on this day to commemorate this dance form and you can use this day to watch a show featuring tap dance.
If you are interested, then you can join a tap-dancing class today. It is never too late to learn a new dance form and this day could just be the beginning of learning it. Since the dance doesn't distinguish between people's age or other factors, you can enjoy this dance, no matter your age, cultural background, ethnicity, etc.
Share your thoughts and pictures of your celebration on this day with #NationalTapDanceDay. Remember to spread the word about this day and this dance form among your followers.
Interesting facts about National Tap Dance Day
On the day celebrating this original art form, let us get to learn more about tap dance and other facts about dance.
The origin of this dance form can be traced back to the mid of the 19th century, thanks to the rising popularity of vaudeville and minstrel shows.
The dance is a combination of the Juba dance from Africa and the step dancing from British and Irish.
Many popular boxers practice tap dance as it can improve their coordination and balance in the ring.
The soles of the feet are used by the Afro-American slaves when the dance form originally began its ecstatic journey.
While we have specially designed shoes for tap dancing now, in the early days, people stuck pennies to their shoes to produce the tapping sound. After this, there were tap shoes with wooden soles to bring out the dance beat. Now we have metal taps added to the shoes to produce that tapping sound while dancing.
The shoes used for tap-dancing, tap shoes can be classified as musical instruments.
Tap-dancing is not just a dance form but it is also a useful way to communicate in morse code when required.
There are many different styles of tap dance including funk, jazz, rhythm, classical, and broadway. The broadway tap and the rhythm tap are the two main variations of this variety though.
We have tap shoes manufactured with screws to modify the kind of sound you want to produce while dancing.
Soft-shoe dancing is when you do tap dance without the metal soles and some even add sand to produce the soft sound when tapping.
In tap dance, your entire body weight lands on the balls of your feet. You have to keep the balls of your feet down first, before putting your heel down when you are performing.
History of National Tap Dance Day:
Linda Christensen, Nicola Daval, and Carol Vaughn were enthusiasts and tap dancers who put in a request to have a day dedicated to tap-dancing in the year 1989. The same was reviewed and brought into motion, signed by  President George H.W.Busch for a one-time observance for the same year. However, the day has been a continuous celebration on the same day every year, since then.