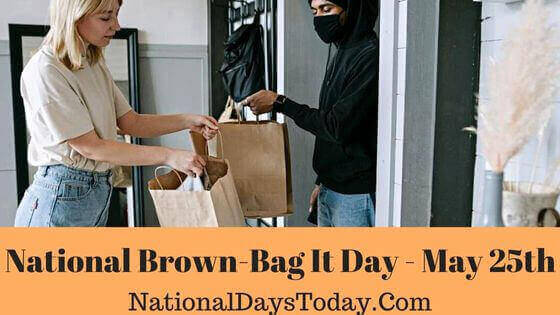 National Brown-Bag It Day:
Every year on May 25th, we celebrate the National Brown-Bag It Day to highlight the advantages of bringing your food to school or work. This day is dedicated to the unsung lifesaver in our life, which provides us with so many advantages. Brown bags are widely used at grocery shops and packing and bringing lunches.
| | | | |
| --- | --- | --- | --- |
| Year | Date | Day | Where |
| 2023 | 25th May | Thursday | United States |
| 2024 | 25th May | Saturday | United States |
| 2025 | 25th May | Sunday | United States |
Twitter Hashtags:
#NationalBrown-BagItDay
#Brown-BagItDay
Related: Other National Days Celebrated on May 25th:
National Missing Children's Day
Why National Brown-Bag It Day?
Bringing your lunch is a cost-effective approach to save money while also ensuring that you have access to and consume nutritious foods. Brown bags are wonderful since they save us money on lunches that we would have bought otherwise. They are certainly deserving of a day designated for celebrating them.
They help you save money by reducing your money spent on every meal by several dollars. Restaurants and cafeterias are sure to charge a fortune for your everyday meal and also lack the nutrition of a home-packed one.
So, brown bags help you overcome the dilemma of willpower and peer pressure while making healthy decisions for yourself and taking that extra effort to bring your food. With the opportunity to plan your meals yourself, it's easier to practice and make your daily carry-out ones healthier.
For people who find the portions and serving sizes in restaurants ridiculous, be it too much for you or too little for you, what's a better solution than packing your food in a brown bag?
And for those who love take-out meals and having their lunches delivered to them, we all know the impact of plastic packaging and polythene bags. By reusing containers, recycling our boxes, and using eco-friendly materials like brown bags, we can easily overcome the problems we cause to our surroundings. This National Brown-Bag It Day, it's our turn to contribute to this cause!
How Can We Observe National Brown-Bag It Day?
Make sure to pack your lunches and use a brown bag
Even though some of us have the habit of carrying our lunches, we use plastic for this purpose. Using a brown bag instead can be a lifesaver, also quite literally. It is also about spreading the idea and making your kids, family, friends, and colleagues do the same with you and for the better!
Decorate your brown bags and paint them
Well, this might not be the aim in the long run, but what can be more attractive than art? Bring attention to these brown bags by painting them and using your creative spirit to whip up something interesting on this piece of blank canvas? If you use the right materials, they can be cute customized bags to carry lunch regularly as well. Make sure to post your creative work of art on social media with the hashtags #NationalBrownBagItDay and #BrownBagItDay as well!
Celebrate with your crafty sense and also make sure that it counts. This can also add to your piggy bank if you think about it! With a few sheets of brown paper, you and your close ones have a little DIY project to share. You can also gift the brown bags you make to others to spread the word and advocate for the cause here! If you're feeling a little more energetic, you can go a step further and pack their lunches in them too!
Interesting Facts on National Brown-Bag It Day:
Did you know that a single plastic bag takes 10 to 100 years to decompose? They stay in the soil for that long and restrict root and water penetration, polluting the earth altogether!
Francis Wolle first designed the brown bag as an enveloped-shaped bag. Margaret Knight later designed the flat-bottomed paper bag. Brown bags are incredibly versatile and may be used for a variety of purposes. You can even use them to make Halloween masks and add an extra layer of protection while wrapping your Christmas gifts!
Brown Bags take less energy to produce and are also compostable!
History of National Brown-Bag It Day:
National Brown-Bag It Day is a relatively new event, and it is unknown who necessarily coronated this particular day. Many people have been credited with its development, including Francis Wolle, Margaret Knight, and Walter Deubener. These persons were dedicated to making it the finest version of itself, whether via the improvement of its design, functionality, or cost.