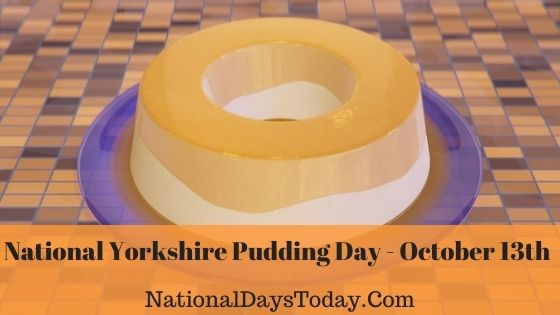 National Yorkshire Pudding Day:
National Yorkshire Pudding Day is celebrated annually on 13th of October in The United States. This day is celebrated for the favorite American dish Yorkshire. The emergence of this day has a long and interesting history.
| | | | |
| --- | --- | --- | --- |
| Year | Date | Day | Where |
| 2023 | 13th October | Friday | United States |
| 2024 | 13th October | Sunday | United States |
| 2025 | 13th October | Monday | United States |
Twitter Hashtags:
#NationalYorkshirePuddingDay
#YorkshirePuddingDay
Related: Other National Days Celebrated on October 13th:
Why National Yorkshire Pudding Day?
Yorkshire pudding may sound like a dessert, but it is an English dish made from a batter and served best combined with roast meat and gravy. The cooks in north England just wanted to use the fat that dropped from the dripping pans. The batter was created, and the meat was kept roast in the oven.
This led to the publication of a recipe called "A Dripping Pudding" in The Whole Duty of a Women in 1737. In 1747, a cook named Hannah Glasse and published "The Art of Cookery Made Plain and Easy." She also renamed her recipe as the 'Yorkshire pudding .' She is responsible for renaming and reinventing this recipe.
In 2008, it was declared by the Royal Society of Chemistry that a Yorkshire pudding is not a Yorkshire pudding unless it is four inches tall. This is still an important British meal and sometimes eaten before the main meat dish.
The major difference between the Yorkshire pudding of the 1800s and newer ones is in the puffiness. The name pudding has stuck to it, but initially, it was designated as a pudding because it was made as a large pudding and then cut into smaller pieces and served. Now, each piece is made individually, and it is much puffier.
Aunt Bessie's brand came up with the world's first readymade Yorkshire pudding in 1995. This led to many Yorkshire pudding manufacturers' concern as they might have to re-brand their product to "Yorkshire-style pudding."
Yorkshire pudding is also an iconic British pastry that is made from flour, eggs, salt, milk, and most importantly, drippings from the rib of prime or roast beef. This makes the perfectly crafted Yorkshire pudding that is light and doughy roll and with a gravy-filled center. Even in modern Britain, it is a quite popular Sunday dish, and some historians also refer to it as the National dish of England.
How to craft this delicacy perfectly is a controversial topic! Many famous bakeries have shared their secrets and their versions of these recipes. Jeff Baker claimed that to have an amazing Yorkshire pudding, and one should start with the freshest eggs possible. He also said that to have a perfectly risen pudding with crispy edges and soft middle, one must ensure that the fat is smoking hot before putting the batter in it.
Yorkshire pudding was very popular. This is evident from the fact that there used to be an annual Yorkshire pudding race. This race was held in North Yorkshire, where bakers would build large and massive Yorkshire pudding boats and race in the waters. However, in 5015, this was discontinued, but there is still hope that this tradition may be re-established.
This amazing delicacy can be personalized for everyone's needs. A lot of options may pop over to place in the fillings of this savory. Traditionally, people add gravy, but cheese or gravy is also widely added. People with a sweet tooth may even add their favorite chocolate or caramel. This dish can have a variety of delicious fillings and cater to all people's needs and in all moods!
How Can We Observe National Yorkshire Pudding Day:
Let us look into some ways of celebrating this unique day!
One of the most important things to celebrate this day is to eat Yorkshire pudding. You can do this in a classic pub-like setting on the East coast.
Make a home batch of Yorkshire pudding and enjoy it with your family.
Share your favorite recipe of Yorkshire pudding with everyone. You can also share your favorite restaurants.
You can also try innovative ways to make the pudding gravy and treat your friends.
Share amazing pictures and recipes on social media by using hashtags like #NationalYorkshirePuddingDay and #YorkshirePuddingDay.
Interesting Facts About National Yorkshire Pudding Day:
Some fun facts on Yorkshire pudding are:
Traditionally, Yorkshire pudding was served before meat meals. This was a trick used to pre-fill the families before the actual meat meal so that less meat had to be served. This was done because the meat was pretty expensive back then.
British Yorkshire Day is celebrated on the 3rd of February.
The first Yorkshire recipe was made around 1866 by a woman named Mrs. Beeton.
The greatest secret to a perfect Yorkshire pudding is that the batter must be sizzling hot when the batter goes in. A good sizzle before batter goes in is mandatory for a good pudding.
History Of National Yorkshire Pudding Day:
This day's origin, which is why it is celebrated on 13th October, is still a mystery. However, we don't need a reason to savor this amazing delicacy, and this day gives us one more reason to do it!