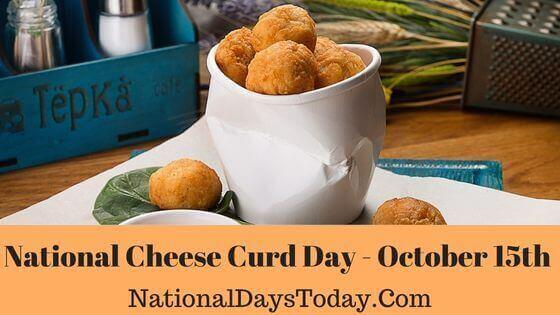 National Cheese Curd Day:
This Day is celebrated every year on October 15, and it was started by Culver's, a popular Midwestern fast-food chain.
| | | | |
| --- | --- | --- | --- |
| Year | Date | Day | Where |
| 2023 | 15th October | Sunday | United States |
| 2024 | 15th October | Tuesday | United States |
| 2025 | 15th October | Wednesday | United States |
Twitter Hashtags:
#NationalCheeseCurdDay
#CheeseCurdDay
Related: Other National Days Celebrated on October 15th:
National Latino Aids Awareness Day
National Pregnancy and Infant Loss Awareness Day
National White Cane Safety Day
Why National Cheese Curd Day?
Cheese curds are bite-sized nuggets of fried cheddar cheese so designating a full day to it seems apt because it's just so good!
National Cheese Curd Day sounds weird, but if you look at it or make it and then have it, you'll know how amazing it tastes and the reason why it is so popular worldwide. Except for the lactose intolerant (sorry you're missing out on something amazing), there are only a few numbers of people who'll either hate or not be happy by cheese curd.
You can either make cheese curd at your home or try a new dish outside in which cheese curd is used this day. This will allow you to try an entirely new thing, and who knows, maybe it'll turn into your favorite dish out there? Cheese curds are unique, be it the way they taste, smell, or coated and deep-fried to a golden brown in various dishes. There is a variety here you cannot escape from.
When you try the coated and deep-fried golden brown cheddar cheese, firstly, you'll feel the warm buttery crunch on the outside, and next, out of nowhere, you'll get an ooey-gooey burst of dairyland delicacy on the inside. This is one of the most famous dishes in Wisconsin, and trying this out when you go there should be on your eating bucket list!
You can even use cheese curd in various types of dips ranging from the ranch, more cheese sauce, spicy siracha, tangy dill, barbeque, and more. Cheese curd has found its way into so many dishes as well – Poutine is the one who has it for decades now. Poutine is a dish which is made of French fries topped with cheese curd and gravy.
Curd is sometimes called squeaky cheese as well. If you're thinking of making the cheese curd yourself, we're here to help you out. All you need is fresh pasteurized milk, bacterial culture, and rennet. Add bacterial culture and rennet to the milk to clot it and after it clots, cut it into cubes which consist of whey and curd. This mixture then needs to be cooked and pressed so that the whey can be removed, and then all you're left with is cheese curd which can be eaten raw or used to make something else completely, easy, right?
This cheese curd can be used in various ways like fresh, fried, in paneer, poutine, etc. If you want to have it fresh, then you can eat it as a snack, finger food, or an appetizer. Deep friend ones can be used in cheese balls, onion rings, etc. Paneer can be made out of it, which is nothing but cottage cheese and is widely used in Indian dishes.
How Can We Observe National Cheese Curd Day:
Saying 'Cheese' and sharing on social media
On this day, you can say cheese and share your picture with your group on social media to make others aware of this day. Sharing experiences are a great way of informing people about events.
Make your cheese curd items.
Try making your own cheese curd to have your own little self-care day date via cooking and learning something new.
Create and share your cheesiest dance moves
Make your own moves that can be weird, funky, squeaky, and the cheesiest, and share them with others. Dancing brings everyone together and makes us learn new stuff.
How about some cheesiest jokes or pick-up lines?
Send the cheesiest lines you've heard or made to your friends, partner, etc., and make them cringe and laugh today!
Showcase your appreciation for the cheese!
Post pictures with your dish on your social media sites. Use hashtags like #NationalCheeseCurdDay and #SayYesToCheese
Interesting Facts On National Cheese Curd Day:
Wisconsin is the best place to have cheese curd over there, and it takes 10 pounds of milk to make one pound of cheese that too, from top-quality Wisconsin milk.
Cheese curd is nothing but young cheese, which is prevented from aging.
Fresh cheese curds can be identified by their distinguished squeaky sound when you bite into them. This ensures that cheese was made in the past 2 days only.
Cheese curd can be white, yellow, and various other flavors. Even fresh cheese curd has various choices like garlic, spicy Cajun, taco, or mild ranch.
At Wisconsin, an entire festival is dedicated to cheese curds. Here you can celebrate, admire and eat Wisconsin cheese curds.
Even the insides of cheese are different in taste and look.
Culver's is the popular Wisconsin-based restaurant and is the unofficial cheese curd ambassador who is selling millions of their infamous fried curds a year, so visiting here on 15 October someday is a much.
History Of National Cheese Curd Day :
This day came into the picture due to Culver's, a popular Midwestern fast-food chain to celebrate this delicious and snack-able treat. Culver's was founded in the Dairy State and is known for serving real Wisconsin Cheese Curds. Culver, along with National Day Calendar, has officially declared Oct. 15th National Cheese Curd Day to give the infamous Wisconsin treat attention and adoration it highly deserves.