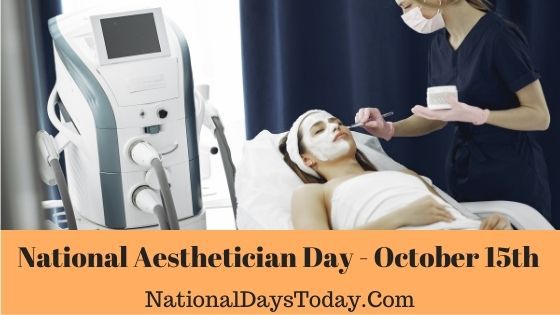 National Aesthetician Day:
Celebrated on 15th October every year, The day is to acknowledge aestheticians worldwide and celebrate their work!
| | | | |
| --- | --- | --- | --- |
| Year | Date | Day | Where |
| 2023 | 15th October | Sunday | United States |
| 2024 | 15th October | Tuesday | United States |
| 2025 | 15th October | Wednesday | United States |
Twitter Hashtags:
#NationalAestheticianDay
#AestheticianDay 
Related: Other National Days Celebrated on October 15th:
National Latino Aids Awareness Day
National Pregnancy and Infant Loss Awareness Day
National White Cane Safety Day
Why National Aesthetician Day
The National Aesthetician Day is celebrated in October, which is the National Aesthetician Month. Aestheticians are professionals who are experienced in the field of skincare. They can help you get rid of any of your skin issues and make your skin clearer, spotless and glowy.
All of us have different insecurities about the way we look, whether it's our face or our body. Some of these problems can be easily taken care of without any invasive and excessive procedures. We should be more appreciative of the work that aestheticians because they help us achieve a better version of ourselves! The work of an Aesthetician can range from natural treatments to laser treatments and fillers as well!
Skin conditions are minor problems, but they can take over our life sometimes. Our face is the first thing someone sees, and therefore we focus on ourselves too much as well. Problems like these can affect your self-confidence and even lead to disruption in your mental health. Aestheticians help us deal with these problems by offering a large number of services. They have a solution for all your skin problems. No matter how unique you think your condition may be, an aesthetician can help you out with it! You can also visit Aestheticians for services like laser hair removal, laser tattoo removal, lip fillers, eye bag fillers, and wrinkle treatments.
The various problems that can affect your skin are acne, hyperpigmentation, dryness, excess oil, discoloration of the skin, sun damage, problems related to old age like wrinkles, eye bags, saggy skin. Aestheticians offer many services such as moisturization treatments, skin rejuvenation, skin peels, microblading, dermarolling, etc. These scientific beauty procedures remove the dead and damaged cells of your skin and promote the growth of new cells and skin layers. All these procedures are healing and never cause any damage to your skin. Within only a few sessions, you can observe changes in your skin!
The National Aesthetician Day is a great opportunity to learn more about aestheticians and their work. By learning about their professions, you can recognize their efforts and even improve your skin and lifestyle with their help. Aestheticians often don't get the recognition they deserve for their work. Many people are not aware of this profession at all. This is why COSMEDIX started this day holds such great importance for aestheticians and beauty professionals all across the country! 
How Can We celebrate National Aesthetician Day:
Anyone can observe Aesthetician Day, and it is quite easy to do so!
Get an Aesthetician's Appointment
To observe the the day, you can get an appointment for an Aesthetician yourself! There are many minor things about our skin and face that can be improved easily and fast by an aesthetician and the National Aesthetician Day reminds us about that! Getting a consultation and improving your skin and body is a great way to celebrate the Day.
Give Recognition To Your Favourite Aesthetician
If you have experienced an aesthetician's services or are a regular client of any aesthetician, then this day should be extra special to you! You can give a shout-out to your aesthetician or share the good experience of their services with a friend! This way, you truly celebrate the spirit of the Aesthetician Day and promote the work of your Aesthetician!
Share The Day With Everyone!
The most popular and easiest way to celebrate teh day is to share information about this day with all your friends and family through social media! Sharing about this day will also help raise awareness about the work aestheticians do and can help any one of your friends, peers, or family if they want to consult an aesthetician for any issue. Make sure to use the hashtags #NationalAestheticianDay and #CelebratingAestheticians !
Interesting Facts About National Aesthetician Day:
The term "Aesthetician" is derived from the word "Aesthetics," which means "relating to beauty."
The use of cosmetics and skincare can be found in ancient societies as well, like the Greek, Egyptian and Indian Societies.
Our Skin is made up of 7 layers, out of which we can only see the Epidermis.
The chemical which maintains the beauty of our skin is called collagen, and it reduces with age. Aestheticians can help to maintain collagen with the help of different treatments and procedures.
Aestheticians have not licensed doctors but experts in cosmetic procedures and treatments. 
History of National Aesthetician Day:
Aesthetician Day was founded by the renowned health and beauty company COSMEDIX. Their goal was to give more credit to the aestheticians and beauty professionals all over the country and bring more awareness for aestheticians' work and its importance!