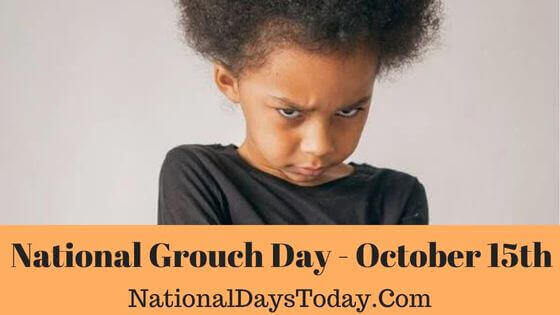 National Grouch Day:
Celebrated on the 15th of October every month, the National Grouch Day is a celebration of all the grouches in the world.
| | | | |
| --- | --- | --- | --- |
| Year | Date | Day | Where |
| 2023 | 15th October | Sunday | United States |
| 2024 | 15th October | Tuesday | United States |
| 2025 | 15th October | Wednesday | United States |
Twitter Hashtags:
#NationalGrouchDay
#GrouchDay
Related: Other National Days Celebrated on October 15th:
National Latino Aids Awareness Day
National Pregnancy and Infant Loss Awareness Day
National White Cane Safety Day
Why National Grouch Day?
A day created as a celebration of the Grouches all over, as per the magazine called Sesame Street, the National Grouch Day is celebrated annually on 15th October complimenting the grouches around us. If we pay attention we will know that the grouches often give surprisingly backhanded compliments. They always admit to good things of course in their own grouchy style. You have to know them well to know that they are complimenting you. And this National Grouch Day is a way to show them that they are appreciated as well for their backhanded compliments.
How can we celebrate National Grouch Day:
National Grouch Day is a day to acknowledge the grouches among us and give them a reason to celebrate life with the grouchiness they have. It is not just a celebration of the generally grouchy people but it is also a day to celebrate the grumpiness in our own selves. Treat the National Grouch Day as the day to set yourself free of your worries and be grumpy for all that you want.
On the National Grouch Day, let your grumpiness take over and whine about many little things in life. This will allow you to remain calm, peaceful, and happy for the remaining days of the year.
You can also share memes and jokes, cynical would a better option on the National Grouch Day with everyone. You can share these on social media or any other online portal and tag #NationalGrouchDay for all to see.
If you are looking for ways to cheer up then watching the famous "Oscar the Grouch" on your TV might just do the trick.
Grouches do not easily accept that they are happy and live a life that is well balanced and yet not so balanced either. Tag your favorite complaints/cynicism about life with #NationalGrouchDay on your social media accounts and let the grumpiness within you unleash itself.
Interesting facts about National Grouch Day:
On this National Grouch Day, here are some interesting facts and things you need to know about Grouches in general.
If you are wondering how to identify grouches around you, then it is quite simple. They are the ones who are often complaining and they do it constantly.
Grouches have the habit of irritating those around them with their frequent complaints.
Grouches are generally not fond of noisy places, too much silence, or in general any form of activity around them.
Grouches are generally happy when those around them are unhappy or grouchy.
Grouches feel comfortable when people are in the same mood as them surly and grouchy.
Now that we know how grouches are in general, let us know more about the famous grouch that we all know, "Oscar the grouch".
The first appearance of "Oscar the Grouch" was on the television program Sesame Street in the year 1969.
With no nose and a green body, the character promptly reminds us of the grouchiness among us.
Oscar the Grouch was initially orange in color but he became green after having a vacation in Swamp Mushy Muddy.
Oscar the Grouch also made an appearance in the television show "The Simpsons" twice.
There have been many parodies created and memes released based on the Oscar Grouch and in comparison with real-time personalities.
The Grumpy cat aka the Tardar Sauce became quite famous in the year 2012 and was made part of many cynical memes and jokes online.
"I love trash" is among the most famous of the songs featuring Oscar the Grouch which was sung alongside the Big Bird.
As we speak of grouches, you would also be wondering if it is related only to humans. But the answer is no, as the Black Rain Frog seems to have an ever-present frown over its face which could classify it to be a grouch.
Apparently, Spanish people are the most grumpiest of the tourists according to a survey conducted by MSN.
History of National Grouch Day:
There is no specific date or reason on how this day came into existence. As far as records go, the day has been in celebration since the year 1976 when the holiday was inspired by the magazine Sesame Street. Nevertheless, it is a celebration of the grouches around the world and is definitely an interesting day of celebration. While we may not be very fond of the grouches around us, there is also scientific evidence that points out that complaining could make life much easier. Of course, you cannot be forever doing only that but on the National Grouch Day, you may want to unleash your inner whiny self and complain about little and big things in life.