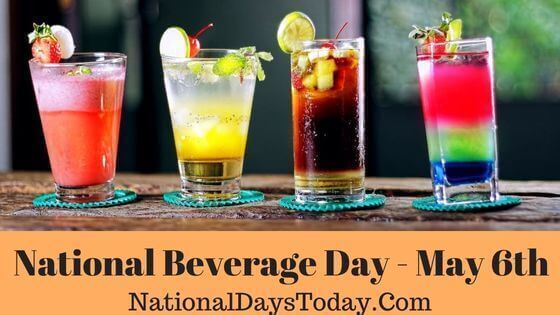 National Beverage Day:
The National Beverage Day is set on the 6th of May every year to encourage people to sit back, relax and enjoy a drink of their favorite beverage. This day is important for people with busy schedules, inspiring them to take a step back and have a little fun.
| | | | |
| --- | --- | --- | --- |
| Year | Date | Day | Where |
| 2023 | 6th May | Saturday | United States |
| 2024 | 6th May | Monday | United States |
| 2025 | 6th May | Tuesday | United States |
Twitter Hashtags:
#NationalBeverageDay
#BeverageDay
Related: Other National Days Celebrated on May 6th:
Why National Beverage Day?
This amazing day is for everyone, reminding us that sometimes we must take a step back to enjoy the moment and relax. There would be no harm in taking your favorite beverage for relaxation.
There are many different forms of beverage, with some being cold while others are hot. Some beverages are caffeinated, while others are iced. Even more, certain beverages are carbonated for purposes of preservation. Whichever your preferred taste in beverages is, be sure to make it count when you take it by putting everything aside and enjoy that cup or bottle of your favorite drink.
Certain beverages are normally squeezed, frozen, creamy, or have been blended to achieve a preferred taste or thickness. Regarding taste, beverages are sweet, sour, or bitter, while the feel for beverages describes smooth or dry.
Whenever we take our preferred beverages, the intention is to cool off or warm up our bodies. There are also times when we take a beverage to chill out and add to a particular event or ceremony we intend to mark in style and fun.
Beverages can either be takes for an event or a normal day when we feel like we really need to. Regardless of the intention, drinks provide a very fulfilling and sometimes nourishing effect that makes it totally worth it at that particular moment.
How we can observe National Beverage Day:
There are many ways through which we can observe National Beverage Day. Among these include:
Among the ways you can observe this remarkable day is by posting it on social media using the #NationalBeverageDay. This would achieve much in making sure that many people get to know and actually acknowledge the day when these amazing drinks in their content diversities were developed.
Engage in a beverage drinking contest
You can also organize a beverage drinking competition and reward the person who takes the most number of beverages in terms of cups or bottles at the least possible time. This is one of the ways to ensure that the movement is supporting this amazing day never gets forgotten.
Learn or integrate a new beverage variety into your list
You can also introduce a new beverage variety into your list of favorites by starting to take one on this amazing day. To do this, challenge yourself to use something out of the ordinary. For instance, if you are a chocolate tea person, try out a soda.  The idea behind this auspicious day is to ensure that the significance of the beverages we consume remains upheld and appreciated.
Treat yourself or your friends out for your favorite beverages at your best spot.
Another way to celebrate this amazing day is going out for your favorite beverages with friends, classmates, colleagues, or family.  This would be significant because it would be a very engaging way to observe this day while at the same time ensuring that those around you appreciate it too.
Interesting facts about National Beverage Day:
There are many interesting facts about National Beverage Day. Among these include:
In 900 AD, the Mayans consumed a beverage made from Xocolatl. In present-day terms, this beverage was cacao, which is the main ingredient in chocolate.
In 1025, there was a mention of "sharbat" in the "Canon of Medicine". This was a very popular drink made from fruits or flower petals and usually served chilled.
The Bottled Carbonated Beverage Day celebration was marked in 1925 as an assurance to consumers that bottled soda is free from impurities and good for health.
James Bond made the first appearance of his favorite beverage: martini, shaken, not stirred in 1952
History of National Beverage Day:
The history of this amazing day goes back to 900 AD and has been growing ever since. So far, there is no brand or entity associated with proposing this day. Even so, more and more beverages are designed every day.