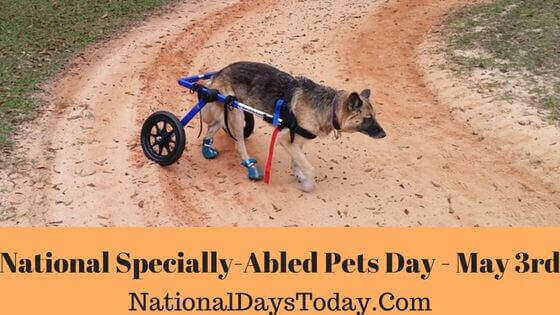 National Specially-Abled Pets Day
Spotlighting the pets who have disabilities, the National Specially-Abled Pets Day is observed on the 3rd of May every year.
| | | | |
| --- | --- | --- | --- |
| Year | Date | Day | Where |
| 2023 | 3rd May | Wednesday | United States |
| 2024 | 3rd May | Friday | United States |
| 2025 | 3rd May | Saturday | United States |
Twitter Hashtags:
#NationalSpecially-AbledPetsDay
#Specially-AbledPetsDay
Related: Other National Days Celebrated on May 3rd:
National Chocolate Custard Day
National Garden Meditation Day
National Raspberry Popover Day
National Two Different Colored Shoes Day
Why National Specially-Abled Pets Day?
Earlier referred to as the Disabled Pets Day and now being referred to as the National Specially-Abled Pets Day, the day is dedicated to pets with disabilities. Even pets with disabilities have the ability to love and feel your emotions and they can also lead a healthy life. This is a well-established fact and the day is used as an opportunity to educate people about these pets and how they can be taken care of. It is a day dedicated to educating and encouraging people to adopt pets with disabilities from animal shelters and foster care.
Pets have always been sought out by people to give them company and to comfort them in dire situations and to support them like family. People however are of the perception that disabled pets will not be as active. However this is not true and the pets with disabilities can also, with certain limitations, be quite active. This day is a means to educate the people about how you can care for these specially-abled animals and how they can help you in turn.
How can we celebrate National Specially-abled Pets Day:
There are many ways you can honor and celebrate pets with disabilities on this day. Here we bring to you a few pointers on how this day can be made into a memorable event both for yourself and your pets.
You can adopt a specially-abled pet from the local animal shelter or from a foster care center.
If you already have a pet at your home which has disabilities then you can use this day to pamper him/her on this special day.
Thanks to modern technology, it is now easy to care for these animals and you can spread the word about the animals with disabilities seeking shelter through your social media handles.
You can also support the rescue centers that care for these specially-abled pets financially or visit them regularly and offer your assistance in taking care of these animals. The animals will also love that you care for them.
If there are any pets looking to get adopted then you can spotlight them in your circles and help to find them a suitable home to stay in.
No matter how you seek to share your love with them or care for them, do remember to share your experience with these wonderful animals online with others. And as you share, remember to include the hashtag #NationalSpecially-AbledPetsDay on the post to create more awareness about this day.
Interesting facts about National Specially-Abled Pets Day:
You might be wondering how living with specially-abled pets be the same as living with normal pets. But you would be surprised by the abilities of these animals as against their normal counterparts. Here are some interesting facts versus the myths surrounding these specially-abled animals and how they are actually more active and kind to their owners.
Unlike the popular belief that disability can spoil the quality of life the disabled pets can easily live life to the fullest. They live with the same energy as their completely fine counterparts, playing and enjoying life.
There might be some challenges medically with these animals but the idea that all specially-abled pets have medical issues is completely a myth.
It is not true that these animals have behavioral issues and do not get along well. Many animals display aggression despite not having a disability and hence you cannot correlate disability and their behavior in any way.
It is quite easy to care for these special pets as with any other pet. There are many different products in the market to help you deal with any kind of situation and hence you don't have to worry about caring being a challenge for these special pets.
History of National Specially-Abled Pets Day:
Celebrated both nationally and internationally on the 3rd of May every year, the celebration of this day started in the year 2006. While the initial name of this day was disabled pets day, it was renamed with the founder of this day, the Animal Rescue advocate and Pet & Family lifestyle expert Colleen Paige felt the need to rename it. According to the founder, the earlier name had too much negativity and these animals deserve more care and love and hence renamed the day.