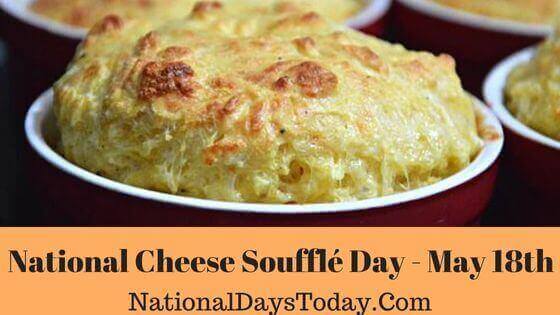 National Cheese Soufflé Day:
Celebrating the French dessert for its deliciousness, the National Cheese Soufflé Day is celebrated on May 18th every year.
| | | | |
| --- | --- | --- | --- |
| Year | Date | Day | Where |
| 2023 | 18th May | Thursday | United States |
| 2024 | 18th May | Saturday | United States |
| 2025 | 18th May | Sunday | United States |
Twitter Hashtags:
#NationalCheeseSouffleDay
#CheeseSouffleDay
Related: Other National Days Celebrated on May 18th:
National Visit Your Relatives Day
National HIV Vaccine Awareness Day
Why National Cheese Soufflé Day?
The French word "Soufflér", which translates to "puff up" or "to blow up", is the origin for the name of this French delight. Soufflé is made by combining custard with egg whites and baked until it is golden and puffed up. The base of this dish is often a French crème puree or sauce, in any flavor, along with egg whites. The base renders the flavor for this dish while the presence of egg whites ensures it puffs up as you bake.
The soufflé is so versatile that it can be had with anything you love, from cheese to berries, from jam to chocolate. The National Cheese Soufflé Day is a celebration of this French delight with cheese. The cheese could be of any variety, parmesan or cheddar, or fontina. Whatever is your preferred cheese, the cheese soufflé will delight your taste buds and hence a day to celebrate the dish.
How can we celebrate National Cheese Soufflé Day:
What makes cheese soufflé, one of the most sought out dishes, is the option to serve it either as a dessert or as a savory dish.
On this National Cheese Soufflé Day, you can enjoy this cheese soufflé in your choice of cheese. The flavor changes with different cheese and you can enjoy them all on this day.
If you are a restaurant owner, then this is probably the day you want to give your customers a taste of cheese soufflés for free. You can take their opinion on the variation they would prefer and incorporate them into your menu.
If you love to bake, then this French dish is just your next "to-bake" dish. It is quite simple and yet very delicate and delicious. Try making your batch of cheese soufflés and share them with your friends and family.
You can have your friends over on this day and enjoy different types of cheese soufflé as a brunch.
Share your thoughts, views, recipes, and other ideas about cheese soufflé with the world on your social media using #NationalCheeseSouffléDay.
Interesting facts about National Cheese Soufflé Day:
While a luxury dish to serve, the soufflés are affordable and loved by everyone. While the dish was invented in the mid-19th century, it was nearly a century later when the dish became popular. The dish was initially served on special menus and the most popular hotels and restaurants.
Here are some other interesting facts about Cheese soufflé and soufflé in general.
The first soufflé was served in the year 1780s in Paris at the La Grande Taverne de Londres.
Weighing as much as 3891 lbs, the soufflé made in Nablus, Palestine is the largest of its kind, as per the Guinness book of world records. The soufflé measured nearly 243ft. in length.
The top of the soufflés is often punctured by the bakers to fill it with the different sauces and flavors.
This airy dish can be served either as a sweet or as a savory dish. To make it a dessert, chocolates, fruits, lemon, jam, etc. are infused into the base while the addition of vegetables, herbs, cheese, etc. can make it a savory item.
The advent of air drafts for the oven was the change much needed to get the perfect rise on the soufflés.
Soufflé Rothschild was created by Antonin Caramé and it had real gold in its making. This was named after his employer, Rothschild, who was the richest man in France at that time.
The book "Le Guide Culinaire", published in 1903, features as many as 60 variations of this dish.
You can find a different soufflé in every region of France, with each region adding its local flavor to this dish.
History of National Cheese Soufflé Day:
There are no details or information regarding the origins of this day. However, we know that the soufflé is a French dish, which originated in France. The advent of ovens that used air draft for heating probably aided the invention of this dish. The recipe credit of the soufflé can be attributed to the popular Antonin Caremé from the mid-19th century. The dish has undergone several changes over years with many creative cooks inventing different flavors.