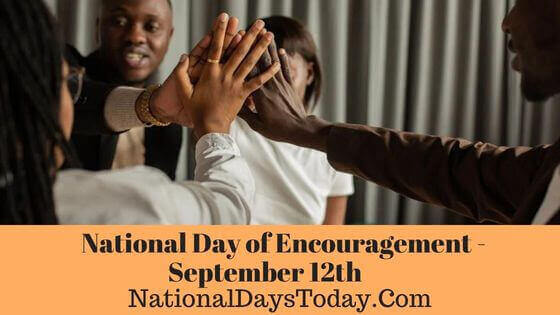 National Day of Encouragement:
National Day of Encouragement is celebrated on 12th September every year. The key goal of this celebration is to encourage people around us.
| | | | |
| --- | --- | --- | --- |
| Year | Date | Day | Where |
| 2023 | 12th September | Tuesday | United States |
| 2024 | 12th September | Thursday | United States |
| 2025 | 12th September | Friday | United States |
Twitter Hashtags:
#NationalDayofEncouragement
#DayofEncouragement
Related: Other National Days Celebrated on September 12th:
National Report Medicare Fraud Day
National Chocolate Milkshake Day
National Boss/Employee Exchange Day
Why National Day of Encouragement?
We are living in a digital world. It's easy to get demotivated in today's world. However, if someone encourages us, things can get better. So, why not a special day for encouraging people? As we noted, 12th September is dedicated to all those people who want to encourage others.
The best thing about this day is you can make both your and someone else's day by encouraging them. It will also give your life a positive impact. That's why most people celebrate this day in some unique ways.
How Can We Observe National Day of Encouragement?
It costs nothing to observe the National Day of Encouragement. The good thing is you can celebrate this day in different ways. If it's your first time, we can give you some amazing suggestions. However, you can also apply your ideas. Let's find out how to observe this day to make people happy:
Encourage People Around You
Obviously, you have to encourage people when you want to observe this day. On the other hand, it's the best way to make someone motivated and happy. So, make sure you encourage people around you as much as possible. 
If you don't have any reason to encourage someone, you can also appreciate them for something. This kind gesture can make someone's day. They will be extremely happy when you recognize and appreciate their work. 
Well, if you are with your friends, you can observe this day differently. Besides encouraging them, you can also give them a high five. It sounds silly but you can have a better day with your friends. 
As we noted before, there are so many ways to celebrate this day. In this case, you can even call someone and encourage them to try something new. It will light up your mood as well. It's one of the best ways to celebrate this day. 
If you want to do something unique, sending cards is the best way to show your love and support. In this case, you can send special cards to encourage your people instead of calling them. If appreciating is a good move, sending cards can definitely make someone's day. 
You see, the encouragement project was started to show support for young people. So, you shouldn't forget the key motive of this day. Make sure you are being honest while supporting and encouraging people. 
It's the best day to make people happy. So, don't forget to encourage your friends on social media by using the #NationalDayOfEncouragement hashtag.
Interesting Facts About National Day of Encouragement:
You see, there are various ways to observe this day. Well, if you want to encourage yourself, you have to know some interesting facts. These facts will not only put a smile on your face but will make your day. Hence, you can share them with your family and friends as well. Let's find out:
Interesting Facts That Will Make Your Day
You can see rainbows at night, they are known as 'moonbows'.
It's true, penguins also propose like humans. And they also stick together for life.
When you force a smile, it can make you happy.
South Korea offers Valentine's Day for single people.
Every year the Netherlands send around 20,000 Tulips to Canada. It has become a tradition as Canada helped the Dutch royal family during World War II.
According to Harvard psychologists, dogs only dream about their owners.
Seahorses actually get married by intertwining their tails.
History of National Day of Encouragement:
The Encouragement Project was started by a group at Harding University in Searcy in 2007. That was the first step to celebrate this day. The group observed a lack of encouragement among young people. And it was becoming a huge issue as well.
You might know that 11th September is a tragic day for Americans. That's why the group chose 12th September for their Encouragement Project. Moreover, they also believe that they can honor the 9/11 attack's victims by observing this day.
The day was officially issued by Belinda LaForce, the former mayor of Searcy. Later, this day was recognized as 'State Day of Encouragement'. However, President George W. Bush honored this day at the national level.