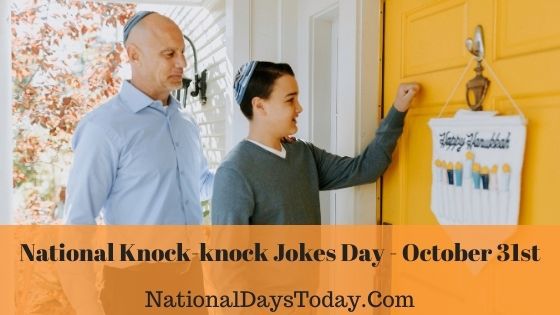 National Knock-knock Jokes Day:
National knock-knock joke day is observed every year on the 31st of October. This fun day encourages people to laugh out loud and spread happiness, as Laughter is the best medicine. You must have heard a lot of knock-knock jokes in your life.
| | | | |
| --- | --- | --- | --- |
| Year | Date | Day | Where |
| 2023 | 31st October | Tuesday | United States |
| 2024 | 31st October | Thursday | United States |
| 2025 | 31st October | Friday | United States |
Twitter Hashtags:
#NationalKnock-KnockJokesDay
#Knock-KnockJokesDay
Related: Other National Days Celebrated on October 31st:
Why National Knock-knock Jokes Day?
We always have that one friend who always says so many knock-knock jokes and will not shut up. This is a surprising fact that knock-knock jokes have a special day. The origin of this day has an interesting history.
The first knock-knock joke ever was said in 1929. On this day, a child thumped his stick on the ground and used the lines like "knock-knock, who's there? Buff. What says, Buff: Buff says Buff to all his men, and I say Buff to you. After this, in 1934 knock-knock joke format was used in newspaper columns. This was a standard type of joke for the humor section of the newspaper.
In 1936, knock-knock jokes were becoming very popular and widespread. A lot of people used these jokes to release the tension. In the late 1960s and 1970s, this type of joke became an integral part of Rowan and Martin's Laugh show. This is so popular now that children usually have a knock-knock joke as the first type of joke. Everyone makes their innovative knock-knock jokes and tell them to each other.
This day is a celebration of laughter. In today's generation, we all know people are so busy in their daily lives that they often skip doing an essential thing. That is to laugh. This day may be termed as stupid or senseless by many. But if it gives a person a reason to smile or laugh, then a hundred percent this day is worth celebrating!
As we have already seen that knock-knock jokes have been in use for a very long time. Lots celebrate this weird day. Often, people who are nervous or socially awkward even use this way of telling jokes as a coping mechanism. People groaning whenever a knock-knock joke is said can be considered as a national groan. People may groan or act irritated all they want, but these jokes definitely lighten the mood.
Some knock-knock jokes are so common that we can literally say they have been getting passed over a generation. This type of joke is something that people of all ages relate to. These jokes are one of the best ways to get along with kids. Believe it or not, this is a proven fact. You may not be able to find any comedies without at least one knock-knock joke.
Every single person in America at least knows one knock-knock joke. I bet it will be a very difficult task to object to this statement. Not only in America, but these jokes are widespread all over the world. People buy books and search google to read and know more of these jokes. Everyone wants to expand their vocabulary of telling knock-knock jokes. It may sound funny, but it is true. Even in their leisure time, some people just google and read these jokes. This may be overhyped, but what is the harm if it brightens your day or relaxes you, even if it's temporary. Just celebrate this amazing day and enjoy it!
How Can We Observe National Knock-knock Jokes Day?
Let's see different ways to celebrate this day!!
The first and foremost rule is to tell a lot of knock-knock jokes. Exchange jokes and laugh. Laughter is the best way to release stress, and this generation needs a lot of it for sure.
Share some classic old knock-knock jokes with your kids and invent new ones with them. It is one of the best ways to spend your family time.
Have a knock-knock joke, "knock off." Arrange a competition of writing and telling jokes.
Spread love and laughter on your social media handles. Post a lot of jokes with hashtags like #NationalKnockKnockJokeDay and #KnockKnockJokeDay.
Interesting Facts on National Knock-knock Jokes Day:
Let's look into some fun facts of knock-knock jokes.
Knock-knock jokes have been in America's classic touches of humor since the 20th century.
Critics were initially against knock-knock jokes.
Melissa Douty is a famous stand-up comedian. She confessed her career started with a knock-knock joke.
Before they were known as the knock-knock jokes, they were labeled as the "Do you know jokes."
Amazon has a bundle of books just listing various kinds of knock-knock jokes.
Many people consider telling a knock-knock joke as a perfect form of an ice breaker. You may disagree, but the actual fact is it works most of the time.
History of National Knock-knock Jokes Day:
Researchers are still looking for the reason for the origin of this day. This is a mystery that fascinates me a lot. Hope to find the reason for the origin of this day soon. Till then, tell a lot of knock-knock jokes and laugh your hearts off!