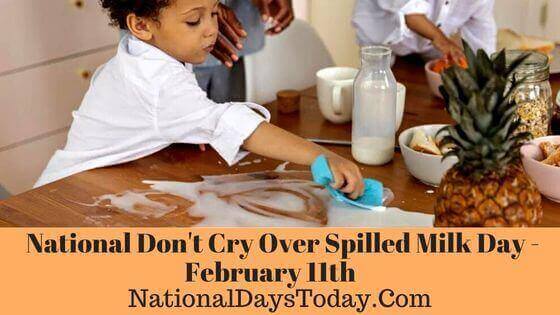 National Don't Cry Over Spilled Milk Day:
The National Don't Cry Over Spilled Milk Day is a holiday that is observed on February 11 every year. This day celebrates a spirit of positivity and encourages moving away from regrets and negativity.
| | | | |
| --- | --- | --- | --- |
| Year | Date | Day | Where |
| 2023 | 11th February | Saturday | United States |
| 2024 | 11th February | Sunday | United States |
| 2025 | 11th February | Monday | United States |
Twitter Hashtags:
#NationalDon'tCryOverSpilledMilkDay
#Don'tCryOverSpilledMilkDay
Related: Other National Days Celebrated on February 11th:
National Shut-In Visitation Day
Why National Don't Cry Over Spilled Milk Day?
The National Don't Cry Over Spilled Milk Day has a very important purpose- it teaches us to move forward. Like the spilled milk in the idiom, one must learn to let go and not worry about something that has already happened in the past. Of course, the ideal thing is to try your best to resolve a matter you regret, and if nothing can be done, obtaining closure is the best rather than constantly being trapped in the sense of guilt. 
Some studies have been done on this that show that harboring emotions like guilt, embarrassment, disappointment, shame, or anger for long durations of time can significantly impact mental health. This also impacts the immune system since these people tend to have more mental health issues and fall sick often. In addition, the present decision-making skills are also impacted due to being in a state of mind fuelled by past regret. 
Instant of regret, one's energy should be focused on obtaining closure and learning from one's mistakes. If a grave mistake has been made, trying to rectify it and making amends is much better than harboring regret to cripple one's mind. This achieves nothing, while learning is an opportunity for growth, new relationships, and improvement. The National Don't Cry Over Spilled Milk Day commemorates this spirit and reminds one that standing over a puddle of spilled milk does absolutely nothing. 
How Can we celebrate National Don't Cry Over Spilled Milk Day:
Let Go
Learn to get go of that quarrel, that fight that still makes you angry or feels guilty. Let the past remain in the past and let go of all the grudges you hold one, my one. Sit down, make a list of things that bother you till this day, list out the reasons why you may feel the way you do, and learn to deal with each one of those, slowly letting them all go like birds from a cage. 
Obtain Closure
If you feel you have wronged someone and sincerely feel guilt for it, reach out and apologize. The closure is a powerful thing, and who knows, you might find a new friend after the apology. Fully accept their decision and keep it as a closure. There's always room for improvement, and showing that you regret what you did is much more useful than stressing about it alone. 
Help
Be available to your friends to talk if they have any issues; he'll let go of similar regrets, guilt, and worries. Help your loved ones be the best version of themselves! 
Bring Attention to Mental Health
Persistent emotions can do a number on one's mental health. Post on your social media and educate people about the importance of letting go and use the tag #NationalDontCryOverSpilledMilkDay to spread the word and perpetuate the chain of positivity. 
Interesting facts About National Don't Cry Over Spilled Milk Day:
Here are some facts about this beautiful idiom that brought us a day of positivity on February 11th
·       The original version of this idiom is "No weeping for shed milk," from a book of proverbs "Paramoigraphy" by James Howell.
·       It was later rephrased as "Tis a folly to cry for spilled milk" and soon turned into the form we know today.
·       The inspiration for this proverb is the belief that fairies like to drink up any leftover spilled milk. 
History of National Don't Cry Over Spilled Milk Day:
The history of the National Don't Cry Over Spilled Milk Day itself is relatively unknown as to why this specific date was chosen to be dedicated to this particular day, but the idiom itself has been around for hundreds of years. The saying has its origin in European Folklore that includes various fairies and fae. According to these talks, milk was a particular favorite of these fairies, and they'd drink any spilled milk left behind. So there's no use crying over it since a fairy would drink that up!