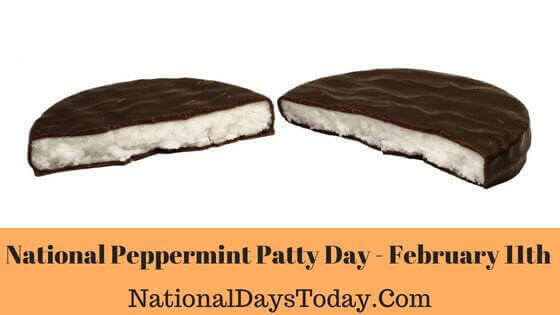 National Peppermint Patty Day:
To savor the nectar of rich dark chocolate wrapped around a refreshing mint patty, National Peppermint Patty Day is celebrated on the 11th of February every year. The day primarily focuses on cooling your guts with its chilly essence.
| | | | |
| --- | --- | --- | --- |
| Year | Date | Day | Where |
| 2023 | 11th February | Saturday | United States |
| 2024 | 11th February | Sunday | United States |
| 2025 | 11th February | Monday | United States |
Twitter Hashtags:
#NationalPeppermintPattyDay
#PeppermintPattyDay
Related: Other National Days Celebrated on February 11th:
National Don't Cry Over Spilled Milk Day
National Shut-In Visitation Day
Why National Peppermint Patty Day?
Chocolate and Peppermint are sensations in themselves. You can never see a person saying a Nah-Nah to chocolate. Nor can anyone deny peppermint. And if you know one, why do you know him? The creamy melting texture of chocolate and the chilly refreshing aura of peppermint, when combined together, explode like cool bombs of eternal flavor. It's no wonder all of us love Peppermint Patty so much.
The York Cone Company of Pennsylvania primarily manufactures peppermint patties as we know them today. They market their product under the brand name of York Peppermint Patties. But the combo of Peppermint and Chocolate dates way back.
This choco-mint deliciousness started in the Quiggin's Family, who first produced the patty commercially in the Isle of Man, an island in the middle of the Northern Irish Sea. They started producing the Patty in 1840 and continued the production until 1880 until four sons started Kendal Mint Cake Company.
In 1900, regional confectioneries produced Peppermint Patty. The most known out of the manufactures is York Cone Company which first produced its product named York Peppermint Patties in the year 1940. They initially sold in the northeastern United States until 1972 when Peter Paul acquired the company and sold the product nationally in 1975.
In 1978, Peter Paul merged with Cadbury and was finally acquired by Hershey in 1988. Hershey still has the patty in production.
How Can We Observe National Peppermint Patty Day:
Let us celebrate this Minty-Fresh holiday with a dash of Mint!
Hit the stores and stock up your refrigerator with your favorite Peppermint Patties and bars. Nothing can be better than binge eating Peppermint Patties.
Throw a family get-together and have a family movie day along with Peppermint Patty Shakes and Brownies. Then, pick up from your favorite restaurants and enjoy the day.
Well, what's better than to try your hands in the kitchen on some new and exciting Peppermint-Chocolate recipes. Spice up your regulars by adding Peppermint Patty Syrups or Peppermint Patty sticks and invent an all-new favorite. Who knows, your invention is so good that you end up getting a new business idea!
Make Peppermint Patty bouquets and Hampers. Personalize them with some pictures of you and your loved ones. Add crafty decorative pieces like flowers and fringes. Viola! You have a lovely, heart-touching gift for your friends and family. Surprise them with this delicious basket of happiness.
Or, invite all your young nephews and nieces and have a peppermint baking day. Decide on a menu collaboratively and assist them in cooking up innovative recipes. Then, invite the elders over for dinner to appreciate their efforts presented as dessert.
Lastly, show your love for this lovely, long-aged but minty fresh recipe by using hashtags like #NationalPeppermintPattyDay, #PeppermintPatty, #Choco-MintLove, and #PeppermintPattyDay on your social media handles.
Interesting facts About National Peppermint Patty Day:
Let us chill our brains with some minty facts about Peppermint Patty Day
Before York Peppermint Patty, these patties were produced by Idaho Candy Company, Trudeau Candies, and Pearsons. These patties were called ' cream wafers' or 'cream patties' and had ingredients like lemon, wintergreen, orange, maple, and pistachios.
Peppermint Patty was also a character in Charles Schulz's comic strip "Peanuts." The original name of the character was "Patricia Reichardt." It was released on the 22nd of August 1966.
Peppermint Patties have the lowest calorie and fat count you can ever encounter in a candy bar. So I guess it's a yes for the health enthusiasts!
York Peppermint Patties were famous because of their Firmness and crispness, unlike the other market competitors. The final test before a sample left the production plant was called a 'Snap Test.' This test was to make sure the candy must break clean from the middle. Otherwise, it won't make it to the store shelves.
11th February is also celebrated as "Don't Cry Over Spilled Milk Day" and "Make a Friend Day." 
History of National Peppermint Patty Day:
This day is celebrated to appreciate the flavorful vibes that such a simple yet endearing candy adds to our lives. This day marks the age-old legacy of Quiggin's family, who introduced such an exquisite blend to the world. But, the Founder of this day stands unknown to date.