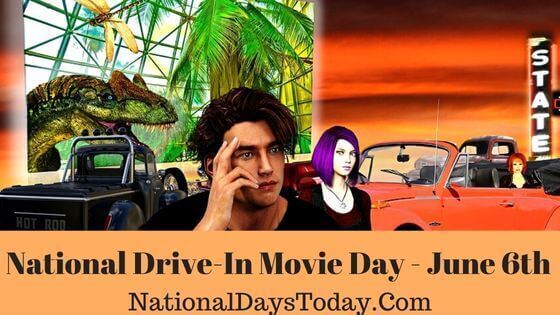 National Drive-In Movie Day:
Celebrating the first opening of a drive-in in the country, National Drive-In Movie Day is celebrated on the 6th of June every year.
| | | | |
| --- | --- | --- | --- |
| Year | Date | Day | Where |
| 2023 | 6th June | Tuesday | United States |
| 2024 | 6th June | Thursday | United States |
| 2025 | 6th June | Friday | United States |
Twitter Hashtags:
#NationalDrive-InMovieDay
#Drive-InMovieDay
Related: Other National Days Celebrated on June 6th:
National Gardening Exercise Day
Why National Drive-In Movie Day?
Watching movies is probably the most sought-after entertainment across the world. While movies can be watched in the comfort of your home or at a theatre near you, watching in a drive-in is an experience in itself. It is a tradition that many love, where they can drive to the nearest park and watch the movie on the big screen, enjoying the fresh air and munching upon some of their favorite snacks.
There is no better way to enjoy classics on a bigger screen with lots of people and nature around you. You can even enjoy the movies with your pets and have a picnic out of it as well. Furthermore, the drive-in is the perfect choice for those who suffer from claustrophobia or who need assistance with moving around. You can use any vehicle to watch the movies in a drive-in. Some old classic movies are not available on online platforms or DVDs and yet you can watch them in these drive-in theatres. This is why we need to celebrate the presence of these drive-in places on this day.
How can we celebrate National Drive-In Movie Day?
If you want to make it a day to remember for years to come, then here is what you can do.
Of course, the best way to celebrate this day is to visit a drive-in and watch a movie. You can plan it with your near and dear ones. With some fun snacks to munch upon, this would be a day to remember. Drive-in is also the place to enjoy creamy salads, sandwiches, cheesy bites, nachos, etc.
You can enjoy a movie night on your own as well. You can set it up in your own home or yard to get a natural feeling on this day. With good seating arrangements to keep your guests comfortable, it is sure to make a fun-filled day for everyone.
Many indie films from creative directors express their views creatively and these are available to watch. You can stream them or watch them on this day and share your thoughts or views about these movies on your online platform.
You can also share your experience of the first time watching a movie in a drive-in theatre. Remember to include the hashtag #NationalDrive-InMovieDay on your posts to bring awareness to this day and the drive-in theatres. Share the experience and let everyone know about the best part of watching the movie in a drive-in.
Interesting facts about National Drive-In Movie Day:
Some of the coolest information you would want to know about Hollywood on this day are presented here just for you.
You would have probably heard of the Hollywood Walk of Fame. You would have seen the many stars on this walk of fame. A single star would cost you nearly $30,000 to get on this walk of fame in Hollywood.
The sign saying Hollywood is nearly a century old. It has been present for nearly 90 years now.
The first short film in Hollywood is the "In Old California".
The Roosevelt Hotel hosted the first academy awards function in the year 1929.
The image search on Google was created inspired by the iconic gown of Jennifer Lopez, that she wore in the year 2000 at Grammy's.
The first partial drive-in theatre was set up in New Mexico in the year 1915.
In the year 1921, the state of Texas had the first downtown drive-in opened in it.
It was in the year 1941 when a personalized sound experience was guaranteed with the volume controls on in-car speakers.
The popularity of video rentals and later the online streaming facilities made way for the fading of drive-in movies.
History of National Drive-In Movie Day:
There is no information on who started the celebration of this day. However, we do know that this day marks the opening of the first drive-in in the country in New Jersey. The drive-in was opened by Richard M. Hollingshead Jr., and it was intended for the seniors who wanted to watch movies and found it hard in the confines of a movie theatre.