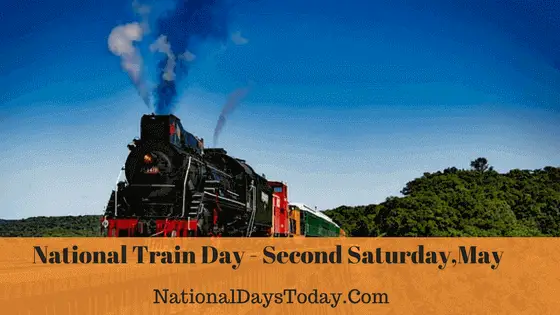 National Train Day:
Observed On Saturday close to May 10, as an annual event in the United States. The Day was an Official Holiday observed annually right from the year 2008 to spread information on the History of the railway system.
| | | | |
| --- | --- | --- | --- |
| Year | Date | Day | Where |
| 2023 | 13th May | Saturday | United States |
| 2024 | 11th May | Saturday | United States |
| 2025 | 10th May | Saturday | United States |
Twitter Hashtags:
#TrainDay
#NationalTrainDay
#AmericaTrackUnknown
#MyTrainjourney
#MyTrainPoem
#RailwayEmployees
#TrainDayevents
Related: Other National Days Celebrated on May:
National Butterscotch Brownie Day
National Lost Sock Memorial Day
Why Train Day?
National Train Day was an Official Holiday observed annually right from the year 2008 to spread information on the History of the railway system, its Journey and dedicated work to the Public as well as in goods transportation. In addition, this day is being observed to appreciate the employees deployed in Rail services. It was started to be observed by the National Railroad Passenger Corporation, Amtrak, which provides railroad service in the United States and three Canadian Cities that are bordering the United States.
How we can Celebrate or Observe National Train Day:
what if the day is has been discontinued, we can even celebrate this day by posting unknown facts regarding Amtrak using this hashtag #AmericaTrackUnknown on Social Media. Travel in train and post your pictures using this hashtag #MyTrainjourney. Plan for a tour by Train with your friends to enjoy this beautiful occasion. Mark your presence in the Exhibition or events conducted on behalf of this day. In addition, spread the venue to others using this hashtag #TrainDayevents, which makes others to be participated.
Let us thank the trains on this day. It travels through mountains, River and expose us nature and making our journey splendid. We shall thank all the railway employees who work for us irrespective of the day and time regardless of their family schedule. They sacrifice sleeping, hardly spend with their families, and work for us day and night. Use this hashtag #RailwayEmployees to appreciate them. Narrate a poem on this day and use this hashtag #MyTrainPoem to post it.
Interesting Facts About Train Day:
Amtrak, founded in the year 1971, Union Station, Washington as headquarters, operates Passenger train services in over 500 stations. The Amtrak provides service for more than 46 States and three Canadian States with almost 300 trains operated in the service. The Name "Amtrak" is derived from "America track". Thus, the abbreviated form of America Track is termed as "Amtrak".
A survey has estimated that Over 31.3 million passengers have been served by Amtrak every year with a revenue of more than 2 billion dollars as of 2016.Around 20000 employees are deployed in Amtrak serving more than 85000 people on a daily basis.
Amtrak facilitates four classes of services. First Class Passengers are provided with meals and alcoholic beverages. Further, passengers are accessible to Club Acela at selected stations. Sleeper class constitutes a private room, which, includes Family bedrooms only on particular trains and passengers are provided with Juice, Coffee and water bottle. Business class services are available in some of the notable trains like Acela Express, Northeast Regional etc. and provided with only non-alcoholic beverages. Coach class service is facilitated in almost all the trains in which only limited facilities are available. no Complimentary were offered to the passengers like other sections. Amtrak Started providing Wi-Fi services in some of the trains since 2008.
History of Train Day:
The National Train day indicates the anniversary of the pounding of Golden Spike in Promontory, Utah at the Promontory summit, and observed as the first anniversary of the rail route system in the Unites States. Many Events were held on this day and several railroad layouts were exhibited.
Amtrak is a For-Profit Organization that, eventually receives subsidies from both the state and the Federal Government. However, the budget proposal was dismissed within Amtrak, which led to the discontinuation of the National Train day, by the year 2015.
Later, the Amtrak announced the replacement of the National Train day by Amtrak Train Days sponsored by the company itself. Previously it was celebrated on a single day, as multiple events, now it is being celebrated for several days in spring, fall and summer as individual events.