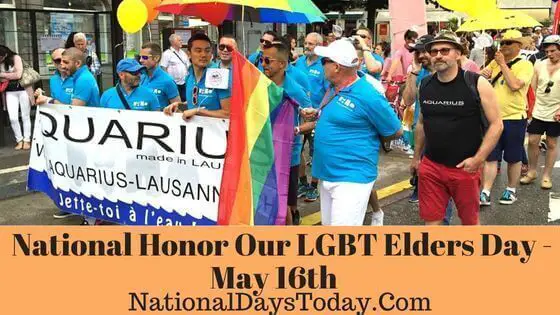 National Honor Our LGBT Elders Day: 
Celebrated annually on May 16th, the National Honor Our LGBT Elders Day pays tribute to the trailblazers who have courageously, and persistently fought and keep fighting for the legislation and rights of the LGBT community!
| | | | |
| --- | --- | --- | --- |
| Year | Date | Day | Where |
| 2023 | 16th May | Tuesday | United States |
| 2024 | 16th May | Thursday | United States |
| 2025 | 16th May | Friday | United States |
Twitter Hashtags:
#NationalHonorOurLGBTEldersDay
#HonorOurLGBTEldersDay
Related: Other National Days Celebrated on May 16th:
National Coquilles Saint Jacques Day
Why Honor Our LGBT Elders Day?
Firstly because the LGBT community's acceptance wasn't acquired in a day. There were many older LGBT adults who had significantly contributed to the LGBT movement throughout history. Their vision for a future free from LGBT discrimination & stigmatization has finally started to pay off. It's only right for the LGBT community today to appreciate the efforts of those before them.
From a period where same-sex marriage was considered a mental disorder to getting it declared as a constitutional right, the LGBT movement has evolved in great ways.
For many years, LGBT elders have hidden their identity from the world to engage in what it considers normal such as marriage, finding jobs, joining the military, buying homes, etc. When the elders stand up for their identity, they are isolated by family and friends. And the major challenge for them is growing old as they often lose their social networks and the long-term care systems are mostly unwelcoming leading to questions of care. It gets hard for them when they are not acknowledged or cared for by their own LGBT community.
So this day encourages young LGBT individuals to look back to the elders who have positively influenced their journey.
Also, many LGBT people face alienation from their biological families and LGBT elders have filled the roles of parents, grandparents, mentors, and friends, supporting them, networking with them to help them live dignified lives. These relationships are important for all age groups of people in the LGBT community as they offer mutual support and positive mental health.
It's that time of the year, to acknowledge the LGBT elders around you and it's your turn to be there for them.
How Can We Observe National Honor Our LGBT Elders Day?
Share LGBT Elders' stories:
Do you know LGBT elders whose stories are worth hearing? Depending on their willingness you could record their story on video, audio, or through a blog too! Going live with your audience is an amazing way to connect with the youngsters!
Start a few days or weeks early to mobilize efficiently to get your audience to hear out the stories, and the reality of their present situation. Use #HonorOurLGBTEldersDay to promote on social media!
Sponsor their old-age needs:
Since many LGBT Elders end up in old-age homes, they will require lots of medical facilities along with other basic needs. You could set apart some amount of your income every month and support their needs!
Raise funds:
You could organize a fundraiser today! It could be a simple bake sale or badges sale to raise money for this cause. Or you could also hold placards explaining the needs of the LGBT elders to raise money.
Throw them a party:
If you love partying, invite the LGBT elders in your community too! You can have a great time sharing stories, dining, dance, and much more!
Volunteer at old-age homes for the LGBT:
LGBT elders will need all the help they can get. Team up with a local old-age home for the LGBT and help them out in every way you can! Take photographs, videos, or write a blog about your experience of volunteering to encourage others to lend a hand too!
Interesting Facts About National Honor Our LGBT Elders Day:
Here are a few interesting facts surrounding National Honor Our LGBT Elders Day!
The gay pride rainbow flag was flown for the time at the Gay Freedom Day Parade, 1978, San Francisco.
The National LGBTQ Wall of Honor was installed in New York in 2019 in dedication to the LGBT pioneers.
The Felipa de Souza Award is given to advocates supporting and working towards the wellbeing of the LGBT community. The award is presented by OutRight Action International, an American non-profit organization working towards the same cause.
There are eighteen bronze memorials erected along the streets of Chicago to honor the contributions of the LGBT to the nation.
About 80% of gay and lesbian youth face severe isolation from family and friends.
History Of National Honor Our LGBT Elders Day:
This thoughtful day was the brainchild of Chase Brexton Health Services, Baltimore. It was established in 2015 to bring to light the support and appreciation the LGBT elders need as they grow old, and often feel invisible among the youth-obsessed culture.