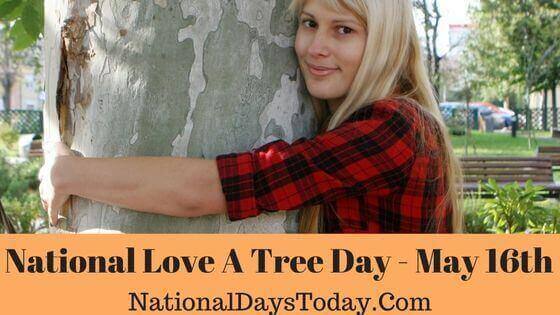 National Love A Tree Day: 
Celebrated annually on May 16th, National Love A Tree Day honors the irreplaceable role trees play in balancing the ecosystem. From fresh air to their sweetest fruits and everything in between, their contribution to life is beyond imagination. And it's only fair that we love them!
| | | | |
| --- | --- | --- | --- |
| Year | Date | Day | Where |
| 2023 | 16th May | Tuesday | United States |
| 2024 | 16th May | Thursday | United States |
| 2025 | 16th May | Friday | United States |
Twitter Hashtags:
#NationalLoveATreeDay
#LoveATreeDay
Related: Other National Days Celebrated on May 16th:
National Coquilles Saint Jacques Day
National Honor Our LGBT Elders Day
Why Love A Tree Day? 
The role of trees in producing oxygen, and eliminating carbon dioxide from the atmosphere is crucial for our survival. And since almost all living organisms need oxygen to survive, the significance of trees is irrefutable. Humans have depended on trees for food, shelter, furniture, and medicinal qualities. Their strong and deep roots are guardians preventing landslides and floods!
Since ancient times, humans have co-existed with trees, and balance was maintained. But today's rapid urbanization has disrupted the natural balance as the ratio of trees cut down to saplings planted is staggeringly high. As per the U.S. Forest Service, the 766 million acres of forest land has steadily decreased to 754 million acres between 1630 and 1910. 
Although forest areas and plantation programs are increasing in urban areas, there are many places, where it continues to decline. We could call the trees a cleansing powerhouse, as they purify the polluted air and water. They offer a strong and structured habitat for numerous animals, birds, reptiles, insects, and microorganisms!
With trees holding such importance for our and the earth's existence, it is time we focused on their survival too! We have numerous and priceless reasons to love our trees. Planting more saplings is an efficient way to deal with harsh summers, damaging floods, and storms, landslides, and climate changes. They are a great source of refreshment as well. How many of us cherish swinging from a tree's branch or climbing them for adventure and some sweet fruits?
Further trees bring us together as a community. When we collaborate with residents, students, community leaders, congregations, and corporate groups, we can build healthy and strong communities.
Most trees have longer life spans some can live to a hundred and some for a thousand years too. With all that they offer for our survival, we can start planting saplings and avoid cutting trees. When a tree is cut we not only lose a tree, we lose oxygen, clean air, and water, shade, and deprive other living creatures of their survival too.
Many pro-nature organizations have fought and continue to fight against urban projects that cut down a large number of trees. We can do our best by not cutting down trees in our house and neighborhood. It is also crucial to vote for political leaders whose vision for your region and country includes the protection of trees and a sustainable environment.
Let us show love to trees today and every day and also encourage our children to do the same. The least we can do for trees despite their lion's share for our wellbeing is not to cut them down.
Let us continue to adore and cherish their shade and beauty!
How Can We Observe National Love A Tree Day? 
Show your love by hugging as many trees as possible! It's a great way to inspire others to do the same!
Research on trees native to your region and buy some seeds to plant them! Don't forget to take care of them as they grow. They will need protection from animals, insects, rain, sun, etc until they are strong enough on their own. But don't worry, one day you will see the fruits of your labor!
It's a perfect day to spend among the trees. Plan a day out with friends and family. Enjoy the cool shade, and the quiet! It's a great way to reflect on your life and refresh before you head out to face the world!
Look up the search engine to look for a tree or natural museums near you! Go explore the varied species of trees on display! You will be awestruck for sure!
Become a tree planting member!
Join a local community group that organizes tree plantings and volunteer whenever the opportunity strikes!
Organize speaking contests, poster-making contests, etc, to help people to understand the importance of trees for the present and the future!
If you are a pro with planting and tending to trees, share valuable tips for beginners today! You could come up with a small blog, vlog, or infographic on the same! Use #NationalLoveATreeDay and #LoveATreeDay to share your posts today!
Interesting Facts About National Love A Tree Day: 
Here are some interesting facts surrounding National Love A Tree Day!
Methuselah – a bristlecone pine tree is older than 4,800 years old
Trees can communicate by producing a chemical named phenolics.
Trees are thirsty beings. An average tree could drink up to 530 gallons of water a year.
Over 16 billion trees are lost annually due to deforestation, forest management, etc.
Kids living in areas with trees are less prone to asthma.
Trees are also a great UV rays blocker! They can reduce the exposure by 50%! 
History of National Love A Tree Day: 
The origin of this significant holiday isn't known yet. While we continue looking for the roots of this holiday, don't forget to show some love to your trees or to those who support the growth of trees!