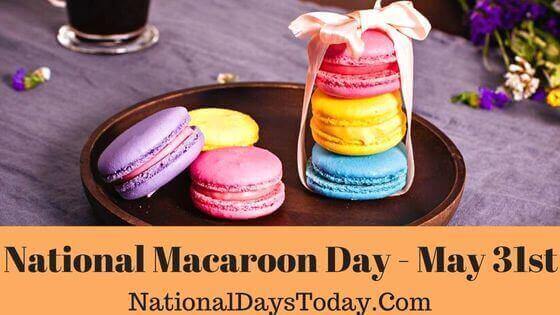 National Macaroon Day:
National Macaroon Day is celebrated every last day of May (May 31st) to relish in the delicacy.
| | | | |
| --- | --- | --- | --- |
| Year | Date | Day | Where |
| 2023 | 31st May | Wednesday | United States |
| 2024 | 31st May | Friday | United States |
| 2025 | 31st May | Saturday | United States |
Twitter Hashtags:
#NationalMacaroonDay
 #MacaroonDay
#MacaroonRecipe
Related: Other National Days Celebrated on May 31st:
National Save Your Hearing Day
National Autonomous Vehicle Day
Necrotizing Fasciitis Awareness Day
National Speak in Sentences Day
Why National Macaroon Day?
The day is dedicated to the Italian Delicacy, Macaroons. Macaroons are the common food during the Passover, a major Jewish holiday that celebrates the exodus of the Israelites from slavery in Egypt. Through American Jews, Macaroon has become a famous sweet in America that made us to dedicate a day specially for this Passover sweet.
How can we observe National Macaroon Day?
Eat Macaroons:
Eat Varieties of Macaroons and enjoy the day. Make your celebrations viral using social media handles
Try a Recipe:
Make your own Macaroons and enjoy the day. Don't forget to share your recipe if comes good. You may also share it even the outcome is a super disaster. Use the hashtags #MacaroonRecipes.
Try the below recipe,
Name: French Macaroon (Note: This is not the only way to make macaroons. This is one of the tested ways to make it.)
Ingredients:
Eggs whites- 4
Sugar – 1 medium sized cup
Tartar cream- Half cup (use the same cup for measurement)
Food Color – a pinch (optional)
Almond Flour- 2 Table Spoon
Confectioner's sugar – 2 Table Spoon
Step 1: Take the Egg Whites in the bowl and add Tartar cream. Beat it for few minutes until it foamy. It is a best practice to keep the Egg Whites refrigerated for at least 5 to 6 hours before using. You can refrigerate it before a day for soft Macaroons.
Step 2: Take the Sugar and powder it. The add the powdered sugar and beat it nicely for at least 5 minutes. Make nicely powdered sugar or use a filter.
Step 3: Add Food color of your choice. This is optional. The color adds a beautiful look to the Macaroons. You can use a small amount of beetroot juice if you are not okay with Food Colors.
Step 4: Take a separate bowl and Mix Confectioner's sugar and almond powder. You can directly buy almond powder from the shop or you can powder it. Before that, sauté almond for few minutes and then powder it. It enhances the aroma.
Step 5: Slowly add the egg mixture and continuously stir. Stir until it becomes shiny and flowy. Add it by part by part as this is the crucial part in making Macaroons. This step would make everything wrong. So Add it by parts and continuously stir it softly in circular motion.
Step 6: Use the parchment Paper and using a spoon pour a spoon of batter. You can make any shapes and the probable shape of macaroon is Circle.
Step 7: Dry it for 1 hour before baking
Step 8: Bake for 10 minutes. The temperature can be 300 F
Step 9: Cool for few minutes. It would become like a cookie.
Step 10: Take a cookie and spread with any frosting of your choice. Eg. Buttercream, Vanilla frosting, etc.
Step 11: Close it with another cookie.
Step 12: Leave it for 5 minutes and enjoy. You can store it in a tight container.
Are Macaroons famous in Your region?
Then, share the names of such famous macaroons and if possible, the recipes. Don't forget to add the pictures. Use the hashtags #NationalMacaroonDay and #MacaroonDay to share it on social media.
Interesting facts about National Macaroon Day:
Let's see some of the interesting facts about Macaroon to celebrate this day,
The term "Macaroon" is an Italian origin term and means "Paste".
The earliest traces of Macaroon dates Back to 8 or 9th Century.
The Popular "Macaroon Sisters" in 1553 is Sister Marie-Elisabeth and Sister Marguerite, asylums who paid their rent by selling Macaroons.
The first known recipe book that documented Macaroon is Robert Smith's Court Cookery of the year 1725.
Macaroons and Macarons are two different sweets/Cookies. Macaroons are made of coconut whereas Macarons are sandwich cookies.
The other famous sweets similar to Macaroons are Almond biscuit and Cocadas.
Regions Famous for Macaroons:
French macaroon- France
Thoothukudi Macaroons- India – Thoothukudi is one of the famous places in the world for Macaroons. The Macaroons are in somewhat in Stacking Toy shape and sprinkled with half-crushed coconuts. These are introduced to India during the Colonial times.
Mangaluru Macaroons- India
Mandelhörnchen – Germany
Philippine coconut macaroons- Philippines
Carajito -Spain
Acıbadem kurabiyesi  – Turkey
Pignolo, Ricciarelli,  Amaretti di Saronno are some of the famous varieties in Italy.
besitos de coco – Puerto Rico
History of National Macaroon Day:
The origin or the founder of this day is murky. However, the origin of Macaroon seems to be quite interesting. The origin of Macaroon claimed to be from an Italian Monastery of 8th or 9th Century.
In 1553, The Wife of Henry II, Catherine de' Medici's chefs and few monks visited France. With that, two nuns namely sister Marie-Elisabeth and Marguerite came to Nancy, a province in France. During the French Revolution, these two sisters came to Nancy seeking asylum. They began paying their rent through baking and selling Macaroons. They were then popular as "Macaroon Sisters".
The Italian Jews who visited France favored Macaroon as it has no flour and can be eaten during the Korban Pesach or Passover. Later, it was spread to European Jews and had become a popular sweet since then.