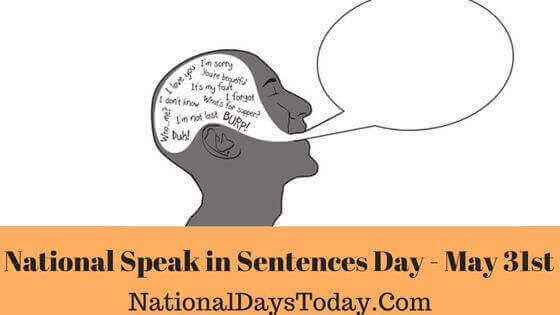 National Speak in Sentences Day:
Every year on May 31st, National Speak in Complete Sentences Day is recognized and celebrated. This day is tailored to communicating with appropriate sentence structure. It is indeed nice to have a day that encourages us to utilize our knowledge and understand the grace and elegance of language.
| | | | |
| --- | --- | --- | --- |
| Year | Date | Day | Where |
| 2023 | 31st May | Wednesday | United States |
| 2024 | 31st May | Friday | United States |
| 2025 | 31st May | Saturday | United States |
Twitter Hashtags:
#NationalSpeakInSentencesDay
#SpeakInSentencesDay
Related: Other National Days Celebrated on May 31st:
National Save Your Hearing Day
National Autonomous Vehicle Day
Necrotizing Fasciitis Awareness Day
Why National Speak in Sentences Day?
Especially these days, when social media pushes us to reduce our words into snippets, it's essential that we recognize the beauty of language. If words are like beads, sentences make beautiful pieces of jewelry that adorn our speech.
From punctuation to short forms, the day makes ASAP As Soon As Possible, LOL Laughing Out Loud, and OMG Oh My God, at least for one day, be it talking or even texting. With no more "u" and "k," the difference one sees in language might just be remarkable.
We've grown so accustomed to utilizing acronyms for every word since the advent of texting culture.
Aside from acronyms, we've lost interest in proper punctuation and sentence structure. This texting culture has already influenced our official writing. We have become so accustomed to pronouncing certain things that we unintentionally use the short form even when writing by hand.
On this day, when we use our words with awareness and caution. We must respect the structure of languages and understand their complexity, as National Speak in Sentences Day teaches us to do.
How Can We Observe National Speak in Sentences Day?
One of the best ways to celebrate National Speak in Sentences Day is by learning rules of grammar that still confuse you or clarifying doubts from tutorials and online videos to ensure that your language and grammar are on point, at least from this day on. It would be sweet to contact your teacher and relive some classes too!
If you're bilingual and have taken up English as your secondary language, pat yourself on the back and congratulate your peers on their accomplishments too. Learning one language is hard enough; being fluent in two is quite impressive!
Take this chance to text people, even ones you've not spoken for a while with, and make sure to do it in full sentences, without acronyms, and using proper grammar. Email, text, or even letter, they'll probably have a breath of fresh air when you send them a message that's quite different from our daily lexicon.
share your knowledge through #NationalSpeakinSentencesDay and #SpeakInSentencesDay.
Interesting Facts On National Speak in Sentences Day:
Even though there aren't many facts about National Speak in Sentences Day, languages, in general, are quite fascinating. Some mindblowing facts you need to know before celebrating the day are:
Half of the world is bilingual, and half of the people in the world speak one amongst 23 languages.
One of the oldest written languages traces back to 3,500 BC and is Sumerian, much older than Chinese.
The Papuan language has only 11 letters that make up all its words, making it the shortest alphabet set.
Chinese Mandarin is the most spoken language, while English is the most dominant language in our world.
The only language in the world that has no connection to any other language is called Basque, and it is spoken by the people who live in the mountains between Spain and France. Another influences almost every other language.
The official language of Italy is not Italian, but a dialect of Italian called Florentine.
History Of National Speak in Sentences Day:

Unfortunately, there is no information about the history of the National Speak in Sentences Day. However, some researches and references show that it was first founded in 2004. Many bloggers believe that it could have been started by a publishing company or a company that produces dictionaries.
Talking about languages, it is estimated to be 150,000 years old. All linguistic evidence dates from roughly 6000 years ago, after writing originated.
Some researchers place the development of primitive language-like systems 2.3 million years ago and the development of language proper with Homo sapiens, which is currently estimated to be less than 200,000 years old.
But due to globalization and many other reasons like civilization, some of the really old languages are being used less and less. We need to start thinking more about the importance of languages and developing them, safeguarding the heritage boats for our future generations.