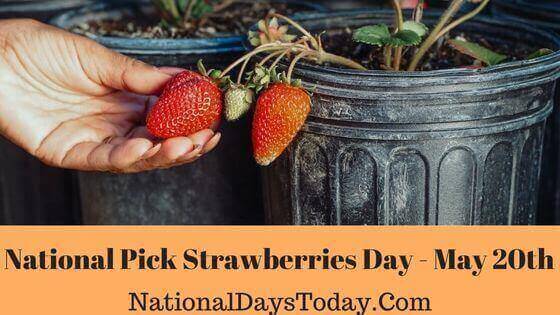 National Pick Strawberries Day:
Encouraging the picking of strawberries every year, National Pick Strawberries Day is celebrated on the 20th of May.
| | | | |
| --- | --- | --- | --- |
| Year | Date | Day | Where |
| 2023 | 20th May | Saturday | United States |
| 2024 | 20th May | Monday | United States |
| 2025 | 20th May | Tuesday | United States |
Twitter Hashtags:
#NationalPickStrawberriesDay
#PickStrawberriesDay
Related: Other National Days Celebrated on May 20th:
Emergency Medical Services For Children Day
Why National Pick Strawberries Day?
One of the most popular and delicious of the berries, the strawberries are more in season in the summer, mostly during May. If you have tried a sun-warmed strawberry, right after picking it then you would agree on the taste it leaves in your mouth is the most delicious. The picking time of strawberries generally falls in late April and continues all through the summer season. The strawberries have a wide range of use in many different dishes, from sweets to juices. You can simply enjoy them fresh as well. Celebrating the joy of picking strawberries, National Pick Strawberries Day is celebrated every year during the picking season.
How can we celebrate National Pick Strawberries Day:
Celebrating National Pick Strawberries Day is quite simple as it is all about being part of the picking event. But that is not the only way to enjoy this day. We have a few tips here to help you choose other options to make this a memorable celebration every year.
You can find the many different "pick your own farm" places near you through an online search. You can be part of these picking events and enjoy picking fresh strawberries off the vine for you.
You can plan a family day with your near and dear ones to pick strawberries together and enjoy a day out, enjoying the summer sun.
This year could be the time for you to plant some strawberries in your garden or backyard. You will have them ripening and ready to pick the next year during the same season.
You can also make use of the fresh strawberries to make your favorite jams, desserts, and other dishes that you love.
Use this day to spread awareness about strawberries and how picking strawberries can bring people closer on your social networking pages. Remember to include #NationalPickStrawberriesDay to draw attention to this day.
Interesting facts about National Pick Strawberries Day:
On this day, let us get to know some interesting facts about strawberries.
Surprisingly, strawberries are part of the rose family and they are also the only fruit to have their seeds outside.
There is a lot of vitamin C in these berries along with potassium and folic acid. They are also a good source of fiber. They do not add to your calories and they are low in fat too.
The strawberries have proven to help in reducing inflammation and fighting cholesterol as well.
There are many different varieties of strawberries and you can choose any you like to grow in your garden.
Before the strawberries were grown, they were picked from the wild and used as a source of fruits.
You can eat them fresh or use them to make jams and jellies. They make wonderful shortcakes, desserts, and can be added to homemade yogurt too.
While commercial production or domestic production of strawberries began very late, the strawberries and cream combination was introduced much earlier to humans. The credit for this recipe goes to the archbishop during King Henry VII's period, Thomas Wolsey, dating back to the 14th
The illuminated manuscripts of the European monks make use of the strawberries.
Of the total strawberry production in the world, China produces nearly 40% and the US about 20%.
A single strawberry has as many as 200 seeds and they are also the first fruits ripening in spring.
94% of the USA households consume strawberries with more than 50% of the children below the age of 10 picking it as their favorite fruit.
The flavor of the strawberries depends on the weather, time of harvest, type of berries, etc.
The strawberries were used for medicinal purposes by Ancient Romans for treating sore throats, fever, and depression.
History of National Pick Strawberries Day:
We do not have specific information or detail regarding how the day came into existence. However, we do know that it is an interesting day to celebrate one of the most cherished berries and enjoy them fresh with friends and family. Regarding strawberries, the first time a garden strawberry was grown, was in the 18th century in Britain. However, we can find a mention of this fruit in early Roman literature too.