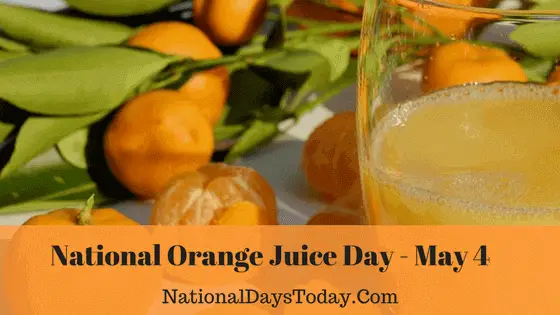 National Orange Juice Day:
Celebrated on May 4th every year. The day is observed to promote the health benefits of Orange Juice.
| | | | |
| --- | --- | --- | --- |
| Year | Date | Day | Where |
| 2023 | 4th May | Thursday | United States |
| 2024 | 4th May | Saturday | United States |
| 2025 | 4th May | Sunday | United States |
Twitter Hashtags:
#OrangeJuiceday
#NationalOrangeJuiceday
Related: Other National Days Celebrated on May 4th:
National Candied Orange Peel Day
National Weather Observers Day 
Why Orange Juice Day?
The Orange Juice Day is observed to promote the health benefits of Orange Juice. One cup of fresh Orange Juice, which is equivalent to 8 ounces, consisted of 124 mg of Vitamin C and 20.8 grams of sugar. It composed of 112 Calories. It contains potassium, thiamine, folate, flavonoids, and antioxidant hesperidin.
Due to the presence of Citric acid, it is termed as acidic fruit. Having Orange Juice as a breakfast provides great health benefits. Therefore, consider drinking Orange Juice on a Daily basis. Always have fresh Orange Juice. The Frozen Orange pulp might have lost its goodness. Consuming such pulp will do nothing to our body.
How we can Celebrate or Observe National Orange Juice Day:
Use this Hashtag #OrangeJuiceday, #NationalOrangeJuiceday and promote the use of Orange Juice by posting its health benefits. weal an Orange color diem and post your picture along with a glass of Juice on social media.
And, here is the simple Orange Juice recipe for you.
Step1: first of all, take a mature Orange for Juice since mature Orange will be sweeter in taste and we can get more quantity.
Step 2: roll the Orange by your hand or simply on the table. This method helps to soften the fruit and peeling will be considerably easier.
Step 3: Peel the Orange, cut into half horizontally and remove the seeds.
Step 4: Squeeze both the half. Use Juicer if you have or simply do it with your hand. Finally, filter the juice and add sugar, if needed. Enjoy this Orange Juice Day with Orange Juice.
Interesting Facts About Orange Juice Day:
Orange Juice is rich in Vitamin C. However, it has abundant sugar output. therefore, there exist conflicts on the health benefits agreement.
Despite of the disagreement, some of the nutrition's suggest the Orange juice as a substitution for Raw Orange by stating that Orange Juice will digest quickly compared to the Orange fruit and perhaps it limits our daily consumption.
Certain regulations are followed in Orange Juice Manufacturing as directed by the Food and Drug Administration formed by the United States Department of Health and Human Services. As Per the Food and Drug Administration (FDA), the ingredient of Orange Juice must be fresh or frozen concentrated Orange Juice, Orange Oil and Orange Pulp.
In Addition, Sugar or Sugar Syrup, Glucose Syrup or dried Glucose Syrup, Corn Syrup or dried corn Syrup can be added as Sweeting agent ingredients strictly as per the amount defined by FDA.
Orange Juice improves immunity and rejuvenates skin cells that prevent aging. The asboric acid present in the Orange Juice involves in repairing the Cells and detoxify the toxic substances present in the body.
In addition, it further helps in blood circulation and keeps blood pressure in stable. Perhaps, by stabilizing the pressure, it reduces cholesterol in blood. Hesperidin, an antioxidant present in the Orange helps in the proper function of blood vessels, which, eventually results in a reduction of blood pressure and prevention of cardiovascular diseases.
History of Orange Juice Day:
The creator of this day is unknown or yet to be found. Nevertheless, In Florida, United States, The economy considerably depends on the cultivation of Orange. Thus, the Orange Juices obtained from mature Oranges have been declared as the official beverage of Florida in the year 1967.In all the Florida's Welcome Centers, in all the Florida's Welcome Centers, Every visitor was greeted with Orange Juice and Welcomed. This Juice has become America's most important breakfast today.
Somewhere reported to be originated in Southeast Asia, due to its taste, the soldiers rejected the artificial lemon beverages provided as a nutritional drink during the Second World War.To replace the lemon drink, Juice made up of concentrated Orange pulp was patented. However, it was developed and introduced only after the end of Second World War.