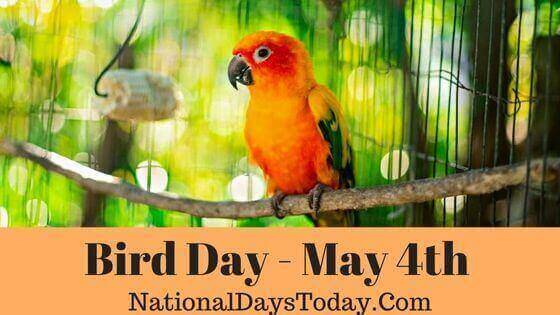 Bird Day:
Bird Day is observed on Every May 4 to create awareness on conservation of Birds.
| | | | |
| --- | --- | --- | --- |
| Year | Date | Day | Where |
| 2023 | 4th May | Thursday | United States |
| 2024 | 4th May | Saturday | United States |
| 2025 | 4th May | Sunday | United States |
Twitter Hashtags:
 #BirdDay 
Related: Other National Days Celebrated on May 4th:
National Candied Orange Peel Day
National Weather Observers Day 
Why Bird Day?
Bird Day is observed for a sole purpose of creating awareness and insisting the younger generation to know the importance of Bird Conservation. As out of million species around the world, nearly a considerable number of species become extinct every year. The prominent reason for extinction is the ignorance of Mankind who fails to support the fellow being. It would have been prevented if proper measures taken from our side. And most of all, we cannot deny the fact that we are responsible for 99% of the extinction. As government passes Laws on preservation, lets correct our continuing mistake at least this time.
Coming to saving birds, as we humans, must cope up with our own problems in daily life, we inadvertently forgot about other species, especially birds. Surveys clearly reports that thousands of birds are dying every day. This day is to remind ourselves that we must take every action that could save as much as birds.
How can we observe Bird Day?
Keep water On Terrace: Keep clean water every day on your terrace. As birds highly rely on water, this would quench thirst.
Keep a private space (specially) on Rainy Season: Unlike us, A single square of roofed space would accommodate at least 3 to 5 birds. Especially during the rainy season, Birds deaths are high which might be due No Sheltering and Food. You can tent at least some 3 to 5 Square feet of area so that it would save at least one bird from death. Share your generous act using the twitter hashtags #BirdDay so that you might inspire someone.
Avoid Birds as Pets: The purpose of this day is to discourage birds as pets. At least pets like Dog would gets its time for a walk. But birds don't. We always confine them in cages. Definitely birds are born to fly high not to be caged because of one's selfishness.
Uncage Birds: A mistake could happen only once. Now it's the day to uncage birds. Let them fly high and live as meant to be. Take a video and share it on social media using the hashtags #BirdDay and #UncageBirds. Your video could be viral and at least ten others may follow you!
Let's Not Disturb: Study about the birds which are on the verge of Extinction. Let's join with the Government and other NGO's that fight for well-being of birds. It would live if we, humans don't disturb.
Interesting facts about Bird Day:
Though Keeping pets are sometimes termed as protecting pets, like national bird Day, this day also strongly discourages birds as pets. Birds are meant for flying and not for being caged. No one can cage a living being in the name of protection.
National Bird Day and Bird Day are two different days observed on different Dates. Rather, urges the same.
Bird Day is the First National Holiday dedicated to birds followed by National Bird Day.
Mostly Human actions are detrimental to birds that led to their extinction. The detrimental activities include Hunting, Lead poisoning, Pesticides, vehicle killing, turbine kills, etc. As most of it could be avoided with proper awareness, Babcock, the founder of this day strongly believed that a day observance about conservation of birds is highly inevitable in schools.
The common and most cited threat to Birds is Habitat loss which is because of only Human threat. So, the government takes preventive measures through these Days and laws. The Law can prevent, and the National Days can restore and preserve from Extinction. Through a Study it is evident, that around 16 Species of birds are saved from extinction mainly because of such corrective and preventive measures.
It is estimated that around 1200 species of birds are under the threat of Extinction. The recent extinct bird "taxa" used to be lived in Hawaii and Guam. The 30% and 60% of extinct taxa are from Hawaii and Guam.
History of Bird Day:
In 1894, Charles Almanzo Babcock , the superintendent of Schools in Oil City, Pennysylvania and the husband Emma Whitcomb Babcock, a notable American Author and litterateur, launched "Bird Day" to be observed on Every May 4 in the schools to celebrate and protect birds. The First Bird Day was celebrated in 1894 in Oil City Schools. After years, the observance spread across other school of the city and was in practice from the 1901. This day is the First National Day that is dedicated to birds. Babcock mainly launched this day to instigate the thoughts of children in conservation (of Birds) as he strongly believes that this bird education should be provided to the children as they would deem conservation as Moral value.
Need not to be confused with National Bird Day as this is an annual holiday that is celebrated on January 5 to promote the welfare of birds by discouraging pets purchases.